The supernatural horror film It based on Stephen King's novel features the terrifying Pennywise, but that's not all don't forget the Losers club! Funko is excited to announce Action Figures, Plush and a new wave of Pop! from the hit horror film.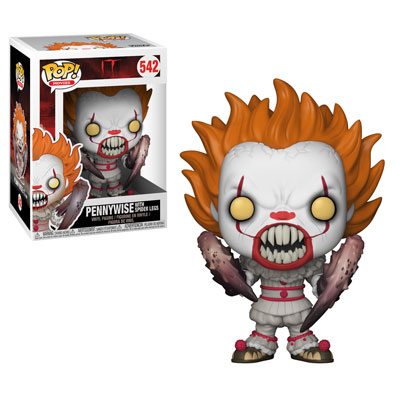 This series of Pop! features Losers club leader Bill, Ben, Beverly featured with her short hair, the hilarious Richie with bat and unknowing hypochondriac Eddie featured with his broken arm and inhaler. In addition, Mike and Stan who are prepared to fight! We couldn't leave out adorable Georgie in his yellow raincoat holding the SS Georgie. Look for the chase piece of Georgie – with no arm! Beverly has a bloody chase piece, both a rarity of 1-in-6. In addition, three new versions of Pennywise with spider legs from the showdown scene with the Losers club. Look for Pennywise with a severed arm at Amazon, and featured with crowbar in head only at FYE!
Two new versions of Black Panther come to Pop!
The most elite spy in M16 Lorraine Broughton is coming to Pop! The Atomic Blonde is shown in two different versions, each having a chase piece!
Jurassic World: Fallen Kingdom arrives in theaters June 2018, until then we have new Jurassic World Pop! to hold you over. Collect Claire, Owen and Blue.
Since her debut in 1996, Lara Croft reigns as the undisputed queen of gaming and is now joining Funko Pop! Shown with the iconic look from the award winning 2013 reboot Tomb Raider. Add Lara to your collection!
The Princess Bride makes its Pop! debut with key characters from the classic film, including Inigo Montoya, Westley and his true love Buttercup. Look for the Westley chase piece, featured with mask!