Samuel Brace with five upcoming films from iconic directors that should be on your radar…
Film and filmmaking is more open to newcomers and young bucks than ever before. With the proliferation of equipment and technological advancement, nearly anyone who wants to make a film can do so. And thus fusing this with studios more often than not deciding to hire promising talent from the indie scene to direct their blockbusters, it can seem that director name recognition isn't quite as central as it once was. However, there are still giants of the industry out there making movies, and their immense talent is still the best barometer we have for gauging a film's potential success (at least as a piece of art). The good news is that five of cinema's very best are set to release content in the near to very near future. And, I think you'll agree, the films in the pipeline sound like they'll be among these individual's most interesting and exciting works in quite some time. So, with no further ado, here are five films by five of the world's most eminent and iconic directors that should be on your radar.
The House that Jack Built – Lars Von Trier
Lars Von Trier isn't everyone's cup of tea, often taking his audience to horrendously uncomfortable places via his near ineffable concoctions. There is no denying, however, that the man has an eye for this profession of his, providing movie lovers with audacious and visually dynamic experiences for many a year. His latest effort goes by the name of The House that Jack Built and will no doubt prove invidious to many, drawing plenty of ire along the way. As potentially disturbing as anything that the cinematic provocateur has conjured so far, his latest stars Matt Dillon as a serial killer, with the film following the fiend as he commits a series of viscous murders. Von Trier has called this his most brutal film yet – let's hope there's some substance to go along with the mayhem.
Don't Worry, He Won't Get Far on Foot – Gus Van Sant
Gus Van Sant hasn't blazed the hottest trails of late, at least in terms of mainstream success. I for one, not to be intentionally disputatious, rather enjoyed his quickly dismissed Sea of Trees starring Matthew McConaughey, but alas, this is a minority opinion. The Good Will Hunting and Milk director, however, will be looking to wow audiences and win back critics with his next vehicle, a Joaquin Phoenix led comedy/drama biopic regarding quadriplegic cartoonist, John Callahan. Don't Worry, He Won't Get Far on Foot could very well become awards bate for Phoenix and rounds out its cast with the likes of Rooney Mara, Jonah Hill, and Jack Black. Van Sant's latest endeavour can be seen on US screens this coming July.
Domino – Brian de Palma
A true legend, Brian de Palma might not be the house hold name he once was in the 70s, 80s, and 90s, but the director is still a huge favourite of cinephiles, known for his lapidary style, and will certainly go down in history as one of the best to ever get behind the camera. His work in the new century has certainly been more on the fringes and while Domino (only his second effort in ten years) will likely remain there, it's a film that should garner the attention of all those who profess to love the art form. Starring Game of Thrones' Nikolaj Coster-Waldau as a police officer who seeks justice for his partner's murder, Domino (also featuring Guy Pearce) will hopefully be a big return to form for a director that inspired so many.
The Irishman – Martin Scorsese
There was a time where an Al Pacino/Robert De Niro collaboration would shake the foundations of the cinematic world, the two acting legends notoriously not sharing any screen time until Michael Mann's seminal thriller Heat. The teaming of the two isn't as newsworthy these days but there still exists concomitant intrigue, and movie lovers are none the less excited to see what the two have in store for us with Martin Scorsese's The Irishman. The director who made his name with hard-hitting gangster dramas is returning to the genre here, much to the delight of film fans around the world. Will the murder of Jimmy Hoffer live up to classics of the past? It's impossible to say, but if it gets anywhere close, we're in for a real treat.
Radegund – Terrence Malick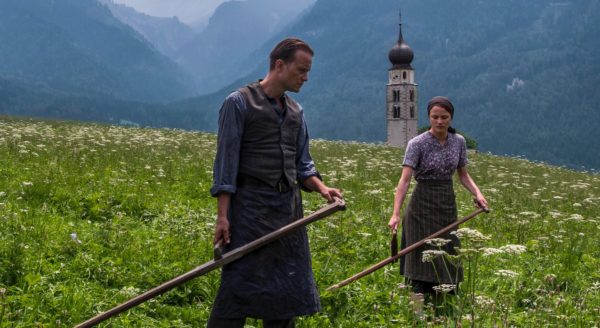 Terrence Malick, once the Daniel Day Lewis of the directing sphere with regards to his output, has been cranking out experimental features with regular frequency in recent years, and, as such, has seen his allure diminish ever so slightly. While his latest efforts haven't been quite up to masterpieces of the past, Malick is said to be returning to more conventional, scripted filmmaking with the WWII centric Radegund. Telling the true story of conscientious objector Franz Jägerstätter, a Catholic martyr who refused to fight for the Nazis and was later beatified by Pope Benedict XVI, Radegund could be the film that returns Malick to the top of the cinematic pile. At the very least, Radegund will be the man's most conventionally constructed film in over a decade.
It should be quite plain to see that 2018 isn't all about gigantic blockbusters and audacious sci-fi adventures (though there are plenty of exciting prospects on the way), and very well could be a marquee year for a number of the industry's legendary living directors. Surely not all will deliver on their promise, but even with the hope of one of the above hitting a home run, the rest of 2018's cinematic landscape suddenly looks like a substantially more alluring prospect.
Samuel Brace