The Shape of Water, 2017.
Directed by Guillermo del Toro.
Starring: Sally Hawkins, Michael Shannon, Richard Jenkins, Doug Jones, Michael Stuhlbarg, and Octavia Spencer.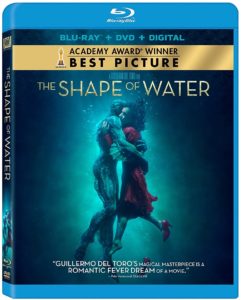 SYNOPSIS:
The Shape of Water, fresh off winning Best Picture and Best Director at the Oscars, arrives in a Blu-ray + DVD + Digital edition that has a modest complement of bonus features that explain how this "fish man out of water" movie came to be.
"Oh no, it's the fish sex movie!" my 10-year-old son yelled when he heard my wife and I were about to watch The Shape of Water. (No, he didn't watch it with us.)
Yes, there's some cross-species "friendliness," shall we say, but The Shape of Water is about much more than that. Set in 1962, during the height of the Cold War, the film takes place around a top secret government laboratory in Baltimore, where mute Elisa (Sally Hawkins) and her co-worker and interpreter Zelda (Octavia Spencer) toil away on the overnight shift.
One day, a mysterious, man-like aquatic creature arrives. It swims around in a tank in a room that Elisa and Zelda are tasked with cleaning, and Elisa takes an interest in it. Colonel Strickland (Michael Shannon) and Dr. Hoffstetler (Michael Stuhlbarg) begin studying the creature, with Strickland taking a hard-line approach that it should be killed and examined to understand its biology. Hoffstetler vehemently disagrees but is overruled.
When Elisa learns of Strickland's plans for the creature, she enlists her neighbor, Giles (Richard Jenkins), an illustrator trying to get back into the advertising business. While you might expect the escape to take up the third act, it's actually a second act event, with Elisa spending the final part of the movie bonding with the creature before she can release it into a nearby canal after it starts filling during the rainy season. Meanwhile, Strickland is searching for the creature to mollify his boss, who's unhappy that it's gone.
While Strickland is a bit of a cliché villain, a stereotypical hard ass military man who refuses to see anything good in the creature, and the story beats share some things in common with Creature From the Black Lagoon, Splash, and other films, The Shape of Water is at its best when it focuses on Elisa and her relationships with Giles and Zelda. Hawkins does an excellent job of getting the right emotions across when her character can only communication through sign language, and Jenkins gives Giles just the right amount of pathos for a man who's struggling with his own secret.
Director Guillermo del Toro has said that he wanted to set the movie during the Cold War so he could explore various issues around race relations, fear of "the other," and the primal aspects of love without distracting viewers with the trappings of modern day society. The Shape of Water works on that level, and the bookending voice-overs by Jenkins cement its status as a fairy tale for adults.
This home video edition of the film features the movie on Blu-ray and DVD discs, along with a code for a digital copy. The bonus features include:
A Fairytale for Troubled Times (29 minutes): This is a four-part making of piece with cast and crew interviews that provide a cursory overview of what it took to bring the movie into existence. It has a bit of that EPK (electronic press kit) feel that was so prevalent in bonus features of the early DVD era, but it's still a worthwhile watch. Of particular interest for me was how they brought Doug Jones' creature to life mostly with practical effects, instead of going full-throttle with CGI.
Anatomy of a Scene: Prologue (3 minutes): Del Toro talks about the creation of the opening scene, in which Elisa's room seems to be underwater while Giles gives his introductory voice-over.
Anatomy of a Scene: The Dance (5 minutes): The black-and-white dance sequence was a bit of a retread of similar moments from other movies, but if you're curious how it came together, this brief piece is for you.
Shaping the Waves: A Conversation with James Jean (5 minutes): This is a quick look at the artist who created the movie's striking poster, among other pieces of art.
Guillermo del Toro's Master Class (13 minutes): This was a Q&A session held at the Zanuck Theater, during which del Toro and some of the crew members talk about the technical aspects of the movie.
Since The Shape of Water won Best Picture at the Oscars, along with several other trophies, I imagine a more in-depth edition will be released eventually. Perhaps Criterion will get a crack at it, which would be perfect.
Flickering Myth Rating – Film: ★ ★ ★ ★ / Movie: ★ ★ ★ ★
Brad Cook