Matt Rodgers reviews the second episode of Jessica Jones season 2…
It hasn't taken long for Jessica Jones to press the reset button, for we find her propping up a bar, experiencing flashbacks of Dr. Kozlov's lab, and having sex with a stranger in a toilet stall. It's essentially Jessica Jones bingo.
This allows the episode's focus to shift towards Rachael Taylor's excellent Trish Walker, as she enlists Malcolm (Eka Darville) to undertake some investigative work into IGH's historical abuse. Having obtained information from her mother, with whom she has tentatively reconciled, they set out to blackmail a former film director for further information on Koslov.
By now Jessica has sobered up, having been labeled a freak during the underwhelming throws of passion, and prompted by a visit from the police, decides to dig deeper into the untimely death of Whizzer in episode one. "Maybe I am a freak, but someone made me this way, and this lab rat's got some complaints".
We're still yet to establish exactly who the main threat in season two is, with the only real criticism this early on in the run being the notable absence of Killgrave. Jeri (Carrie-Ann Moss) is busy dealing with her unspecified illness by soliciting sex and snorting drugs, while Pryce Cheng (Terry Chen) shows up to be obnoxious and belligerent, wanting to run Jessica into the ground now that their rivalry is personal. The major revelation about Dr. Koslov strikes him from the list, and the return of juiced up homicidal cop, Will Simpson, doesn't play out how you might expect.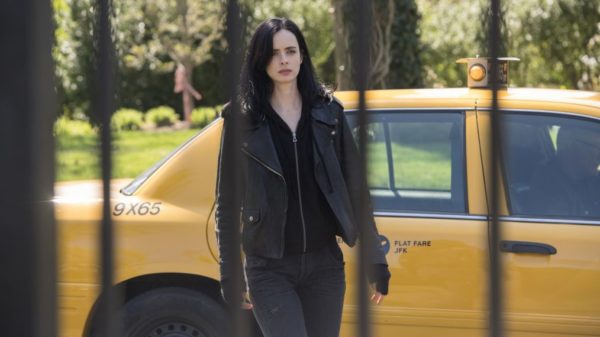 So 'AKA Freak Accident' refers to the monster we get a glimpse of during a studio lot showdown. It all feels a little bit Resident Evil, but then again so does the whole idea of a vengeance seeking mutation that was experimented on by a shady organisation. That doesn't sound half as smart as season one's burgeoning psychological threat, but surely we're just being impatient.
Perhaps the most prescient moment in episode two is delivered by the dearly departed Whizzer, who tells Jessica via video message that "with great power comes great mental illness", a statement that underlines the weight with which this particular iteration of heroes carry their burden.
SEE ALSO: Jessica Jones Season 2 Episode 1 review – AKA Start at the Beginning
Matt Rodgers