The Rotten Tomatoes score for Jessica Jones has been revealed as well as critics' thoughts on the show's early stages.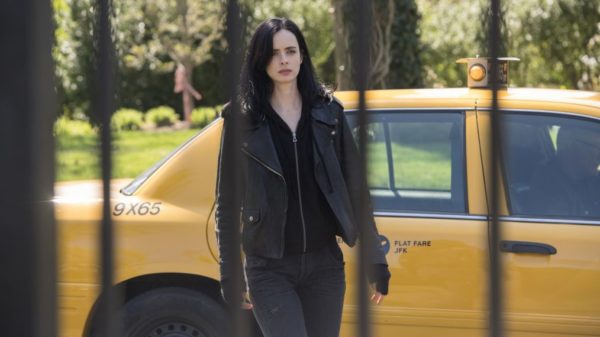 Jessica Jones impressed a lot of people when its first season aired after Daredevil kicked off Netflix's corner of the MCU in fine fashion.
The show has proved popular with both critics and fans, with particular praise being directed at Krysten Ritter as the titular hero, as well as the villainous David Tennant.
Season two isn't looking to be quite as beloved by critics so far, with the show currently scoring a 77% on Rotten Tomatoes compared to season one's 92%.
But what are critics saying about the new season? Here's a selection of their mostly positive thoughts:
"Season 2's all-female directing staff keeps the show's noir bent in place though doesn't push too hard into the realm of art – but the clean approach works, as does Ritter's always grounded and believable performance." – Liz Shannon Miller, indieWire
"While the beginning of the new season lacks the focus of the first, and is missing a truly menacing bad guy for Jessica to go up against, the new additions and expanded storylines don't detract from Ritter's powerhouse performance." – Jo Berry, Digital Spy
"The show had a very clear aesthetic from the get-go, and with its new (all female) directing team it doubles-down on the noir this time around, which just makes the show look even better." – James Hunt, What Culture
"While Season 2 starts off at a slower burn than our prickly PI's freshman outing, there's still plenty of potential — and a lot of mystery — in Jessica Jones' latest investigation." – Laura Prudom, IGN Movies
"Jessica Jones remains a series fundamentally told from the perspective of its women, whether by putting career before romance, super-power envy or protecting a professional legacy that peers dismiss as 'pretty good for a girl.'" – Kevin Fitzpatrick, ScreenCrush
"While the plotting feels like it's back-stepped towards the super-vigilante conventional, she at least remains the most textured and spikily interesting of the Defenders." – Dan Jolin, Empire Magazine
"I don't see Jessica Jones' second season winning over anyone who was lukewarm about her first – or anyone who skipped it entirely. I'm a big fan, and even I left these first five episodes wondering exactly what had happened.." – Susana Polo, Polygon
"This new Jessica season [hasn't] even managed the strong start." – Alan Sepinwall, Uproxx
SEE ALSO: Jessica Jones has put Krysten Ritter into a dark state of mind
New York City private investigator Jessica Jones (Krysten Ritter) is beginning to put her life back together after murdering her tormenter, Kilgrave. Now known throughout the city as a super-powered killer, a new case makes her reluctantly confront who she really is while digging deeper into her past to explore the reasons why.
The second season of Jessica Jones arrives on Netflix on March 8th and will see the return of Krysten Ritter as the hard-drinking super-powered private eye, along with Rachael Taylor (Trish Walker), Carrie-Anne Moss (Jeri Hogarth), Eka Darville (Malcolm Ducasse) and new cast members Janet McTeer and J.R. Ramirez. David Tennant is also confirmed as reprising the role of Kilgrave for one episode.