We're just two days out from the arrival of Avengers: Infinity War, and so far there's been no sight nor sound of Jeremy Renner's Clint Barton in any of the promotional material from Marvel, with his absence leading some to question whether Hawkeye is even going to make an appearance in the hotly-anticipated superhero ensemble.
While it seems we won't have confirmation of that until the film's release, both Marvel Studios chief Kevin Feige and Infinity War directors Anthony and Joe Russo have been chatting to io9 about the whole #WheresHawkeye mystery,
"I think it's one of the best things that ever happened to Hawkeye," said Feige. We [at Marvel] love Hawkeye. There are big, big story things coming up for Hawkeye and Jeremy Renner is as strong an actor as anyone in the MCU and awesome as this character. But 'The guy with the bow and arrow jokes', right? There are a lot of 'Guy with bow and arrow jokes.' He even makes 'Guy with a bow and arrow' jokes in some of the movies. So I love that people go from 'Oh, Hawkeye is just lucky to be there' to 'Oh where is he? He's not there? Whats going to happen? We need Hawkeye. We want more Hawkeye.' I love it. It's the best."
"As we were working on both films, we were thinking about story real estate," added the Russos. "We had the luxury of cracking both scripts at the same time and we wanted to give each character, especially the original Avengers, their moments. It led us to certain choices, especially considering the events of Civil War where [Hawkeye's] included in this group of insurgents and has to deal with the ramifications of siding against the U.S. government. So that led us to a very specific story with him that, as I've said before is a long play, not a short play. Audiences just need to be patient."
So, does that mean "be patient" until 2019's Avengers 4? Or do you think we'll see Clint popping up in Infinity War? Will you be disappointed if we don't? Let us know your thoughts in the comments below…
SEE ALSO: The new TV spots for Marvel's Avengers: Infinity War keep on coming
SEE ALSO: Cap, Falcon and Black Widow battle the Black Order in Avengers: Infinity War clip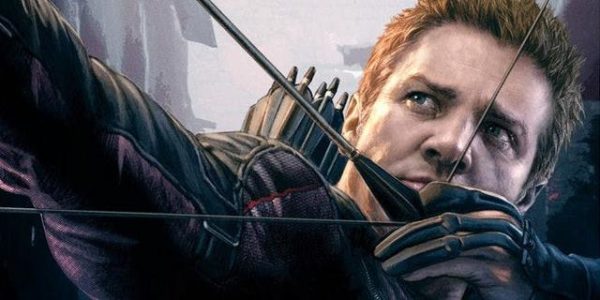 An unprecedented cinematic journey ten years in the making and spanning the entire Marvel Cinematic Universe, Marvel Studios' "Avengers: Infinity War" brings to the screen the ultimate, deadliest showdown of all time. The Avengers and their Super Hero allies must be willing to sacrifice all in an attempt to defeat the powerful Thanos before his blitz of devastation and ruin puts an end to the universe.
Avengers: Infinity War opens on April 27th 2018 and will feature an all-star cast including Robert Downey Jr. (Iron Man), Chris Evans (Captain America), Mark Ruffalo (Hulk), Chris Hemsworth (Thor), Scarlett Johansson (Black Widow), Jeremy Renner (Hawkeye), Chadwick Boseman (Black Panther), Tom Holland (Spider-Man), Sebastian Stan (Winter Soldier), Anthony Mackie (Falcon), Paul Rudd (Ant-Man), Paul Bettany (Vision), Elizabeth Olsen (Scarlet Witch), Don Cheadle (War Machine), Josh Brolin (Thanos), Benedict Cumberbatch (Doctor Strange), Benedict Wong (Wong), Chris Pratt (Star-Lord), Zoe Saldana (Gamora), Dave Bautista (Drax), Bradley Cooper (Rocket), Sean Gunn (Rocket, Kraglin), Vin Diesel (Groot), Karen Gillan (Nebula), Pom Klementieff (Mantis), Tessa Thompson (Valkyrie), Tom Hiddleston (Loki), Samuel L. Jackson (Nick Fury), Cobie Smulders (Maria Hill), Benicio Del Toro (The Collector), Danai Gurira (Okoye), Letitia Wright (Shuri), Winston Duke (M'Baku), Terry Notary (Cull Obsidian), Tom Vaughan-Lawlor (Ebony Maw), Carrie Coon (Proxima Midnight), Michael James Shaw (Corvus Glaive) and Peter Dinklage in an as-yet-unrevealed role.