Tom Jolliffe takes a look at recent trends in East Asian Action Cinema…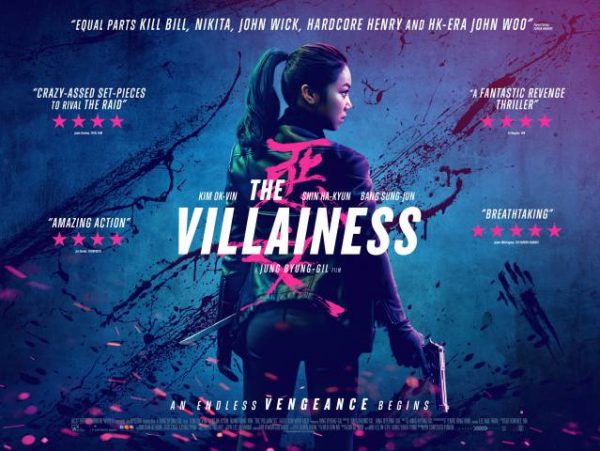 I've seen a lot of action films in my time. From all over the world. From the biggest blockbusters, to the straight to VHS specials that used to regularly populate your nearest video store. Whether it was the latest mega budget Schwarzenegger special, or Don 'The Dragon' Wilson starring in Bloodfist: VIII, I've put the hours in.
Like most Westerners my enthusiasm for the genre began with American films. Historically it has been America providing the majority of action films that register worldwide. I grew up on Die Hard, Predator, Lethal Weapon, Bloodsport and every low rent VHS premiere copycat you can imagine (Oh Don…). A little later I discovered Hong Kong and Chinese action films, particularly from that 80's to early 90's period of the former which saw ground breaking performers like Jackie Chan and Sammo Hung or directors like (those two), John Woo, Ringo Lam and Tsui Hark.
Further into my late teens and adulthood I began studying film. You learn more by expanding your viewing beyond the English language cinematic spectacles that own multiplexes and taking in World Cinema. What I saw when I watched Chan, particularly from Police Story onward, or John Woo's cops and robbers era was that cinema in the East was breaking ground with action scenes. In Hollywood you largely had a formula in crafting action, that a handful of directors aside,everyone adhered to (cowboy styled mastershot and wideshot fight sequences). When I watched a Jackie Chan fight sequence in comparison to a Jean-Claude Van Damme fight, the difference was astonishing. I could still enjoy Jean-Claude and the pre-requisite slow mo jumping 360 kick, but the shooting, cutting and choreography looked utterly archaic in comparison to Police Story or Dragons Forever.
Hong Kong Cinema was going stale by the time of the handover. Chinese cinema was producing great action films but hit a wall just over 10 years ago. Japanese cinema has been more predominantly focused on Horror cinema for 20 years (and in an entirely different article I could argue, has grown stale) but still produced some memorable action films (Battle Royale, the cinema of Takashi Miike both of which also tread horror territory). As far as action there came a point where Korean Cinema came to the forefront in the East, and doing electrifying films at a time when American action cinema was becoming particularly tiresome (prior to a Marvel lead 'resurgence'). Korean cinema at its best had a great balance of the weird, wonderful, the extreme and the harrowing. Perfectly encapsulated in a film like Oldboy. Okay, not entirely an action film but you cannot ignore the astonishing finale sequence.
I don't particularly want to lump a whole cinematic region into one box, but Chinese, Japanese and Korean action cinema right now are all succumbing to similar ills. Whereas in periods over the years they've lead the way stylistically, it seems like almost every action film from East Asia I've watched in the last decade or so, has first and foremost been formulaic. Recently I've been rewatching some of Akira Kurosawa's works. From his dramatic touch to his framing to his construction and execution of an action scene, he's a film-maker that almost every action film of the last 60 years owes some debt. The last Kurosawa film I watched (again) was Ran. A masterpiece. Simply an astonishing film with visceral, brutal action and an overriding sensibility that I've rarely seen in Western action cinema. He broke ground. To a lesser extent modern contemporaries like Woo also did but those trend setters seem to be M.I.A.
I've just watched The Villainess. It's a recent Korean action film which picked up a fair amount of attention in the West. Billed as an answer to John Wick or Atomic Blonde, it's actually more in line with Luc Besson's Nikita. From a much hyped extended take opening and beyond, it is a film which never quite matched the hype. Some very good, if disorientating set pieces aside, it wasn't much to write home about. Many of the problems however, are becoming somewhat atypical in East Asian action.
Firstly, it's just too derivative. I see more and more films, particularly Korean and Chinese actioners that seem to take a standard Hollywood outline and almost follow stylistic techniques which become a fad about 10 years ago in the West, and now look outdated. There's not enough of that spark, or even a little extreme weirdness that meant a film by Kim Jee-Woon, or Park Chan-Wook burned itself into your memory. I already pointed to a comparison with Nikita. Besson's dazzling action thriller was bustling with energy, visually dynamic and emotionally engaging. The film was gorgeous, anchored by a superb performance by Anne Parillaud. It spawned a remake, TV series and a whole host of (poor) imitators. It had a style that felt decidedly Besson in a period of invigoration in French cinema. It said everything about an era of Euro cinema riding a wave, whereas The Villainess seems very much like an affirmation of Korean action films becoming increasingly devoid of ideas.
For some clarity here, the majority of the problems I'm outlining for East Asian action are global action cinema problems. I'm someone who, despite the billion dollar grosses, doesn't think the Marvel canon are doing a great service for action (Black Panther for it's social relevance and impact is however, a great thing). There are issues that all modern action films are progressively succumbing to, whether it's an over reliance on CGI, or a predisposition to hyperactive editing and bloated narratives. Less is being done on set in camera these days, with very few champions of the practical stunt/effect left (Tom Cruise, James Bond).
There is one particular issue in East Asian cinema that is increasingly becoming a bugbear of mine. Visuals. This is split into two aspects. Firstly the photography itself and then the grading. Overly bright lighting seems common. Which is then muted and softened in post. A near nauseating use of colours too which never look natural, nor seem to particularly have any thematic purpose. I'm not adverse to colour. Watch Suspiria if you want an example of extreme colour use that actually fits and evokes corresponding feelings that fit specific scenes (based on colour choice). It's a gorgeous film that still looks exquisite today (I could likewise do an article on the decline of Italian Horror, but that would go far further back).
There seems to be this overt shine, this unbalanced palette that overpowers about 95% of E.Asian action films that I've sat through recently. It's almost a reversion to Technicolor (on acid). Most of Donnie Yen's films of this decade, Wu Jing, Andy Lau, and the once great Jackie Chan whose films often look positively lurid these days. The Villainess is an odd mixture in fact. There are scenes that are almost bleeding with a mix of red, blues and ambers which are graded to within an inch of their lives, that then cut to scenes which are poorly lit, flat and almost drained of colour. If colouring your set, lights and grade to evoke a specific emotional reaction is the goal then fair enough, but it just seems like it's the standard practice now. I come out of watching some modern Asian action films feeling like I've sat and watched a 3 hour 3D film. It's headache inducing, and that can be amplified by erratic editing (another fairly common problem) and camera work. In the sake of fairness a certain production line look is also pretty true of Hollywood action, particularly second tier blockbusters which all look exactly the same to me and remarkably flat. However a dull palette isn't going to give you a headache in the same way as when far too much is going on. As a Hollywood example I'll point you to the DC movies, particularly Zack Snyder's which have a horrifyingly vivid palette. It's distracting (and this before you even consider all the additional flaws in something like Justice League).
Here's the thing. Right now Hollywood has been largely monopolised by Disney (who also own Marvel). Your choice beyond Star Wars or Marvel is a bit limited. For straight up action there's little to write home about of late. I enjoyed John Wick 2 last year(even if it has a degree of modern action faux pas) and I'm eagerly awaiting Mission Impossible 6. When American action films were waning in the late 90's I turned to Asia. I'm still doing that to an extent as I go back to explore more classic Chinese and Japanese cinema, be it Shaw Brothers or Kurosawa. It would be nice to see some more ground-breaking cinema in East Asia again. For pure action the South-East has been more impressive just of late but more so, what is ultimately lacking isn't merely the set pieces (the likes of Donnie Yen continue to drop jaws) but visual invention and dramatic weight.
I look back at one of my favourite action films ever made, Hard Boiled. It's a pretty standard introduction piece for newcomers to HK cinema of course but it's not merely the astounding set pieces which make it infinitely repeatable, it's that dramatic touch that John Woo had and delivered with weight by two of the finest actors of their generation in Chow Yun-Fat and Tony Leung. This was an action film with almost unsurpassed action scenes, but more so, with engaging drama that gave that action some weight and meaning. I find myself these days watching glorified stunt shows with little else in them. Whilst America is pre-occupied with Spandex I live in hope that a film from the East will blow my socks off again and stick with me.
Let me know your thoughts in the comments below and please, by all means, give me some recommendations! What might I be missing?
Tom Jolliffe