Adrift., 2018
Directed by Baltasar Kormakur.
Starring Shailene Woodley, Sam Claflin, Grace Palmer, Jeffrey Thomas, and Elizabeth Hawthorne.
SYNOPSIS:
Based on the true story of survival, a young couple's chance encounter leads them first to love, and then on the adventure of a lifetime as they face one of the most catastrophic hurricanes in recorded history.
Foreshadowing can be beneficial to a film experience or greatly detract from it by causing a frustrating degree of clichéd predictability. Adrift suffers from the latter, but it's also a true story and partially inspired from the real Tami Oldham's book recounting the perilous events at sea (titled Red Sky in Mourning: A True Story of Love, Loss and Survival at Sea), so perhaps that element should be cut some slack. Still, unless you're not paying attention to the dialogue cues, things happening on-screen, and maybe aren't generally familiar with the means films will utilize to manipulate an audience, the destination is clear.
There's also an argument to be made that a survivalist tale such as Adrift is more about the dangerous journey and the indomitable human spirit in the face of extreme adversity, which is also true to an extent. The problem is that director Baltasar Kormakur (returning to English-speaking projects, and more specifically, another natural disaster centered story after having recently helmed the middling Everest which contained a number of characters indistinguishable from one another climbing the infamous mountain for various personal reasons all while unfortunately receiving so little personality that Jake Gyllenhaal of all performers barely registered and was wasted) isn't necessarily able to light a fire under the romance between the free-spirited Tami and the crafty, older, handsome, and thrillseeking Richard she takes a liking to immediately.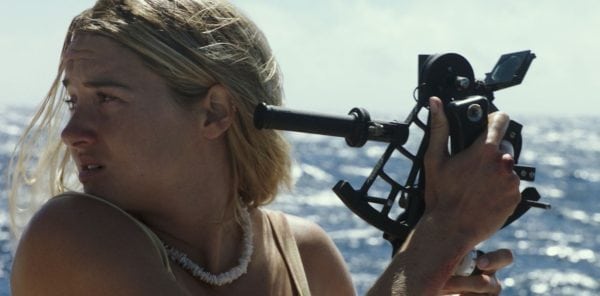 Played by Shailene Woodley and Sam Claflin, the actors have more in common than one might initially realize; they both have done widely popular mainstream romances (The Fault in Our Stars and Me Before You respectively) and were a part of the now dying but once white-hot young adult dystopian future franchise craze (Woodley obviously headlined the Divergent series while Claflin somewhat made a name for himself as a popular supporting player in The Hunger Games), so with smart casting Adrift should be attracting a decent number of eyes. However, the script doesn't give the talent much to go on besides cheesy flashbacks designed to force the romance instead of giving them defining character traits. Briefly, there are exchanges about their tragic pasts involving each of their mothers, but it feels more like checking a box than using the shared negative aspect of life to bond the couple together in a believable and relatable way.
The dehydrated and sunburned 30+ day period stranded drifting in the direction of San Diego fares better as it allows Woodley to demonstrate a physical side of endurance that makes for a rewarding character arc. Frequently, she is seen diving into the ocean to remove debris or cloths tethered to the rickety boat, and hunting for fish (something against her own values as a vegetarian, and an area that could have been explored in more detail), and generally finding both inner and outer strength to continue on. Richard is mainly there for mental support and, of course, love, as he cannot do much of anything with broken ribs and a badly torn leg, meaning that this is very much a forward-thinking, progressive, feminist survival story (barring the very distracting numerous shots of Woodley depicted in tight clothing allowing her nipples to protrude, which could either be a case of adding unnecessary sex appeal or possibly realistic effects of constantly stroking through freezing waters).
Regardless, the adventurous lovebirds do have fine chemistry together (once again, more so during the battle for survival), with some of the best moments of the film being lighthearted touches granting the pair the opportunity to find some humor among the highly potential bleak outcome. A scene involving peanut butter is a standout in terms of getting a really good laugh, by extension tightening the connection between the two. Still, they are nowhere near as complex enough to truly care about.
By far, the strongest component Adrift has going for it is the cinematography from regular Quentin Tarantino/Martin Scorsese collaborator Robert Richardson, as his floaty camera captures the action from tilted angles, knows when to utilize a close up shot or pan back, and catches a stunning sunset that also has a fascinating conversation built around the splendid visual. If you're someone that easily becomes seasick, I advise you to stay home for this one. The physicality of the performances along with the makeup department also certainly help, as the two progressively appear more burned, malnourished, and weak with each passing day.
Keeping that in mind, there's just not enough positives to fully give Adrift a recommendation. The decision to implement CGI as little as possible deserves applause, the performances are serviceable, and the photography makes the voyage appear beautiful despite the excruciating circumstances, but Adrift is a romance that never sizzles. Even the survival elements are heavily mainstream; there some cuts and the occasional nasty injury imagery, but nothing memorable or creative. If anything, I most enjoyed watching Tami try her damnedest to fix up the boat fighting against uncooperative currents, oxygen, and all kinds of broken objects. Knowing the ending early on without any knowledge of the true story doesn't help anything, especially considering how telegraphed it is. Baltasar Kormakur is a talented filmmaker, but for whatever reason, his English-speaking narratives continue to struggle with characterization. Only see this one if a significant other persistently pests you to do so or if the cinematography seems appealing.
Flickering Myth Rating – Film: ★ ★ / Movie: ★ ★ ★
Robert Kojder is a member of the Chicago Film Critics Association and the Flickering Myth Reviews Editor. Check here for new reviews, friend me on Facebook, follow my Twitter or Letterboxd, check out my personal non-Flickering Myth affiliated Patreon, or email me at MetalGearSolid719@gmail.com