Operation Para Bellum, the latest content update for Tom Clancy's Rainbow Six Siege, arrives today for PC and consoles and brings with it  two new defending operators, an all new map and lots more.  Players can unlock this content using Renown or R6 Credits.  Watch the trailer below to see more on this update…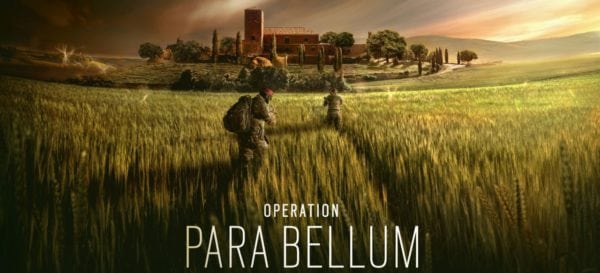 The new map arriving with Operation Para Bellum is the Villa, a lavish retreat hidden in the Italian countryside belonging to the Vinciguerra crime family.  The Vinciguerra heard about the upcoming raid and fled the area leaving vital information ready for the taking.
Two new Italian G.I.S. Operators will join Rainbow for the raid, these are Alibi and Maestro. Alibi uses a Prisma projects holograms identical to Alibi and whoever shoots or touches the hologram will be marked and pinged for the next few seconds.  Should the hologram be deployed outside then a false "Defender Outside" warning is triggered for Attackers.  Maestro uses a remote controlled turret that fires high energy laser beams and unless this turret is firing it cannot be damaged or destroyed.
Operation Para Bellum also introduces a new Pick and Ban system to provide an extra degree of strategy between teams.  This will be available in custom games.
Other features of the update include:
Deployable Bullet Proof Cameras
New Counter Defuser Animation
Dropshotting Adjustments
New Observation Tool Management
Operator Speed Adjustments
Echo Buff
Clubhouse Map Buff
Discovery Playlist
Operation Para Bellum is available now and can be unlocked with Renown or R6 Credits.