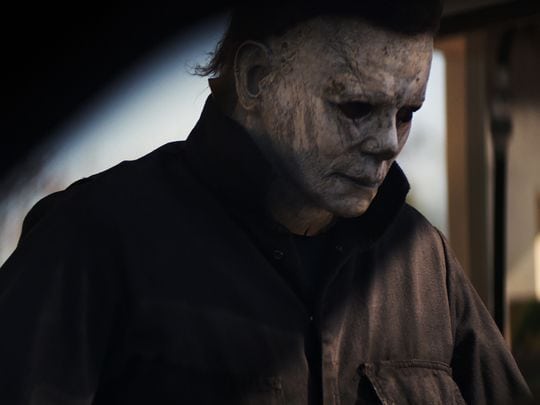 Laurie Strode has been waiting nearly forty years for Michael Myers to return to Haddonfield, so it's no surprise to see that she looks well prepared in this latest still for David Gordon Green's Halloween. Via USA Today, the shot shows Jamie Lee Curtis in her Lara Croft garb, hunting knife on belt, appearing to sharpen even more weaponry for the "night he came home" again.
SEE ALSO: Listen to a tease of John Carpenter's new Halloween score
Master of horror John Carpenter will executive produce and serve as creative consultant on this film, joining forces with cinema's current leading producer of horror, Jason Blum (Get Out, Split, The Purge, Paranormal Activity). Inspired by Carpenter's classic, filmmakers David Gordon Green and Danny McBride crafted a story that carves a new path from the events in the landmark 1978 film, and Green also directs.
Halloween is being directed by David Gordon Green from a script by Green and Danny McBride. In addition to the returning Jamie Lee Curtis (Laurie Strode) and Nick Castle (Michael Myers), the film stars Judy Greer (War for the Planet of the Apes), Andi Matichak (Orange Is the New Black), Will Patton (Shots Fired), Virginia Gardner (Runaways), Miles Robbins (Mozart in the Jungle), Dylan Arnold (Mudbound) and Drew Scheid (Stranger Things).
This year Halloween falls on October 19th, 2018.