Down a Dark Hall, 2018.
Directed by Rodrigo Cortés.
Starring AnnaSophia Robb, Uma Thurman, Isabelle Fuhrman, Victoria Moroles, Noah Silver, Taylor Russell, and Rosie Day.
SYNOPSIS: 
Kit Gordy, a new student at the exclusive Blackwood Boarding School, confronts the institution's supernatural occurrences and dark powers of its headmistress.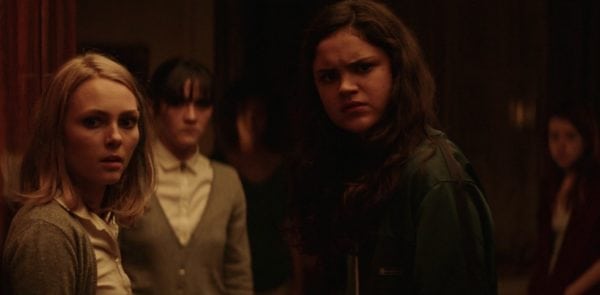 A "Young Adult" horror fantasy billing Uma Thurman, featuring famous classical ghosts, isolated inside an all-girls "gifted" school? Why is Rodrigo Cortés' Down a Dark Hall getting buried *so* hard? It's admittedly generic and skimps on vicious horror elements, but still, this seems like some prime marketable teeny-bopper content. Lois Duncan's 1974 book lays the groundwork for an adaptation that turns scenes like pages through Cortés' Victorian haunted house. With one single theater location in all of New York City, looks like a VOD watch for most of you – if what's laid down in the paragraphs that follow is your eerie, little women cup of tea. Which…yeesh.
No movie featuring attic demons, super-strong maids, apparition ballroom sequences, or Uma Thurman in gorgeous flowing gowns should be this characterless. None except Down a Dark Hall, that is.
AnnaSophia Robb stars as troubled adolescent "Kit" Gordy, the newest enrollee in Blackwood Boarding School. Headmistress Madame Duret (Uma Thurman) describes her facility as a sanctuary for the "gifted," where problem children learn their true potential. Kit is suspicious but does witness her four other classmates (only five total) begin to master subjects such as painting, mathematics, and creative writing. That's when her piano playing becomes virtuoso-level despite childhood lessons that went nowhere, amidst blackouts that lead to instructor Jules Duret's (Noah Silver) practice room. Something peculiar surely powers Blackwood, and Kit is determined to find out what. Maybe it has something to do with the very dark, supremely off-limits wing that Madame Duret seems to be protecting?
It's unfortunate and appalling how generic Down a Dark Hall becomes within minutes of screentime. An opening "fast-forward" spoiler reveals a later tragedy, flashback foreshadowing follows close behind, next a present-day "you're a bad kid, private school time" talk, and then we charge straight into Blackwood Boarding School. Cortés leaves nothing to surprise. As Madame Duret tours Blackwood with the Gordy family, you'll hear excuses for dreadful atmospheres (power outages because of geographic placement) and gaze upon an ominous, under-renovation doorway that clearly hides something sinister. This doesn't bother Mrs. or Stepfather Gordy, who leave their daughter a night earlier before any other students arrive. Surely nothing will go wrong as – oh, right, Kit has a dream where she sees her own screaming body in bed.
Cortés outlines undefined rules whether they were scripted by Mike Goldbach and Chris Sparling or not, to the point where Madame Duret's endgame intent is barely decipherable. Themes of possession and inhabiting spirits of dead creative geniuses use our students as vessels, but then Duret starts jawing on about "the connection never being stronger." Kit's piano playing unlocks a beaming light that shoots upwards, but Mr. Evil Scarface demon doesn't seem to like it? But Duret does? Then everything goes ablaze? And this is after expected haunted beats glimpse shadow drifters and "voices" who come and go? "You started it and you finished it," Kit's destiny reads. What "it" is still remains a mystery.
I've been a fan of AnnaSophia Robb since The Way, Way Back, who's surrounded by stellar support in classmates Isabelle Fuhrman, Victoria Moroles, Taylor Russell, and Rosie Day. As a detached Day guzzles her goldfish's water or Russell scribbles until notebook paper rips, the mystery is alive. Robb runs about Blackwood searching for clues that no one else seems to care much about, all while Thurman hovers with almost vampiric poise and sophisticated demand. All actors who are failed by the uninspired inner workings of this inconsequential, definitely-should-have-been-busted-already institutional unraveling. Madame Duret was so close to achieving whatever it was she wanted to do! Just like Noah Silver's love interest was so close to hooking up with his student because what's a middle-of-the-road drama without forced romance?
Down a Dark Hall feels so unsatisfyingly familiar (Guillermo del Toro Lite), from lost children who are never accounted for to horror tropes that are neither clever nor timed correctly to stuffy cinematography. A tie between the living and dead is tethered to limitless talent; children are the answer – but scenes could be inauspiciously spliced into a billion other gloomy YA adaptations with similar gothic details and no one would notice. Lurking boogeymen, pitch-black hallways, rooms no one should enter? We've seen this before, we'll see it again, and Rodrigo Cortés brings nothing to the conversation. I guess I understand why Lionsgate is burying this one after all.
Flickering Myth Rating – Film: ★★ / Movie: ★★
Matt spends his after-work hours posting nonsense on the internet instead of sleeping like a normal human. He seems like a pretty cool guy, but don't feed him after midnight just to be safe (beers are allowed/encouraged). Follow him on Twitter/Instagram (@DoNatoBomb).