The Meg (2018)
Directed by Jon Turtletaub
Starring Jason Statham, Li Bingbing, Rainn Wilson, Ruby Rose, Winston Chao, Page Kennedy, Jessica McNamee, Ólafur Darri Ólafsson, Robert Taylor, Sophia Shuya Cai, Masi Oka, and Cliff Curtis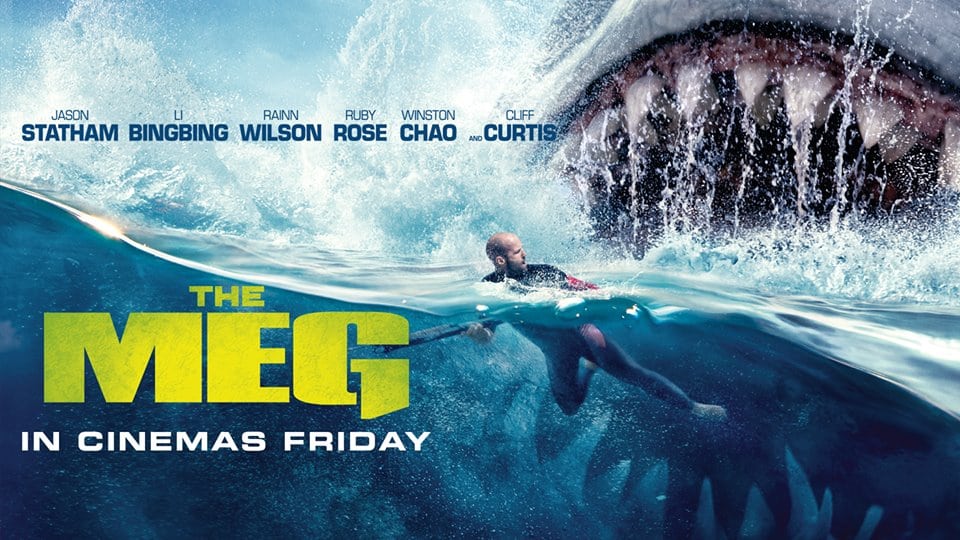 SYNOPSIS:
After escaping an attack by what he claims was a 70-foot shark, Jonas Taylor must confront his fears to save those trapped in a sunken submersible.
Whilst no shark film has ever been able to rival Jaws' greatness, it has sparked a genre of B-movie style films which are dumb, silly and loads of fun. Jason Statham is Jonas Taylor, a deep sea rescue diver who's called out of retirement when a 70 foot shark is discovered and starts eating everything in sight. Along with a scientific crew they'll journey across the ocean to try and kill it.
The Meg is a stupid film, there's no way to sugar coat that. It makes zero sense, it's cheesy, full of plot holes and bad acting, but if you switch your brain off and just go with it, you'll have a great time. Whereas so many films in this vain take themselves seriously, The Meg never does and that's what makes it so much fun. Jason Statham embraces the absurdity and has some fun with a character that we've seen on screen thousands of times before. His chemistry with scientist Suyin (Li) is great and it's nice to see a love interest who isn't young enough to be the hero's daughter for once. Rainn Wilson is on hand as an arrogant billionaire to do most of the comedy and his style works well.
The characters are one dimensional and stereotypical. In the core cast you have the action hero, no-nonsense tough scientist, earnest Father, two computer experts and a cute kid. The Meg doesn't play with these stereotypes enough to make the film feel like a true satire which is a missed opportunity. Statham proved himself an adept comedic actor in Spy (2015) and whilst he does seem to enjoy chewing the scenery here, the script just doesn't let him do much.
What is missing in The Meg is gore. Rated 12A, a lot of the deaths lack any blood and so it feels like its treading water for the sake of the censors. A few more guts flying about the screen and some more interesting deaths would have made the film memorable a la Deep Blue Sea (1999). Instead we get a film which is fun for its (slightly overlong) 113 minutes but that you forget as soon as you walk out of the cinema.
The Meg isn't going to be remembered as a good bad movie as it's not funny or gross enough to become a cult classic. It's an entertaining popcorn movie that allows you to switch off your brain for a while and watch Jason Statham square off against a giant shark.
Flickering Myth Rating – Film: ★ ★ / Movie: ★ ★
Helen Murdoch