5. Army of Darkness (1992)
Evil Dead 2 picked up the violence quite a bit but also included way more comedy. The follow-up Army of Darkness added even more action, but this time, it also took on an exciting fantasy horror element. In all honesty, this movie feels like the precursor to early entry The Mummy. Army of Darkness feels like an old-school adventure movie but doesn't hold back on the horrifying aspects as well. While it is far less gory than the Evil Dead's before it, it still deeply rooted in the horror genre. Think more 80's Clash of the Titans than a traditional splatter film!
4. Upgrade (2018)
The newest movie on this list is also one of the best action/horror movies of all time. Some may think Upgrade is just an action movie, but there is way more to it than its fight scenes. Things get dark in this movie, all boiling to an ending that feels like a callback to RoboCop and even 2001: A Space Odyssey. Director Leigh Whannell is no strange to the genre as he's written the first three Saw movies and all of the Insidious films. Upgrade leans more towards the Saw route with some grotesque gore, but you do feel the intense suspense being built throughout, a signature in the Insidious franchise.
3. Predator (1987)
Predator is a franchise that's a wonder to behold. It's gone through different eras of film from 80's action to mid-00's crossovers, but it's never lost what made it unique in the first place. It's a bad-ass horror creature facing off against action stars: the battle to see what's the best genre of entertainment. While many movies on this list blend the two styles, 1987's Predator and many of its sequel make the two clash excitingly. A traditional horror slasher doesn't face off against dumb teens or unexpecting families. No, this time horror falls into the laps of people who know how to fight back, or so they think!
2. I Saw The Devil (2010)
I Saw The Devil is one of the more obscure picks, but that doesn't take away from the brilliance of the film. With elements of a slasher movie, director Kim Jee-Woon throws in brilliant martial arts to pick up the pace. In-between the great fights scenes from Lee Byung-hun, co-star Choi Min-Sik, brings the suspense. Like Predator is a clash of styles, these two worlds collide in a more polished way. Things flow between graphic violence to nail-biting suspense, the brutality is unreal, and the acting is top notch. I Saw The Devil would easily take the top spot if it were more recognizable to the mainstream.
1. Aliens (1986)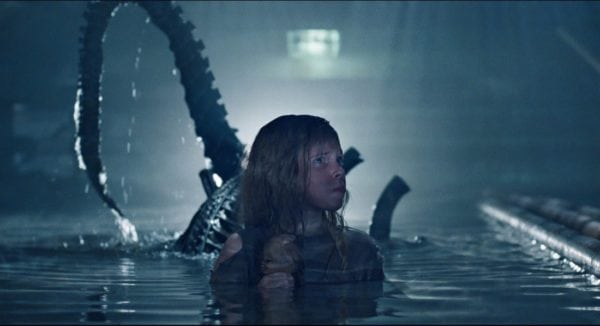 Never has action and horror felt more conjunction on any scale than 1986's Aliens. James Cameron took Ridley Scott's creature feature Alien and added a fresh coat of action movie paint on it. Ellen Ripley remains the best women in action as Sigourney Weaver plays her to perfection as a jagged veteran surrounded by Xenomorph newcomers. The action picks up in this sequel as well since there are way more aliens to fight this time. Add in a finale with the Xenomorph Queen and Ellen in a mech-suit, and you got the best action/horror movie of all time! "Game over man!"
EJ Moreno