Thandie Newton was too good for her role in Solo: A Star Wars Story, according to the film's co-writer Jonathan Kasdan.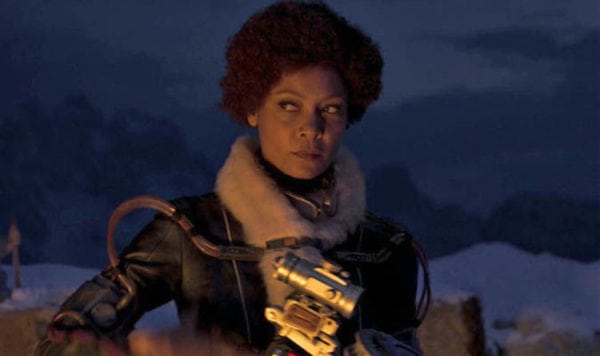 Audiences were quite surprised by the size of Thandie Newton's character Val when she was fairly quickly killed off in Solo, with many believing her talents were wasted in such a part.
Well, it turns out that Jonathan Kasdan, the co-writer of the film, is of the same mind, explaining that the character was always meant to be killed off like this and it's just unfortunate in this sense that they managed to get such a high profile actress to play the part.
Taking to Twitter, Kasdan said: "In retrospect, Thandie Newton may have actually been too good and too interesting as Val. It was always in the design of the story that Beckett would lose his trusted crew members during the Conveyex Job-gone-wrong and be forced to rely on newbies, Han and Chewie, and this would also open the door for Lando, Qi'ra, and L3 to join the crew, but Thandie is so compelling to watch that the death of her character feels a little like a cheat. It's an odd and unexpected problem that comes with working with such amazing, compelling actors in the Star Wars universe. You just want more of them."
What are your thoughts on the casting of Newton in the role of Val? For those who have yet to see it, Solo: A Star Wars Story is now available on demand and soon arrives to Blu-ray on 24 September in the UK.
SEE ALSO: Solo: A Star Wars Story writer isn't confident that a sequel will happen anytime soon
A new adventure with the most beloved scoundrel in the galaxy. Through a series of daring escapades deep within a dark and dangerous criminal underworld, Han Solo meets his mighty future copilot Chewbacca and encounters the notorious gambler Lando Calrissian, in a journey that will set the course of one of the Star Wars saga's most unlikely heroes.
Solo: A Star Wars Story features Alden Ehrenreich (Hail, Caesar!) as the famous smuggler, Donald Glover (Atlanta) as Lando Calrissian, Woody Harrelson (War for the Planet of the Apes) as Tobias Beckett, Joonas Suotamo as Chewbacca, Phoebe Waller-Bridge (Fleabag) as L3-37, Emilia Clarke (Game of Thrones) as Qi'Ra, Thandie Newton (Westworld) as Val, Ian Kenny (Sing Street) as Rebolt, Harley Durst (Wonder Woman) as Moloch, Jon Favreau (Spider-Man: Homecoming) as Rio Durant, Paul Bettany (Avengers: Infinity War) as Dryden Vos and Warwick Davis (Star Wars: Episode VI – Return of the Jedi) as Weazel.