First Man, 2018.
Directed by Damien Chazelle.
Starring Ryan Gosling, Claire Foy, Jason Clarke, Kyle Chandler, Patrick Fugit, Olivia Hamilton, Ciaran Hinds, Ethan Embry, Shea Whigham, Corey Stoll, and Pablo Schreiber.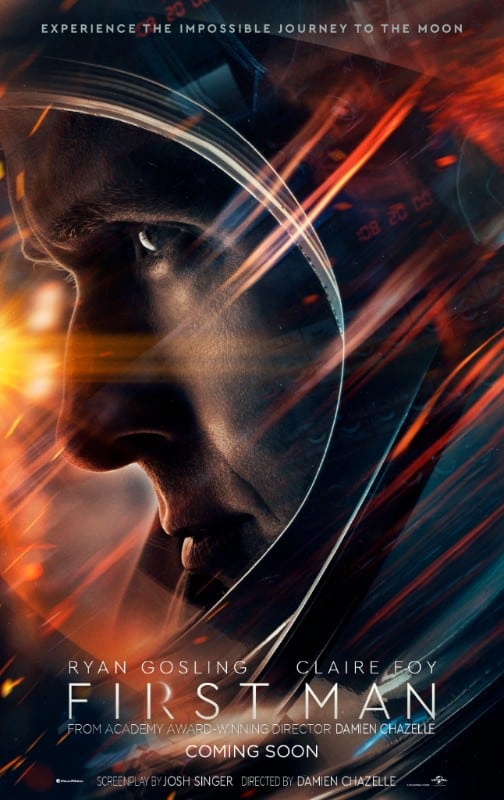 SYNOPSIS:
The riveting story of NASA's mission to land a man on the moon, focusing on Neil Armstrong and the years 1961-1969.
The first moon landing is such a seminal event in human history that has been touched on in various media several times that it begs the question what else can possibly be explored about it. Director Damien Chazelle manages to find that new element by heavily focusing on the very first man to step foot on the moon, Neil Armstrong, who is portrayed to great effect by Ryan Gosling. What they accomplish with First Man is a deconstruction of one of the most memorable people in history by examining what exactly drove him.
Gosling gives one of his best performances yet as Armstrong. Armstrong is a man of few words in the film so Gosling takes a more subtle approach to the performance, relying on his body language and facial expressions to say what Armstrong doesn't. To that end, Gosling really excels in the role through his physical performance more than his spoken one to capture the enormity of Neil's mission and the dangers therein. He makes the struggles Armstrong goes through quite clear throughout the film, whether its through his stance or speaking with the other cast members. On that note, he has some great chemistry with everyone involved, but particularly Claire Foy, who plays Janet Shearon, Armstrong's first wife.
Foy does some nice work here as Janet. For as much the film focuses on Neil Armstrong, it also focuses on what Janet and some of the other astronaut wives went through at home. Between the scenes she shares with Gosling, her castmates or on her own, Foy places a lot of emotion in the private turmoil Janet fights with as she prepares for the possibility Neil may not come back from a real or even test flight. Whereas Gosling is reserved as Neil, Foy's Janet is unafraid to get up in his or anyone else's face and emphasize the emotion behind their actions. Her performance is quite strong and provides one of the film's most memorable moments just before Neil leaves for the Apollo 11 launch.
The supporting cast does well with their roles with Jason Clarke, Corey Stoll, Kyle Chandler and Olivia Hamilton being some of the standouts. Each one adds something different to the film, from Clarke's role as the deceased astronaut Ed White, whose personality stands in contrast to Neil's, or Corey Stoll's funny and rather blunt Buzz Aldrin. Stoll actually doesn't have much screentime in the film so we never get to see too much of Gosling and him together or a clear idea of Neil and Buzz's relationship. What we do get is good work between them with Stoll's performance as another counter to Gosling's, but it could have been explored a bit more.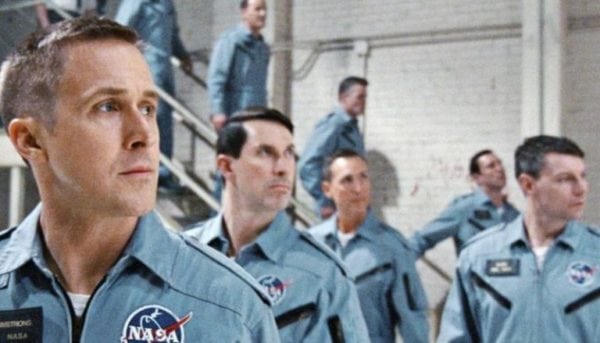 Damien Chazelle's direction is once again on point on everything. The visuals throughout the film are great, from the wide shots of NASA's launchpads to scenes set in the Armstrong home. There is a lot to enjoy on the crafting and technical aspects of First Man as it really gives you a sense of just how dangerous yet exhilarating space travel could be. When the astronaut's take off in their test planes or the rockets themselves, Chazelle wisely keeps the camera set within the cockpit. Only in a few shots do we see the outside of the rocket taking off or hurtling through the atmosphere as Chazelle aims to capture the sense of risk in these flights. The take-off scenes are certainly claustrophobic as you feel trapped with Gosling, Stoll, Clarke and the other NASA astronauts on their various flights and the problems that arise.
Among the technical accomplishments of First Man is the sound design. It should come as no surprise that the director of Whiplash again placed a great degree of emphasis on how the rockets sounded, both inside and outside the cockpit. Every rattle, bump, control beep and other sounds are mixed well together and just provide further tension to certain scenes as they continuously test their flight capabilities. The music from composer Justin Hurwitz is also quite powerful and emotive, especially during the latter half of the film.
At roughly two-and-a-half hours long, First Man doesn't feel overly long and many of its scenes hit all the right emotional notes. It flows well from scene to scene with each break or cut feeling natural and organic. Much of this is thanks to how the film uses its visuals to tell the story just as much as the dialogue by focusing on a character's face, the inner workings of a ship or a barren landscape.
First Man marks another success for Chazelle and Gosling. They paint a very intimate portrait of Neil Armstrong's most pivotal years by focusing on him as a person, more importantly as a husband and father, than sensationalizing him in a grand spectacle. Gosling and Foy give a pair of great performances that feed off other while the rest of the cast give some impressive performances as well. The film's visuals and sounds add to the authentic feel of space travel with some great and terrifying technical work. I was not fortunate enough to see this on an IMAX screen, but just based on a regular screen First Man belongs on the former format. It is definitely Chazelle's best work so far that will have audiences enamoured with its visual look and examination of one of mankind's greatest achievements.
Flickering Myth Rating – Film: ★ ★ ★ ★ ★ Movie: ★ ★ ★ ★ ★
Ricky Church