Suspiria, 2018.
Directed by Luca Guadagnino.
Starring Dakota Johnson, Tilda Swinton, Doris Hick, Angela Winkler, Mia Goth, Elena Fokina, and Chloë Grace Moretz.
SYNOPSIS:
Against the backdrop of political turmoil in 70s Berlin, a world renowned dance company can be found within a stones throw from the wall. It's run by the notorious Madame Blanc (Tilda Swinton), who has taken particular interest in the arrival of Ohio farm girl Susie (Dakota Johnson), who she marks as the lead dancer for the troupe, as well as a potentially more nefarious role within their inner sanctum.
Dance magic dance, jump magic jump. In the space of a year, Luca Guadagnino has gone from making you want to bite on a peach, to doing your best to keep your food down, by remaking Dario Argento's Grand Guignol classic Suspiria as a feminist horror, Tilda Swinton showcase, and slice of rather silly hocus pocus hokum.
At 150mins, there are a lot of ingredients tossed into this cinematic cauldron that are up for discussion, none moreso than the fact that Guadagnino's film will cast a spell on the audience with it's intoxicating beauty. For the girls who wander in off the bleak Berlin streets, seductiveness is at the heart of the Markos dance troupe, and as a viewer, you'll be complicit.
A kaleidoscope of greys, browns, and blacks occupy a world with more rain than a David Fincher movie. The coldness is palpable, and it ensures that when the red starts to flow, and boy does it to that, the effect will be accentuated because you've been conditioned by two hours of harsh sterility.
On the subject of the blood letting, this arrives with something of a reputation for its explicit gore, but Suspiria never comes close to being the "my eyes, my eyes" movie that the early reactions would have you believe. There is a jaw dropping, jaw breaking dance sequence, which takes body contorting performance art to another level, some rather nasty use of hooks, and the finale descends into a risible sequence of bloody excess, but a tone of silliness has long been established, so if you're not covering your eyes, you'll either be rolling them, or rolling in the aisles.
The tone is initially one of homage, with fast zooms and haphazard camera movements that evoke the spirit of the original, but these soon subside to give Guadagnino's film a more contemporary art-house look, although you can feel him cackling behind the camera as he winds up (slowly) towards his trashy finale.
As a performance piece rather than all-out horror, it's worth taking a look around the coven to see if there's anything below the surface. Dakota Johnson is hypnotic, especially during the dance sequences, but as her naivety diminishes, while she's consumed by drive or an unseen force, so does her impact on the the film as whole, or your desire to care about her fate. Mia Goth (A Cure for Wellness) gets a fare chunk of screen time as Susie's confidante, giving the audience someone to latch onto when something wicked this way comes, but there's not that much substance to most of the dancers.
Instead the interest emanates from the teachers – who include a wonderfully creepy turn from Angela Winkler (Dark), alongside a perfectly pitched OTT turn from Tilda Swinton – and Josef Klemperer, the doctor who counsels Chloë Grace Moretz's prologue runaway, who is also played by a completely unrecognisable Swinton. It's the most intriguing, and strangely in a film which from the outside appears to be brimming with eroticism, most passionate thread of any Guadagnino is attempting to weave.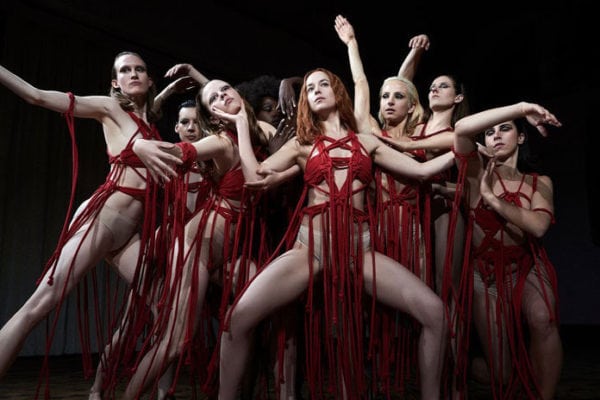 Suspiria deserves to be lauded for being a powerful female driven film, heck, its best male character is played by a woman, but while it's stunning to look at, unquestionably intelligent, has a breathtaking score from Thom Yorke, and is quite unlike most pieces of cinema you'll see this year, it remains a rather hollow, mechanical beast.
Flickering Myth Rating – Film ★ ★ ★ / Movie ★ ★ ★
Matt Rodgers – Follow me on Twitter