Villordsutch reviews Doctor Who Series 11 Episode 4 – 'Arachnids in the UK'…
Directed by – Sallie Aprahamian
Written by – Chris Chibnall
Doctor – "I eat danger for breakfast? I don't. I prefer cereal."
After last week's rather brilliant episode of Doctor Who, our teaser following Rosa warned that those of us suffering from arachnophobia really didn't want to be watching the forthcoming episode.  Titled Arachnids in the UK (not quite a big as a Planet of Spiders) our Time Lord (Jodie Whittaker) and her BFF's are set to come up against some rather big eight-legged freaks.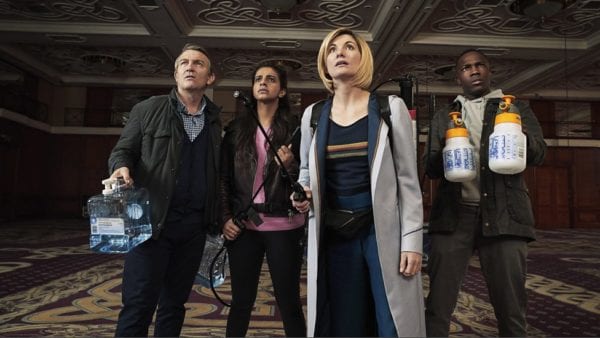 Returning to Sheffield to finally bring Yaz (Mandip Gill), Ryan (Tosin Cole) and Graham (Bradley Walsh) home, the Doctor finds herself a new mystery – mid-dinner invite – within both a conspiracy regarding fly-tipping and a neighbour not answering her door for the past few days.  With further investigation using a sonic screwdriver and information from the neighbour's friend and work colleague Dr. Jade McIntyre (Tanya Fear), they stumble across a gruesome discovery of a dead neighbour who has been cocooned within spider silk.   Not only that, but there's an abnormally large spider wandering around the flat.
Elsewhere across the city, Yasmin's mother Najia Khan (Shobna Gulati) has just been unceremoniously fired on the first day of her new job at a new Robertson Hotel – though she knows not what for – by business tycoon and Trump-wannabe Robertson (Chris Noth) who, when we meet him, is in the process of attempting to hide some very dirty laundry.  
With Dr. McIntyre explaining to the Doctor the nature of her work on spiders, it doesn't take long before the Time Lord centres in on the epicentre of the major arachnid activity – at the newly built Robertson Hotel.
After last week's Rosa, you'd be forgiven for believing that this new series of Doctor Who had already found its feet and was running – head down – for the finishing line. However, come the end of Arachnids in the UK, you'd now be forgiven if you're not left feeling like you've just watched a rather poor quality B-movie with shiny digital effects.
Not only do we have science guff gone wrong, but we have a pantomime villain who is only missing a moustache to twirl, silly pulling of guns on a woman who has been fired in a hotel reception area to prove he's really evil, masses of spiders that appear and disappear on queue, a conspiracy of fly-tipping from Yaz's dad that is never properly explained, spider's webs that are supposedly as strong-as-steel yet can be torn open with your bare hands when needed, etc. etc.
Perhaps the biggest crime here comes from lazy research and writing – namely the landfill under the hotel. I unfortunately live less than a mile away from a landfill and I can tell you even at this distance when the wind blows the right way, you know it's there.  So to have a hotel built upon it shows me that Chris Chibnall possibly has never even visited even his local tip. Yes the gases were hinted at, but again our local landfill chucks out enough methane and other gases to power the on-site units everyday.  That hotel would stink to the high heavens and the first time someone flicked a light switch it would go up in flames.  I know this show is about a regenerating Time Traveller in a Blue Box, but there's got to be a certain element of reality to ground yourself too otherwise it just becomes silly.
The only saving grace within the episode came from the minor character development of Yaz, Ryan and Graham, though this was drowned out in amongst the mess of episode. Oh, and it would be brilliant if the Doctor could stop pulling out her Sonic Screwdriver like a wand now, it's beginning to grate…
Arachnids in the UK is the first clunker in series 11. Hopefully it'll be the last one too.
SEE ALSO: Trailer for Doctor Who Series 11 Episode 5 – 'The Tsuranga Conundrum'