Bad Times at the El Royale, 2018.
Directed by Drew Goddard.
Starring Jon Hamm, Dakota Johnson, Jeff Bridges, Lewis Pullman, Cynthia Erivo, Chris Hemsworth, and Cailee Spaeny.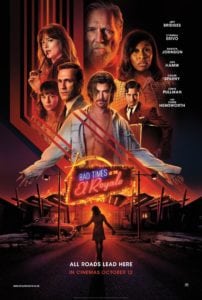 SYNOPSIS:
At Lake Tahoe's El Royale hotel, the paths of seven strangers converge at this derelict destination in the hope of escaping their past. Over the course of one dark night, they will find their fates irreparably entwined on a journey of self destruction.
You can keep your Exotic Marigold and Artemis hotels, because the only bells worth ringing can be found at establishments overseen by Drew Goddard. The man who subverted the horror genre so brilliantly when he rounded up a similarly disparate group and plonked them in The Cabin in the Woods, has once again pulled the rug out on unsuspecting viewers, delivering one of the best and most surprising films of the year.
From the outside, El Royale has a distinctive, overtly stylish veneer, but once you've checked into the movie, it's clear that Goddard's film isn't style over substance. Sure, rain hasn't looked this good since Shawshank, with the neon drenching and Art Deco aesthetic ensuring that most frames are never less than stunning, but it's the way in which Goddard puts his scene composition to work in terms of telling the story that's so impressive.
Case in point is a scene-of-the-year contender in which Cynthia Erivo's singer belts out a Motown hit, which she sang live on set, and rhythmically claps to cover the beat of a hammer. It's one of a number of ingeniously executed set-pieces.
As for Erivo, among an ensemble as starry as you're likely to see outside of a Marvel movie, she steals the show. Yes, Jeff Bridges is superb, especially when delivering a particularly moving monologue in which Michael Giacchino's requisitely brilliant score noticeably kicks in, and Hemsworth has infectious fun as the final reel show-stopper, but they take a back seat to Erivo's captivating songstress.
It's best to know as little as possible before driving up to the El Royale, but Goddard's film steers you in directions you might not be expecting from what appears to be a stylish find-the-cash caper. There's an exchange between Erivo and Hemsworth, in which she shuts him down during another ego-fuelled monologue, sick of the toxicity of male privilege, that's as tear inducing as it is fist thumpingly powerful. Much like the film as a whole, its effect catches you off-guard.
On the downside, at 140mins the film runs a tad too long, with it's Rashomon narrative perhaps presenting a few too many POVs. However, by the time you reach the ambiguous, yet rewarding ending, you've forgiven the more indulgent aspects of the storytelling.
Sharply written, with touching moments that provide equilibrium to the dark laughs and neon soaked stylisation, Bad Times at the El Royale is deconstructive pulp fiction at its very best.
Flickering Myth Rating – Film ★ ★ ★ ★ / Movie ★ ★ ★ ★ ★
Matt Rodgers – Follow me on Twitter @mainstreammatt