First Man, 2018.
Directed by Damien Chazelle.
Starring Ryan Gosling, Claire Foy, Jason Clarke, Kyle Chandler, Patrick Fugit, Ciaran Hinds, Ethan Embry, Olivia Hamilton, Shea Whigham, Corey Stoll, and Pablo Schreiber.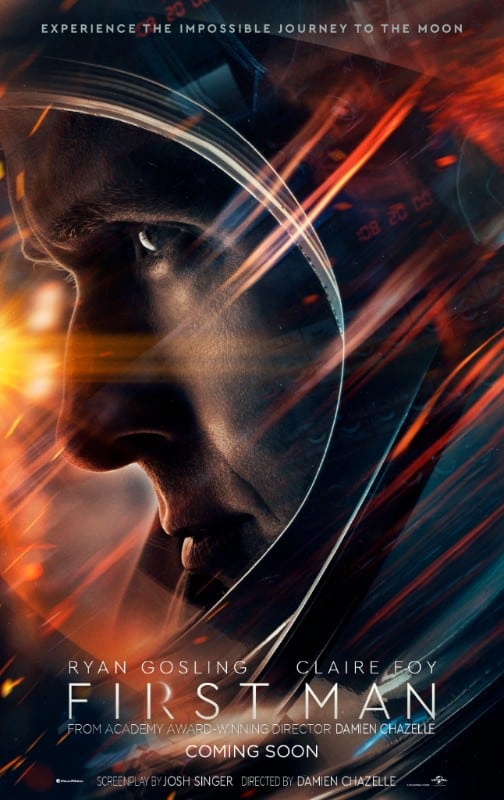 SYNOPSIS:
The story of Neil Armstrong, who would become the first man to talk on the moon, and the NASA scientists that helped him to get there.
First Man is a bit of a left-field choice for Damien Chazelle, after the acclaim generated by the musically inclined one-two punch of Whiplash and La La Land. Rather than a lyrical odyssey of romance or a depiction of a rhythmic professional rivalry, this is an utterly traditional take on the story of Neil Armstrong and the last few years of the 1960s Space Race, which would culminate in Armstrong and fellow Apollo 11 astronaut Buzz Aldrin taking man's first steps on the surface of the moon.
Anyone sceptical about whether Chazelle's flair would be somewhat stifled by taking on a conventional biopic will not have their mind changed by the movie, which is robust and mechanical in a way that Chazelle's previous work just isn't. With that said, it remains a film that, at its best, is capable of extraordinary emotional power and visual splendour.
At the centre of it all is Ryan Gosling as the not particularly interesting Armstrong. He's a family man devoted to his work, but doesn't have much more edge than that and, as a result, it falls to Gosling to give him life. It won't be much of a surprise to anyone to hear that Gosling is up to the challenge. He underplays everything in his trademark mumble, but it works as a depiction of a man who is unfailingly calm under pressure. The movie starts with a fraught sequence in which the X-15 test craft Armstrong is flying bounces off the atmosphere during a botched descent. When Armstrong finally touches solid land, he calmly utters the words "I'm down", as if he were just completing a routine runway landing.
This movie, written by Spotlight Oscar winner Josh Singer from James R. Hansen's Armstrong biography, frames the moon landing as a thoroughly human achievement rather than a patriotic one. The American political right has already become duly incensed by this but, from a dramatic point of view, it helps the movie enormously to have a few scenes here and there that don't feature the Stars and Stripes. If the most extreme of Republicans had their way, this film would likely have had a flag in every frame, like the Starbucks cups in Fight Club.
The human touch allows for relationships to take centre stage. Armstrong, as played by Gosling, is a rather prickly, closed-off character, but it's compelling to see him interact with his comrades – including a decent Jason Clarke as ill-fated Apollo 1 astronaut Ed White – and his long-suffering wife Janet, played by The Crown's Claire Foy. The nature of the story means that there's little room for Foy, but she's excellent when afforded the opportunity to – if you'll pardon the pun – shoot for the moon. One scene in which she dismisses the NASA bosses as "a bunch of boys making models out of balsa wood" is enough to make any audience member want to punch the air.
Indeed, First Man achieves its best moments when it focuses on the uneasy family dynamic, in which everyone is aware that Armstrong might not come home one day. Immediately prior to his moon mission, he is encouraged to sit down with his kids to explain the implications of what he's doing. He defaults to answering their questions as if at a press conference, which is as tragic as it is oddly funny. This is a man who has no idea how to convey the enormity of what he's doing and when his son points out that "you won't be here for my swimming", it's a powerful reminder of the human being behind mankind's giant leap.
Chazelle holds back that giant leap for a very long time, delivering a slow-moving and rather stately drama that often feels a little too measured and conventional. There are explosions of dull platitudes and characters gazing pointedly at the skies, enlivened only by occasional hints of the political turmoil surrounding the costly Apollo programme – a blast of Gil Scott-Heron's poem 'Whitey on the Moon' is a bracing highlight. Everything comes to a head, though, when the Ego lands and Chazelle spreads his wings.
The scenes on the moon's surface are jaw-dropping and spectacular, aided by the potential of the IMAX format. Sound and silence is used to terrific effect, managing to maintain the idea of the moon as other-worldly, while also spotlighting the fact that this is essentially just a bloke taking a couple of steps and planting a flag. Not that we see the flag-planting. Sorry, Mr President.
For all of this climactic spectacle, though, it's fitting that First Man concludes with a moment of touching, simple humanity. It speaks to the push and pull in the filmmaking throughout this movie, between the enormity of the story and the defiant restraint of the storytelling. Given the flair and energy we have come to expect from Chazelle, there's something ever so slightly disappointing about First Man, but that doesn't prevent this from being an undeniably solid and occasionally spectacular big screen depiction of an achievement that still has the power to grip the world 50 years after it happened.
Flickering Myth Rating – Film: ★ ★ ★ ★ / Movie: ★ ★ ★ ★
Tom Beasley is a freelance film journalist and wrestling fan. Follow him on Twitter via @TomJBeasley for movie opinions, wrestling stuff and puns.