The Favourite, 2018.
Directed by Yorgos Lanthimos.
Starring Olivia Colman, Emma Stone, Rachel Weisz, Nicholas Hoult, Joe Alwyn, Mark Gatiss, Jenny Rainsford, James Smith, Tim Ingall, LillyRose Stevens, Liam Fleming, and Carolyn Saint-Pé.
SYNOPSIS:
In early 18th century England, a frail Queen Anne (Colman) occupies the throne and her close friend Lady Sarah (Weisz) governs the country in her stead. When a new servant Abigail (Stone) arrives, her charm endears her to Sarah.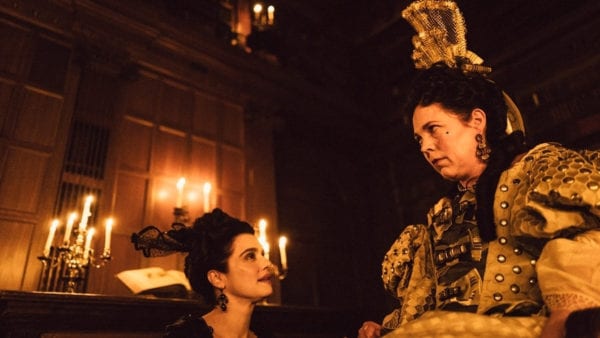 If there's one up-and-coming modern-day filmmaker audiences can count on to give any genre a much-needed upside down adrenaline shot, it's the Greek-born Yorgos Lanthimos; he may not be working with his usual collaborators this time around, instead working from a much more mainstream palatable script by Deborah Davis and Tony McNamara, but the proceedings still retain his expected weirdness and refusal to abide by typical genre constraints, here injecting a period piece with pitch-black humor, little idiosyncrasies that gives this pre-Victorian era depiction as much personality as the stunning set design (real candlelit sets are utilized for all of the nighttime sequences, further heightening the already established and compelling catty psychosexual overtones), and a trio of performances (Olivia Colman, Emma Stone, and Rachel Weisz) that are so commanding, perfectly calibrated with the right amount of showiness and underlying character depth, and overflowing with jealousy, they deserve just about every ensemble award that exists.
Yorgos Lanthimos is in top form here; he allows the establishing shots and subsequent swirling cinematography (sometimes it tracks various characters, but all the time is noticeably pulled far back to show audiences large spaces that are relatively empty, but bursting with color and aesthetically dazzling mural designs all over the walls and ridiculously large chamber doors) to grab the viewers attention into each and every scene, and then grants different combinations of the three stars to tear into acerbic dialogue. Some of the comebacks and insults in The Favourite hit hard; credit the script and wonderful talent for making all of these burns sting badly.
Not a spoiler, but much of The Favourite appears to be derived from the best aspects of Yorgos Lanthimos' previous effort, the wickedly unsettling but humorous The Killing of a Sacred Deer, which sees a distraught father forced to break an inexplicable curse by murdering a member of his own family. In that film's final act, his children begin vying for his affection, and by extension their lives, in ways that sink your stomach with both unease and equally the inability to resist cackling. Here with The Favourite, he has applied that stroke of demented genius to an entire narrative, only populated by 18th-century Brits at war with the French.
Unlike most biographical pictures, The Favourite does not give a damn what the soldiers are up to or a single thing about the front lines; it is concerned first and foremost with the women. And while they have some serious issues to work out with one another, their actions always feel grounded in something empathetic; Queen Anne (an outstanding Olivia Colman that must switch between self-pity and boisterous anger on the fly, effectively nailing both characters traits) is kind of like WWE's Vickie Guerrero hurled back in time, just replace wrestling show general manager with the title of Queen. She also bears a striking resemblance to Alice in Wonderland's Queen of Hearts, which may or not be intentional, but nonetheless something I couldn't resist noticing that certainly fits the character. No more children to her name, she tends to over a dozen rabbits in her free time, referring to them as her babies.
From the get-go it's clear that Queen Anne is lonely, meaning she's likely also vulnerable to any form of emotional or physical affection, genuine or not. This is where rival cousins come in, played by Rachel Weisz and Emma Stone, the former of which already has titular favor with her Royal Majesty. The other, due to some unfortunate family circumstances, has lost everything and must begin a new as a servant, and anyone that watches movies should know that no one is more sly and cunning and dangerous than someone with nothing left to lose. The games quickly begin, also calling to attention the earnestness of the sexual relationship going on between Queen Anne and her most trusted advisor Sarah (Rachel Weisz).
Abigail (Emma Stone) immediately works her way up the food chain to a more respectable position within the top brass, also accidentally stumbling into the secret that is this sexual relationship. By now, it goes without saying that any journalist with their head on straight is going to write fabulous things about this trio whether they like the actual film or not, but I will go against the grain and say that Emma Stone steals the show. Not only does she have to hang with her collaborators by learning a fully believable British accent, but the ways in which she straddles the line between retaining her treasured morality and dipping into degeneracy to win the heart of the Queen is a wickedly fun sight to behold. Just as engrossing are Sarah's threatening retorts, such as purposely firing an improperly loaded gun in her direction during their routine pigeon hunting. It is a thunderous "back the fuck off" moment. Naturally, Abigail is unfazed; she's coming for what she wants.
The Favourite slightly fizzles out during its last chapter, but that's more because despite what Queen Anne states, she's not playing these two women for her own amusement; the situation grows darker and begins to affect the characters in ways they never anticipated. The ending certainly comes with some anticlimactic ambiguity and will force viewers to ponder some things after the credits, but the preceding 100 minutes are far too uproarious funny and bizarre to hold a grudge.
If Mel Brooks had made a psychological thriller comedy segment for History of the World, I imagine it would be something like The Favourite. The feminist approach and clear focus on keeping the film fun also works wonders; these women don't care about men (Abigail's constant rejection and playful fightbacks from a lustful soldier are a hoot to watch at every turn and smilingly appropriate for the times), they can handle their own, and they are out for power, and they don't care if it comes at the cost of diving down an immoral rabbit hole filled with unforeseen regrets.
Flickering Myth Rating – Film: ★ ★ ★ ★ ★ / Movie: ★ ★ ★ ★
Robert Kojder is a member of the Chicago Film Critics Association and the Flickering Myth Reviews Editor. Check here for new reviews, friend me on Facebook, follow my Twitter or Letterboxd, check out my personal non-Flickering Myth affiliated Patreon, or email me at MetalGearSolid719@gmail.com