Tom Beasley sits down with Suspiria director Luca Guadagnino and the film's star Dakota Johnson to talk about the depraved dance academy horror…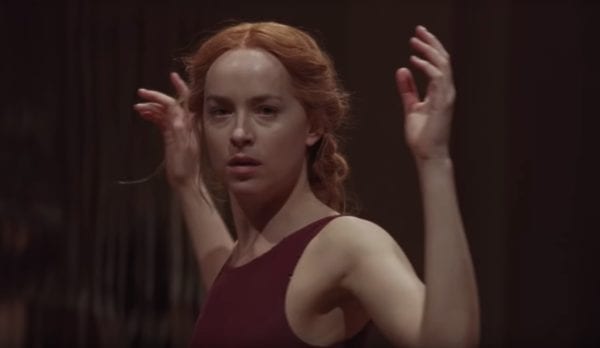 Ever since it was announced, the new take on Dario Argento's witchy classic Suspiria has been one of the most exciting horror projects making its way towards cinemas. Starring Dakota Johnson as a wide-eyed ingenue making her way into a secluded dance academy, Luca Guadagnino's reimagining of the story has divided audiences with its epic descent into the macabre.
The movie had its UK premiere at the BFI London Film Festival last month and, to mark the occasion, Johnson and Guadagnino made their way over to London. We got the chance to sit down with the duo and chat to them about Suspiria, horror reboots, rigorous dance training and the prospect of a role for Johnson in the forthcoming Call Me By Your Name sequel.
SEE ALSO: Exclusive Interview – Mia Goth on Suspiria, learning to dance and her dream directors
A darkness swirls at the center of a world-renowned dance company, one that will engulf the troupe's artistic director, an ambitious young dancer, and a grieving psychotherapist. Some will succumb to the nightmare. Others will finally wake up.
Suspiria is set for release into UK cinemas on November 16th.
Tom Beasley is a freelance film journalist and wrestling fan. Follow him on Twitter via @TomJBeasley for movie opinions, wrestling stuff and puns.