Suspiria, 2018.
Directed by Luca Guadagnino.
Starring Dakota Johnson, Tilda Swinton, Mia Goth, Sylvie Testud, Jessica Harper, Renée Soutendijk, Angela Winkler, Ingrid Caven, Małgorzata Bela, Vanda Capriolo, Fabrizia Sacchi, Elena Fokina, Alek Wek, Clementine Houdart, Jessica Batut, Doris Hick, Olivia Ancona, Anne-Lise Brevers, Majon Van der Schot, Christine Leboutte, and Chloe Grace Moretz.
SYNOPSIS:
A darkness swirls at the center of a world-renowned dance company, one that will engulf the artistic director, an ambitious young dancer, and a grieving psychotherapist. Some will succumb to the nightmare. Others will finally wake up.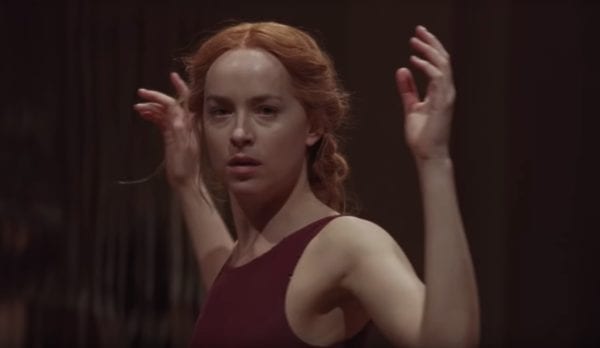 It's easy to see why Quentin Tarantino reportedly cried after viewing Suspiria, a blending of genres that is both, unlike anything we've ever seen yet also similar to something that legendary director would brew.
Suspiria demands to be seen twice to both fully understand and appreciate its barking madness. The basic plot is easy enough to grasp (sometimes overly so with multiple dialogue scenes of witches discussing the most basic of plot points that I feel like most people could figure out before walking into the auditorium), but there are also a whopping amount of side stories going on, that I am hesitant to say don't meaningfully interweave with the main narrative, mostly because it's hard to deny that director Luca Guadagnino (responsible for last year's award-winning Call Me by Your Name and once again collaborating with screenwriter David Kajganich) is wholly invested in reimagining Dario Argento's blood-spattering Giallo craziness into something similar but far more provocative, bringing to mind numerous female empowerment movements still going strong in our current modern landscape (this remake, which is more of a reimagining than anything, takes place in 1977, the year of which the original was released).
The setting of Germany remains the same (but moved to Berlin) with some familiar character names (and even Jessica Harper, the star of the original, playing an entirely different character in a brief but memorable cameo) and of course, the presence of a revered dance academy that is a front for a coven of witches, but to my knowledge (I've never actually seen the original but know a reasonable amount about it) that's where the parallels stop. This version of Suspiria also contains a historical backdrop with radio show footage and conversations about radicals attempting to exterminate the Nazis left over from World War II, a terrorist flight hijacking, and a psychiatrist played by the incomparable Lutz Ebersdorf (okay, it's actually just Tilda Swinton in heavy makeup, a creative decision that I'm not sure adds as much as the filmmakers think it does to make this rendition as much about feminism, not to mention the performance is just distracting and stands out as silly regardless of the fact that it is strongly acted).
Veering off the beaten path of manipulative and conniving witches into a pseudo-analysis of post-World War II Germany is quite the stretch to make, and even when it's working there is also the sensation that this is entirely superfluous to a film that exceeds 2 1/2 hours. With that said, I wholeheartedly have to admit I never once felt the length of that running time until the epilogue, which again comes right back to this historical subplot for an emotional wallop that works, but also leaves one feeling as if there was no topping the previous 20 minutes of painting every inch of the set red with blood and guts. That's not to say a movie like Suspiria is not allowed to be something more serious, but at some point the filmmakers need to realize the kind of movie they are making. But again, I can't shake the feeling that there is more to unearth and soak in from a subsequent watch, which is not the feeling I get most overly long experiences.
As such, for the first time reviewing films professionally, I debated bowing out of doing so in this particular instance, which should ultimately be seen as a testament to how layered and deep Suspiria is. It's easy to go along for the disturbingly fun ride of a conservative religious woman (Susie as played by Dakota Johnson, making good use of the shy and timid presence elicited in the Fifty Shades of Grey franchise to play a more unreadable character here) serving as a pawn for the mischievous instructors. At one point, another girl expresses her disapproval of the way their lessons are conducted, leading to a crosscutting sequence juxtaposing entrancing and graceful body movements from Susie with, elsewhere in a mysterious room of mirrors, bone-crunching body contortions and mangling so violently upon on the backtalker that the snapped bones pave the way for urine to begin flowing from the body. Masterfully, this is achieved without the use of special effects thanks to real life dancer turned actress here Elena Fokina somehow able to bend and twist her body to the desired grisly effect of the filmmakers, aided by wonderfully ghastly makeup work. The practical effects are so detailed and appropriately hideous, it's hard not to be reminded of similarly ugly creations such as Zelda from Pet Sematary.
For as violent as that is, it's nothing compared to the orgy of gore and demon summoning ritualistic mayhem that seemingly never lets up during the finale; it is at once both hard to watch but oh so easy to fist pump and cheer on the carnage. The writings of such an ending are on the wall from the beginning (save for the inner mechanics which are entirely unpredictable and a blast to watch unfold), as Patricia (Chloe Grace Moretz in a minor supporting role but turning in one of the best performances of her career as the anxious and trauma-stricken survivor from whatever this occult was planning) confides in the aforementioned psychiatrist Josef. At first, he initially writes her off as delirious and insane (the lesson here is to believe women, even if they come to you stricken by terror and ranting about witchcraft), but after learning of her immediate disappearance following the impromptu session, begins to investigate further. There is also some backstory about the separation from his wife in World War II, which serves as a backbone thematic arc centered on guilt. It all makes for another reason to want to write the plot excess here off as unnecessary, but resistant to doing so for everything Luca does with the material.
Visually, the movie is flat-out stunning but differently from the original, which was very vivid and colorful, unlike the dreary grey and wintry environments on display here. Much of the film is also darkly lit, and occasionally frustrating so. Thankfully, the dance sequences (and inevitable Satanism) are eerily transfixing; they evoke the themes of the film in terms of feminism and witchcraft (I'm also fully willing to admit that as a heterosexual male, I did notice Susie's clothing becoming more revealing to the point where some articles contain protruding nipples, likely done as a means to show her shedding her religious upbringing, which is also hinted at as abusive from her own mother), but even those completely lost on the purpose of the hypersexuality of the movements should find their eyeballs glued to the screen. As previously mentioned, the violence here is an art form. It's still just a shame that there isn't a brighter color palette, namely considering there is an inspired wardrobe towards the end comprised of devilish red that is both revealing yet sinister. The subsequent dancing is, as to be expected, hypnotic; the choreography and cinematography (especially the 70s reminiscent style where cameras pivot around rooms and often crash-zoom into the faces of characters) are spellbinding.
Sound design is equally engrossing; each landing thud or bendy movement piles on to the moody atmosphere with emphatic noise, while the soundtrack is conducted by Radiohead vocalist Thom Yorke. who whips up some chilling songs with lyrics that add to the overall narrative. The music itself is almost as haunting as anything on-screen; they perfectly go hand-in-hand.
I can sit here and go back and forth all day debating with myself about whether or not the numerous plot threads are justified in their existence, or whether Luca should have gone with a color palette boasting more pop, or whether or not the film lands the feminist messages it's clearly aspiring to nail, but there's no way to say for certain without watching the movie more than once. That's something that will turn many viewers off, but it's their loss. Suspiria may be somewhat confounding and slightly offputting, but I'll be damned if I ever see anything like it again in my life. It is a sensory onslaught with layers of narrative depth, indulging in graphic violence both elegant and hellish. You could hate the movie but still come away absolutely incapable of forgetting certain passages. It's fitting that the witches carry around meat hooks; Suspiria is the film equivalent to one of those as it pierces itself into your soul, which now belongs to Luca Guadagnino.
Flickering Myth Rating – Film: ★ ★ ★ ★ / Movie: ★ ★ ★ ★
Robert Kojder is a member of the Chicago Film Critics Association and the Flickering Myth Reviews Editor. Check here for new reviews, friend me on Facebook, follow my Twitter or Letterboxd, check out my personal non-Flickering Myth affiliated Patreon, or email me at MetalGearSolid719@gmail.com