Anghus Houvouras on Spider-Man: Into the Spider-Verse…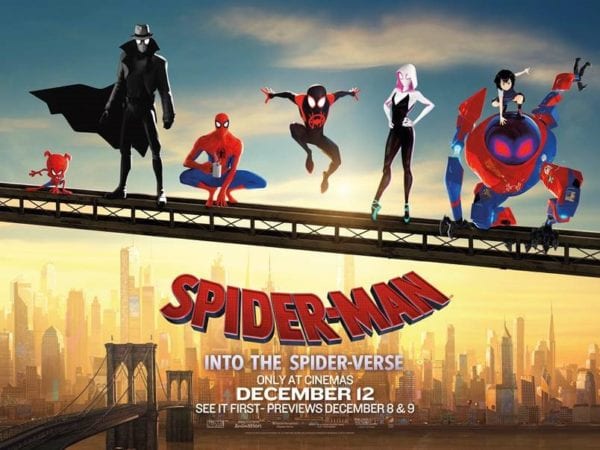 If you would have told me at the start of 2018 that the most entertaining, most perfectly realized comic book movie would be released, I probably would have agreed with you. If you told me it was going to be an animated film from Sony, I probably would have laughed myself hoarse until I sounded like Venom.
Like everyone else, my money would have been on Avengers: Infinity War. Marvel's ridiculously entertaining superhero mash-up that accomplished the impossible by making a coherent, emotionally engaging epic with thirty-seven main characters and fourteen subplots. And yet, here we are, staring down the runway of 2018 and Infinity War is squarely standing on the podium accepting the silver medal. And the race wasn't even close.
Spider-Man: Into the Spider-Verse is the best comic book adaptation ever. A movie that manages to take everything great about the medium and translate it to the big screen.
Let's get the easy part out of the way: the mind-blowing visual style does a lot of the heavy lifting. The hand-drawn quality of these computer-generated visuals perfectly capture the kinetic style of comic-book visuals. Something that live-action adaptations have always struggled to perfectly capture with movies like Ang Lee's Hulk and Sam Raimi's Spider-Man trilogy. As a medium, animation lends itself to comic art.
However, animation apparently also lends itself to comic-book style storytelling. Live-action comic book adaptations work so hard to ground these stories in a believable reality. Not only visually but in terms of story and scope. Spider-Man: Into the Spider-Verse crams a lot of crazy story elements into its ninety minute run time. It manages to tell an origin story while introducing a number of interesting, nuanced characters and shoehorning in wacky comic book style plots, weaving it all into one perfect web.
The film is very comfortable in it's 'anything can happen' roots of comic book storytelling. There's a natural assumption that the viewer is painfully familiar with the source material and origins of your friendly neighborhood Spider-Man (something that greatly benefitted Spider-Man: Homecoming as well). Into the Spider-Verse introduces Spider-Man and his very well established origin in a matter of seconds, using a technique that is re-introduced every time a new version of the character appears. While being stylistically interesting and efficient, it also helps us focus on Miles as a character. The entire movie works us through his origin arc rather than trying to cram it in to the first 20 minutes.
We associate the world of animation as being free from the constraints of reality. Whether that be a complete abandonment of physics or that a Coyote can mail-order explosives and rocket skates from AliBaba Express. Can you imagine a live-action comic book movie incorporating Peter Porker: the Spectacular Spider-Ham or Spider-Man Noir? Marvel has dipped their toes into the weird water with Rocket from the Guardians of the Galaxy films, but most comic book adaptations are looking for ways to make fictional universe elements photo-realistic. Into the Spider-Verse creates a comic-book world unrestrained by live-action restraints.
We need more movies like Spider-Man: Into the Spider-Verse. Films that can fearlessly explore all the amazing elements of a comic book world without an ounce of compromise.
Anghus Houvouras