Bumblebee. 2018.
Directed by Travis Knight.
Starring Hailee Steinfeld, Dylan O'Brien, Justin Theroux, John Cena, Angela Bassett, Pamela Adlon, and John Ortiz.
SYNOPSIS:
On the run in the year of 1987, Bumblebee finds refuge in a junkyard in a small Californian beach town. Charlie, on the cusp of turning 18 and trying to find her place in the world, discovers Bumblebee, battle-scarred and broken.
As Michael Bay's Transformers saga evolved, expanded, and morphed into all-out war between Autobots, Decepticons, and Mark Wahlberg, mechanized action beats hardened over soulful themes of robotic humanity. Floating skybound islands and explosions galore like pockmarks on rusting steel. If there was something Hasbro's vehicular franchise craved, simplicity comes to mind. Enter Travis Knight's Bumblebee, a prequel story focused on B-127 – aka Bumblebee – and the Autobot's first contact with Earth. Stripped of World War III chaos, dizzying animated whirlwinds, once again tuned into the bond between man (or woman) and talking alien automobile. The sweet stuff.
As Decepticons siege and overtake Cybertron, Optimus Prime orders his remaining squadron to flee across the galaxy. Bumblebee (Dylan O'Brien) charts course for Earth, where Optimus and the others will establish a secret base. He's tailed, battles a Decepticon adversary who rips his vocal box out, but eventually is rebooted by San Franciscan Charlie Watson (Hailee Steinfeld). She quickly learns her busted Volkswagen Beetle is far more than meets the eye, but Bumblebee's awakening reactivity transmits a beacon that's intercepted by Decepticon assassins. Can Bumblebee and Charlie stay unseen, avoid anti-Transformer military man Agent Burns (one-liner machine John Cena), and save the planet from Decepticon destruction before Optimus arrives?
Bumblebee is incredibly streamlined, he types with the utmost enthusiasm. We know "DJ vocal cords" Bumblebee from Bay's existing series, and it's not long before O'Brien's voiceover role diminishes. Then it's straight into Charlie's junkyard root-around, her uniting with "Bee," then Decepticon trackers Shatter (Angela Bassett) and Dropkick (Justin Theroux) duping US military officials into accessing worldwide satellites. Christina Hodson's screenplay never halts momentum, but still finds time to nurture almost-18-year-old Charlie's coming of age arc alongside Bumblebee's piecing back together. Two outsider companions carving their destined paths.
On the flip, Hodson's attention to forwarding movement comes at a price of predictable and often used blockbuster beats. Charlie's meet-cute with neighbor and churro boy Memo (Jorge Lendeborg Jr.). Agent Powell's (John Ortiz) allowance of Shatter and Dropkick to tamper with government technology. Agent Burns' gasket-blowing hatred for Autobots. Rick Astley jokes. Charlie's outbursts and rebellious aggravation due to her blood father's death. Sometimes spurred on by nothing but a word or glance, frequently supported by plot-advancing coincidence.
Knight's sophomore feature blends Hailee Steinfeld's Edge Of Seventeen frustrations (tweaked by tragedy) with Pete's Dragon charms. Bumblebee's larger-than-life personality is that of a curious child, and Steinfeld plays along while holding his hand ever so tenderly. She tinkers with her transformin' friend's mechanical parts in fix-it mode (Bee's radio installation); he unlocks a human's lost sense of self. Friendship leads to hijinx (Bumblebee destroying household products, evading cops, etc.), hijinx lead to trouble, and trouble leads to Bumblebee tag-teaming Decepticons while simultaneously bodyguarding Charlie. Steinfeld's reactions to Bumblebee's first passive then playful advances sell unbreakable bonds, strengthened by Bee's bolt-tight CGI composition.
Action takes a backseat to emotion and discovery in Bumblebee, but isn't without the blockbuster fights Transformer fans demand. Cybertron's immediate fall kickstarts storytelling with a photon cannon bang – Autobots and Decepticons duking it out – and Bumblebee's guardian duties finish with a pile of scrapped parts. Midsection sequences shy away from warfare outside "comet" streaks demolishing muscle cars and Bumblebee's high-speed chase, plus there's also Dropkick's obsession with turning humans into clear snotty goo (his weapon liquifies bodies). Combat is lessened – this isn't another 180 minute Bay epic – but with fewer characters in play (sans introduction), scripted fighting is more fluid, focused, and easier to follow. Ditch the overambition, crush the basics.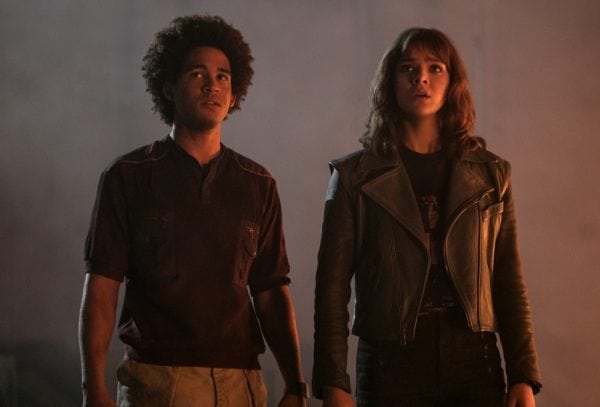 Is Bumblebee the 80s TV sitcom entry into Transformers cinematic lore? Household bickering, pinstriped Hot Dog On A Stick uniforms, and a How To Train Your Dragon vibe assure it so. Is Bumblebee also sincerely sweet, warmly light-hearted, and programmed to thrill, entertain, then bring it all back to family values? Surprisingly so. As Bumblebee learns to love The Smiths, we learn to love black-and-yellow Autobot savior of Earth. We sympathize with Pamela Adlon's mother, learn to appreciate Stephen Schneider's all-smiles stepfather, and laugh at Cena's brute-force skepticisms as comedic relief ("They're named Decepticons!" he retorts while asserting distrust). Plainsight foreshadowing and all (Ohhhh! There are bumblebees in when Charlie first finds him because…yup, got it!).
Flickering Myth Rating – Film: ★★★  / Movie: ★★★★
Matt spends his after-work hours posting nonsense on the internet instead of sleeping like a normal human. He seems like a pretty cool guy, but don't feed him after midnight just to be safe (beers are allowed/encouraged). Follow him on Twitter/Instagram (@DoNatoBomb).