Red Stewart chats with Serenity director Steven Knight…
Steven Knight is an English screenwriter and director who has been working in the film and television industries since the early-1990s. He is best known for his work on projects like Eastern Promises, Peaky Blinders, and Locke. His latest work was for the mystery thriller Serenity.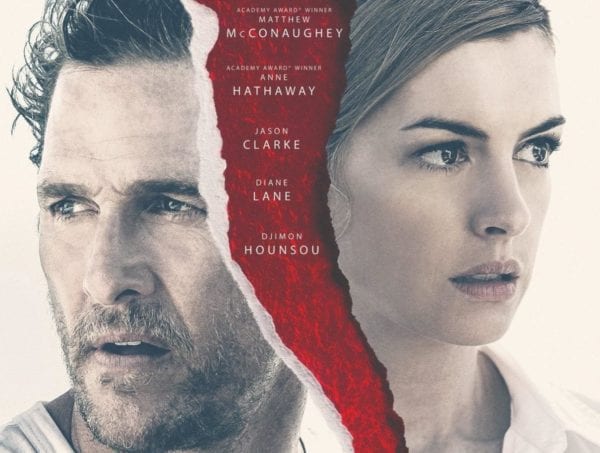 Flickering Myth had the privilege to interview him, and I in turn had the honor to conduct it:
I know you began your career in the 90s doing a lot of writing and screenwriting. And though you did do some directing with The Detectives in 1995, your cinema directorial debut came with Redemption in 2013. I'm wondering, did your approach to writing change after sitting in the director's chair?
It made me appreciate how difficult directing is. And also inevitably, when you're writing, you shouldn't feel like this person. You do understand, when you're writing a scene, that certain things are going to be really costly or difficult, and it does start to affect how you write.
But I consider myself to be a writer primarily, and when I'm writing something I'm not directing, I try to assume that there will be a solution that can be offered.
No, that makes sense. I've spoken to other filmmakers and they've told how there's a lot of bleeding over between their work on different departments. Have you found that to happen to you, where, now that you've done the final edit and have a sense of film editing, it's going to affect you when you're writing a scene, like "maybe I don't have to write it this way because in the edit we can change it this way or film it differently"?
Yeah, if you're directing it yourself, especially when you're writing the literal direction on the page, you know you can be more shorthand since you know that you're going to be doing it. When you're writing for someone else's direction, I try to be as specific as possible so that it gets translated from the page to the screen.
That definitely shows in your work. I don't think you've ever written anything that felt overlong- it's always been concise. Your approach makes sense in that regard.
Now let's talk about Serenity, the movie that put us in touch with one another. It's a thriller about a fishing boat captain whose ex-wife meets him after some time, and that's all I can say without spoiling anything. You wrote the screenplay yourself- does that make it a more relaxing process in the directing field?
Yeah, I mean I've never directed anything that anybody else has written, but, as I said, I do think of myself as being more of a writer, and I will only choose to direct when I feel that it's a project that is possibly a bit experimental and which, if I did hand it over to someone else, the system in the process would tend to change it. So the good thing about directing something yourself is that you can ensure that what you've written is what's going to get shot.
No absolutely. And I apologize if you've been asked this before, but I have to know- is it a coincidence that you got the same leads as Interstellar, Matthew McConaughey and Anne Hathaway?
That was a happy coincidence because we got our first choice cast. And for me, Baker Dill was Matthew because of the nature of who he is; Baker Dill is sort of a classic American male hero in the tradition of Humphrey Bogart and Robert Mitchum and John Wayne where it's a very individualistic, idealistic, outsider if you like, with secrets, and Matthew really brings that to the table. And the good thing about him is, as well as being that classic hero, he is a complex and sophisticated enough actor to be able to deal with the twists that come next.
And with Anne, again, she can play that tough noirish femme fatale, but at the same time she can offer the vulnerability behind the eyes that very few people can do. So they were both first choices, and it was a bonus I suppose that they had worked together before. We knew that there were no issues off-screen, and when they were on-screen there was that fantastic chemistry.
I'm very glad to hear that, especially since you hear stories about how directors were unable to get all their first choices. One thing I found kind of interesting is that, even though the film was produced by an American studio, a lot of the major crew positions were English- you have yourself, you got Benjamin Wallfisch doing the score and Jess Hall as the cinematographer. I'm wondering, what was that hiring process like?
It wasn't quite so planned really. I mean, most of the crew actually, when we were shooting, were South African. But it just happened that I was offered a couple of directors of photography from different backgrounds and countries, and I liked Jess Hall's work. He's actually based in Los Angeles now. I just thought that he was the best man for this cause he's got a real artist sensibility.
And then subsequently with Ben Wallfisch, I think he's one of the best around. And maybe there is subconscious thing where you gravitate towards people from your own country. However, it wasn't a deliberate thing. But there is a sort of consistency or sensibility because everybody's been to the same place and increments towards the same people.
That definitely makes sense, and at the end of the day you want a crew that will work the best for you, regardless of background. And Mr. Wallfisch is a great composer, especially with Blade Runner 2049 the other year.
Yeah, he's brilliant. He's fantastic.
You mentioned noir-influences, and obviously Serenity is a neo-noir movie. I've seen a lot of great noirs, including Humphrey Bogart's The Maltese Falcon and The Big Heat with Glenn Ford. What were some of your favorite noirs sir? Did any of them influence the production of this movie?
Yeah, specifically going back far to the beginning, the sort of unselfconscious early stuff where people were not feeling that they are a part of a genre; they were just making the films that they wanted to make. And I do also think that what is called noir in the film industry is part of a long tradition in American literature, which goes back to Hemingway, and even Serenity went as far as Captain Ahab and Moby Dick. There is a sort of hero that is a very American creation which is that outsider, and that's who I wanted Baker Dill to be.
Click below to continue on to the second page…