Serenity, 2019.
Written and Directed by Steven Knight
Starring Matthew McConaughey, Anne Hathaway, Jason Clarke, Diane Lane, Djimon Hounsou, Jeremy Strong, Rafael Sayegh, Garion Dowds, Robert Hobbs, Edeen Bhugeloo, and Kenneth Fok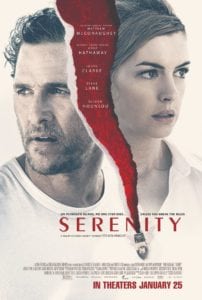 SYNOPSIS:
The mysterious past of a fishing boat captain comes back to haunt him, when his ex-wife tracks him down with a desperate plea for help, ensnaring his life in a new reality that may not be all that it seems.
Everyone thinks they know everything, but what if no one really knows anything? It's not the exact quote, but a fairly fitting line Matthew McConaughey's Baker Dill throws out there once the proceedings of Serenity (the sophomore feature from writer and director Steven Knight who previously made the captivating midlife-crisis-from-a-vehicle drama Locke starring Tom Hardy) become increasingly strange. Marketing is usually always misleading, but it's pretty reasonable to come to the conclusion before seeing it that this seemingly sexy thriller that feels ripped right out of the 90s would stick to the simple premise of 'ex-husband killing ex-wife's rich but physically and emotionally abusive new husband but with twists'. No, just no.
Serenity is not a good movie, let me just get that out of the way now. But it is a fascinating misfire that would be hard to perceive as wasted money based on how nutty and entertaining it all is. That level of enjoyment will also vary depending on what you make of the second half reveal, which is nothing short of stupid, unbelievable, illogical, and severely undermines almost everything about the narrative to cater to a different audience entirely. Serenity isn't just a film that switches tone and genre, it switches its intended demographic on a dime, doing so as roughly as watching a Chicago Bears kicker try to make a game-winning Field Goal. Unfortunately, it's also one of those movies that's difficult to write about (especially what's wrong with it) without spoiling the only reason anyone should take a chance on watching it in the first place.
The gist is that Baker Dill (I was going to make a joke that apparently it's in Matthew McConaughey's contracts to always play a character with a ridiculous name, but considering some of the things this movie actually throws out there, in a way it only makes sense for such a silly name) is a struggling fisherman with a tragic past living out his days in isolation on the very relaxing and peaceful looking Plymouth Island. As we are introduced to him, we see he's going through a bit of a rough patch (snapping on tourists, pulling knives on partners, obsessed with catching a specific tuna) and in need of money. Enter former flame Karen (Anne Hathaway giving what might be one of the worst performances of her career, but again, considering some of the second-half elements of the plot it could very well be intentional, although that still doesn't make it acceptable) who is now married to the chauvinistic and abusive Frank (Jason Clarke playing the most one-note and stereotypical impersonation of a domestic abuser, mostly because once again, the film has far more else on its mind to make any of the family drama actually register as disturbing or emotionally painful to witness), and is offering $10 million to toss him overboard and feed him to the sharks when they visit Plymouth Island for a brief fishing vacation.
Baker also appears to have some kind of psychic connection with his young son, a child so traumatized by the domestic turmoil going on around the house that he barely speaks and sticks to himself inside his room sitting on the computer all day. Use this subplot as your guide to how bizarre this movie really gets (I'm not spoiling it), as Steven Knight begins pulling from these character interactions and more (there's a fishing equipment salesman of sorts desperately trying to find an opportunistic time and repeatedly failing to have a word with Baker, alongside another woman played by Diane Lane who serves no purpose other than to have sex with him where we get about five different shots of Matthew McConaughey's ass, and his close fishing buddy played with sage-like intellectualism by the reliable Djimon Hounsou) to poorly comment on right and wrong, morals, compulsions, temptation, and more that amounts to nothing. Matthew McConaughey does fine delivering these philosophical musings, but all of these themes are lost in a film that becomes something else in an effort to say something interesting about those things, winding up failing spectacularly. The film also does a gross injustice in depicting domestic abuse (Jason Clarke is more unintentionally hilarious than anything, as are bits of intimacy where Anne Hathaway refers to him as Daddy).
Despite all of this working against it, Serenity deserves respect on some level for attempting something different and going for boldness through insanity. There are ideas here but not enough time to explore anything, including the island itself which becomes a character in its own right (that's nowhere near the extent of how crazy this film gets, so don't think anything is ruined). It's also a movie where Matthew McConaughey stands atop a massive cliff and dives into the ocean like he's Ezio from Assassins' Creed, all just to take a shower, which might be worth the price of admission right there. Realistically, there are a select group of people that will be able to catch on to the twist (I started to sense it but was unsure if the filmmakers would actually go through with something so ludicrous), but everyone else is in for one hell of a surprise that's… actually boring for a revelation so far leaned into, that you kind of stop caring about everything else and just wonder how things are going to end. Even that is more agitating than serene.
Flickering Myth Rating – Film: ★ ★ / Movie: ★ ★
Robert Kojder is a member of the Chicago Film Critics Association and the Flickering Myth Reviews Editor. Check here for new reviews, friend me on Facebook, follow my Twitter or Letterboxd, check out my personal non-Flickering Myth affiliated Patreon, or email me at MetalGearSolid719@gmail.com