The Favourite, 2018.
Directed by Yorgos Lanthimos.
Featuring Olivia Colman, Emma Stone, Rachel Weisz, Nicholas Hoult, Joe Alwyn, James Smith, and Mark Gatiss.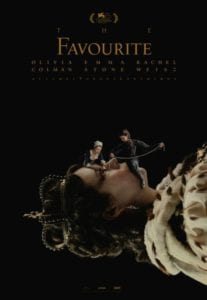 SYNOPSIS:
In early 18th century England, a frail Queen Anne occupies the throne and her close friend, Lady Sarah, governs the country in her stead. When a new servant, Abigail, arrives, her charm endears her to Sarah.
If a director of Yorgos Lanthimos' strident singularity seemed destined for a career spent on the Hollywood fringe, his sharp left-turn into period comedy clearly says otherwise. And though The Favourite does result in a sure broadening of the filmmaker's tougher – and some might say offputting – brand of black humour, it's too damn well-crafted and entertaining to feel like an act of selling-out.
While the particulars of the tripartite battle of wits are best left unspoiled, The Favourite is a speculative account of Queen Anne's (Colman) late-period existence, harangued by recurring gout, probable mental health issues and paranoia, the latter justifiably so given the sheer wealth of bad actors whispering in her ear.
Anne's prim confidante is Sarah Churchill, the Duchess of Marlborough (Weisz), whose firm handle on the Queen's affairs is stymied by the arrival of her chirpy yet unrefined younger cousin, Abigail (Stone), resulting in a most thinly-veiled war to become Anne's, yes, favourite.
Lanthimos is such an interesting choice to direct a film of this sort, especially given the extremely terse and clinical – not to mention entirely fictional – nature of his prior works, such as Dogtooth, The Lobster and The Killing of a Sacred Deer. Lanthimos' films haven't ever left one wanting for surrealism, and while his latest doesn't feature people transforming into animals or magic death curses, it is far from your garden variety period bodice-ripper.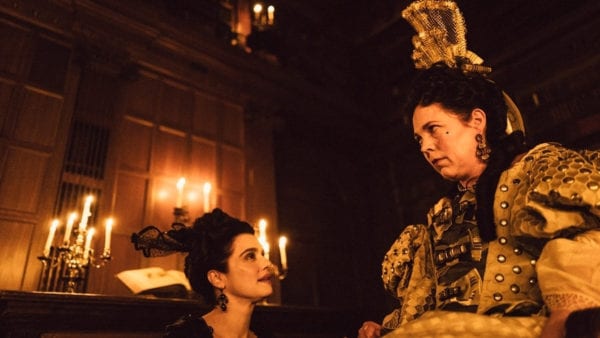 An obvious touchstone is Stanley Kubrick's Barry Lyndon, which The Favourite draws obvious inspiration from stylistically if not also thematically. Without a stuffy, navel-gazing bone in its body, this film is fully committed to its absurd, even silly tone. And though it's as such a few levels below the focused morbidity of Lanthimos' last two films in particular, it's never less than wince-inducingly hilarious, if not something more.
The highfalutin ceremony of the royal dynamic is sent up splendidly here, chiefly by way of a storming Olivia Colman turn that performs a fine tightrope walk in mocking the Queen's foppish fickleness but also chipping away to reveal a tragic core beneath. It would've been so easy for Colman's Anne to become a pure cartoon, yet the depiction of an easily-manipulated figurehead stumbling around cluelessly is sadly all too relatable in our present.
Colman's awards-worthy work is abetted at all times by several supporting actors giving the finest performances of their careers. Emma Stone is sublime and expectation-defying as the wet-around-the-ears yet ambitious Abigail, while Rachel Weisz is impeccable as the quietly acerbic Queen's pal desperate not to lose her position to her younger, peppier competition. With Colman, Stone and Weisz bristling against one another for the majority of the film's two hours, it's simply a delight watching this royal triple threat match become both increasingly absurd and ever-more intense.
Men are very much an afterthought here – as they certainly should be – but that's not to forget the contributions of Nicholas Hoult or Joe Alwyn either. The former is especially brilliant as wigged-up, makeup-wearing nob – in both the literal and figurative sense – Robert Harley, while Alwyn excels as Abigail's hilarious horndog suitor Samuel Masham.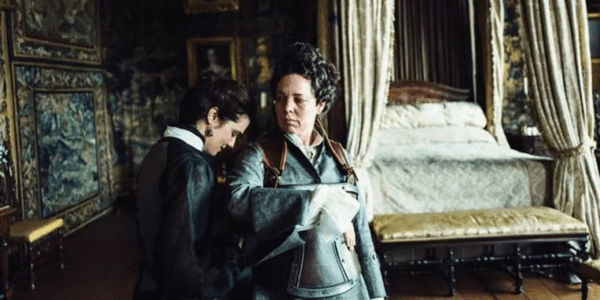 Deborah Davis and Tony McNamara's rat-a-rat script may lack the extraterrestrial coldness of Lanthimos' own prior scripting work, but it's tough to argue with its firm handle on the fascinating central character dynamics, not to mention the obvious social constraints of the day. The director milks the potentially soapy drama for every nerve-wracking drop it's worth, especially in the later stretches as the true dangerous utility of this love-hate triangle comes to bear.
And while The Favourite may not be the filmmaker's most incisive film to date, it is definitely his most technically accomplished. Robbie Ryan's eye-popping visuals use fish-eye lenses to bold effect, both emphasising the vastness of the Queen's grounds and also the isolation of the characters therein. Costume and production design credits are meanwhile first-rate as is to be expected, while deft classical music selections fill out the soundtrack in lieu of a typical musical score.
Though lacking the savage vigour of Lanthimos' previous films, The Favourite's expert acting and deliciously funny script makes for an intoxicating mix. If nothing else, it's a remarkable testament to the auteur's surprising ability to diversify himself while still remaining firmly committed to examining basic aspects of the human experience in not remotely basic ways.
Flickering Myth Rating – Film: ★ ★ ★ ★ / Movie: ★ ★ ★ ★
Shaun Munro – Follow me on Twitter for more film rambling.