Mid90s, 2018.
Directed by Jonah Hill.
Starring Sunny Suljic, Lucas Hedges, Olan Prenatt, Na-kel Smith, Gio Galicia, Ryder McLaughlin, Jerrod Carmichael, and Katherine Waterston.
SYNOPSIS:
A young boy in 1990's Los Angeles spends his summer with older, teen skaters while battling his home life.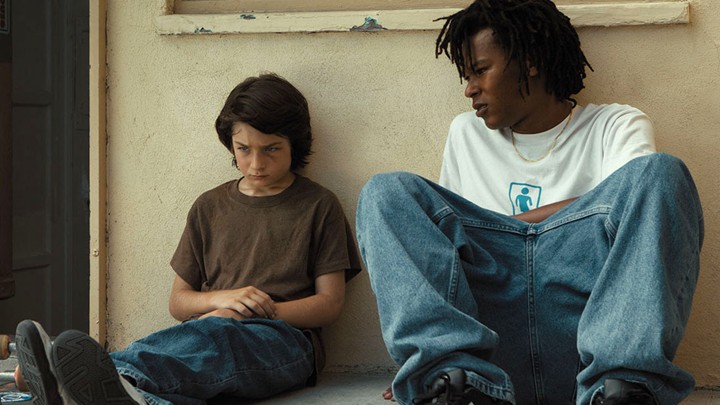 From drawing illustrious, hilarious variations of penises, to earning Oscar nominations, Jonah Hill's metamorphosis from quick-witted comic into high-calibre performer has been glorious. His foray into working behind the camera is similarly remarkable; a transportive coming-of-age film, coming from gold dust distributor A24 and shot in 4:3 on 16mm, with a roster of unknown actors amidst established talent. As far as debut features go, this is dope.
You're thrown in as abruptly as it ends; Stevie (Sunny Suljic) is thrown through the door into the wall, subsequently pummelled to the ground by his hulkish older brother, Ian (Lucas Hedges). Despite the agony of these brotherly beatings, Stevie's intractable affinity for the privileges of the years ahead of him draws him to his sibling's possessions, whether it be the headphones, CDs or Jordans.
The 90s aren't commonly associated with the term "period piece", but the deeply layered, considered mise-en-scene of Mid90s commands the distinction. Hill allows his cinematographer, Christopher Blawelt, to let the camera draw across his time capsule (keep an eye out for the TMNT bed sheets). The graininess of the picture evokes a rough, home movie feel, even though there are some breathtaking shots in the sun-drenched lots; particularly when Stevie meets his new friends.
Hill also wrote this feature, crafting a screenplay both earnest and juvenile. Some of the language is particularly unsettling, such as the formerly popular customary use of the word "retarded" for anyone who annoys the boys or girls. But small moments of gross resonance grip you further into a familiar dynamic between pals. One member of the group, nicknamed Fourth Grade, asks his cohorts: "Would you rather suck on your dad's dick or eat your mom out?" The following discussion would inspire disgust in many movies, especially when one says he would rather flat-out rape one of his parents instead, but the sort of passing ridiculousness of it all doesn't earn offence.
Suljic, best known for his traumatic work in The Killing of a Sacred Deer, commands the screen with a captivating understanding of his character. He totally embodies the quirks and nerves of a naive boy, soon blending the ever-fading gap between the pseudo-smiles and genuine happiness into one forever changed personality. The war at home with his brother is where the film loses strength; despite a strong but smaller performance from Hedges, their relationship isn't developed enough. Katherine Waterston plays the brothers' mum, periodically dropping in and out of the picture usually with a trembling lip; her morally iffy home life is dabbled in briefly, but again the focus of the script leans on other areas.
Stevie's relationship with the skaters is the most emotionally fulfilling and challenging aspect of the film. Alongside Fourth Grade there's Ray (Na-Kel Smith), a hood-bred youth looking ahead to a brighter future outside his surroundings. You also have Fuckshit (Olan Prenatt), named for his frequent reaction to pretty much anything ("Fuck… shit…") and Ruben (Gio Galicia), a galas, brash youngster who proclaims that thanking anyone is gay and that he's a badass. They're a gathering of tortured souls, finding solace in the back of their skate shop or out on their boards. Hill affords an endearing amount of empathy for them, viewing the whole thing through the lens as if he's their friend rather than a filmmaker (right down to a really icky sexual encounter).
For all its slight charm, this can be, at times, a very difficult watch and proves to be quite brave filmmaking by the end. Your admiration of the film grows as the hardship continues to mount upon the group, neither likeable or loathsome – they're simply just boys being boys. There's an overriding theme of what loyalty means, and finding people who want to see the best in you. But most of all, it all feels abundantly true, filtered only through the artistic liberties of filmmaking (the 4:3 is a commendable decision, but it would of been nice to soak in the whole frame). Threaded through the narrative is Trent Reznor and Atticus Ross' brilliant composition, which chronicles the small triumphs and creeping anxiety of growing up and the surprises, whether they be pleasant or not, that comes with; it's like aural poetry.
Unflinching with an absorbing aesthetic, Mid90s is proper coming-of-age; terrifying, fleeting and funny with pathos to spare.
Flickering Myth Rating – Film: ★ ★ ★ ★ / Movie: ★ ★ ★ ★
Cameron Frew is a film critic who can be found on Twitter @FrewFilm. You can also find him on Facebook, or send an email to cameronfrew97@gmail.com.