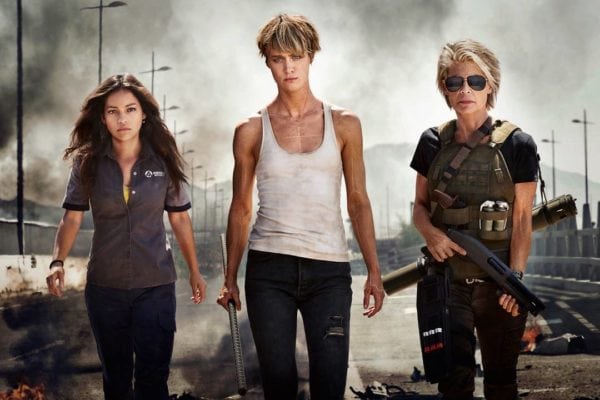 Despite immersing himself back into the world of Pandora as he works on his hugely-ambitious plans for four Avatar sequels, James Cameron has managed to squeeze in producing duties on his long-gestating manga adaptation Alita: Battle Angel, and is also set for a return to the Terminator franchise this year as he reunites with Arnold Schwarzenegger and Linda Hamilton to produce a direct sequel to Terminator 2: Judgment Day.
During an interview with Yahoo! Movies to discuss Alita: Battle Angel, Cameron has revealed that Terminator 6 is currently going by the title Terminator: Dark Fate, while he also spoke about his return to the action sci-fi series alongside director Tim Miller (Deadpool).
"Tim's a very willful and opinionated director, and he's got his own ideas for the film," said Cameron. "I'm kind of like the Pips — he's Gladys. I said, 'I can't be involved in this film at all if Arnold [Schwarzenegger] is not in it. Fans are going to want to see [Linda Hamilton] again, and they're going to want to see the real Sarah Connor and what time and dealing with these tragic futures has done to her. It's hardened her even more, but in a way that made her much stronger. Maybe less likable, but stronger. And ultimately, she becomes a really important character in passing the baton to the new characters that come in. It's a very female-centric film, which I'm glad Tim embraced those themes."
SEE ALSO: Promo video offers a behind-the-scenes peek at Terminator 6
Are you looking forward to Terminator: Dark Fate? Let us know in the comments below or tweet us @FlickeringMyth…
Terminator: Dark Fate is being directed by Tim Miller (Deadpool), with James Cameron attached to produce, and sees Arnold Schwarzenegger (T-800) and Linda Hamilton (Sarah Connor) reprising their roles alongside new cast additions Mackenzie Davis (Blade Runner 2049), Natalia Reyes (Lady), Diego Boneta (Pretty Little Liars) and Gabriel Luna (Agents of S.H.I.E.L.D.). It is set for release on November 1st 2019.