Boy Erased, 2018.
Directed by Joel Edgerton.
Starring Lucas Hedges, Nicole Kidman, Russell Crowe, Joel Edgerton, Troye Sivan, Xavier Dolan, Britton Sear, Jesse LaTourette, Flea, Cherry Jones, and Joe Alwyn.
SYNOPSIS:
When Jared Eamons (Lucas Hedges) is outed following an incident on his college campus, his staunchly Baptist preacher father (Russell Crowe), and God fearing mother (Nicole Kidman), send him to Love in Action, a gay-conversion camp run by Victor Sykes (Joel Edgerton). It's here that Jared is to be 'cured' of his 'addiction' alongside other teenagers who're told that homosexuality is a choice.
Boy Erased is one of those awards contenders which appears to have slipped through the cracks before getting anywhere near a podium. It doesn't help Joel Edgerton's film that The Miseducation of Cameron Post, a superior movie that covers similar territory, was released a few months prior. It features a wonderfully empathic performance from Lucas Hedges, is timely and important in the power of its message, but is all wrapped in a rather underwhelming, slightly dull movie-going experience.
Opting for a time hopping narrative, one which anchors Jared in the conversion camp, and then flashes back to events triggered by the therapy, there are some undeniably hard-hitting scenes. Based on Garrard Conley's memoirs, the film makes these moments feel very personal and intimate, which is largely down to the subtle performances of the characters. With this subject matter there could have been a desire to play the family dynamics as Fire and Brimstone histrionics, but Edgerton's film is a very gentle, effortlessly real one.
The same can be attributed to Hedges, who plays Jared as a boy who's burdened by not only the weight of his own inner turmoil, but that of his parents too. He comes across as a decent, caring, completely self-aware young man, who puts the welfare of others above his own, even if it impacts directly upon the most painful aspects of his life. It's the way he takes ownership of the situation, and the confidence this breeds, both individually, and in the way that he deals with those around him, which acts as the inspirational arc of the film. Hedges utilises the same default setting used so brilliantly in Manchester by the Sea and Three Billboards outside Ebbing, Missouri, of a young adult coping with issues that most grownups couldn't handle. His sensitive performance is integral to humanising the issues at the heart of Boy Erased.
The rest of the film isn't quite as successful as its subject. There's a subdued visual palette, which you could argue compliments the mood of the piece, but really only helps in emphasising the rather plodding nature of the episodic structure, one which relies a little too heavily on intrusive melodramatic music. It also commits the cardinal sin of having a throwaway line about a key character during the end credits, that would have had a far greater impact had it been woven into the narrative.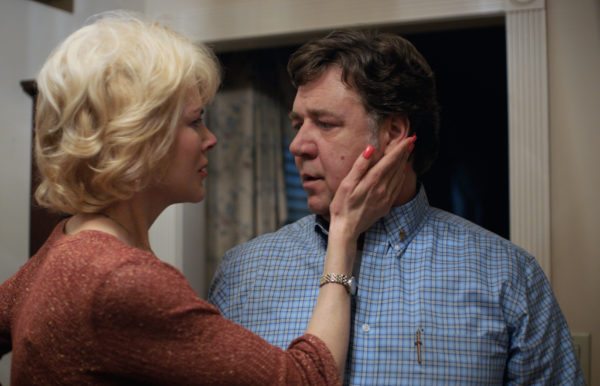 Admirable for shedding light on the existence of the foul practice of conversion therapy, and for treating the dynamics involved with being an LGBT family with a subtle hand (Kidman is especially good during the final act), Boy Erased has its heart in the right place, but that doesn't necessarily make it a very good film.
Flickering Myth Rating – Film ★ ★ ★ / Movie ★ ★
Matt Rodgers – Follow me on Twitter @mainstreammatt