Fighting With My Family, 2019.
Written and directed by Stephen Merchant.
Starring Florence Pugh, Jack Lowden, Nick Frost, Lena Headey, Vince Vaughn, Dwayne Johnson, Kim Matula, Aqueela Zoll, Ellie Gonsalves, Thea Trinidad and Stephen Merchant.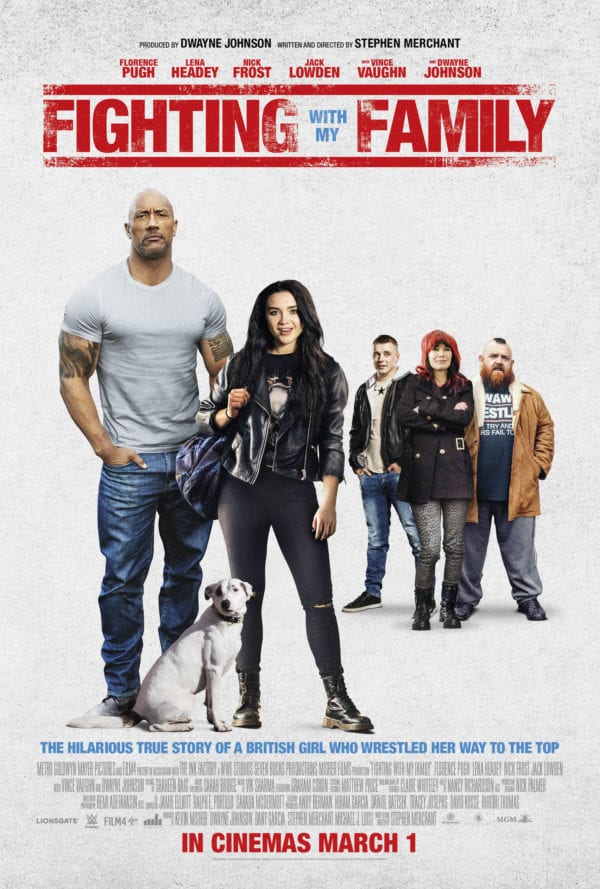 SYNOPSIS:
The underdog story of WWE superstar Paige, who rose from the ranks of a wrestling family in Norwich to the biggest stage of the industry.
Professional wrestling is definitely the most popular art form that most people don't care about. WWE is a huge, international conglomerate and WrestleMania is an extraordinary event of gargantuan proportions, but most people react to the word "wrestling" with a quizzical, scrunched-up expression and some variant on the question: "What? Like Hulk Hogan? Isn't that stuff fake?" Indeed, when a group of teenage girls are offered the chance to see a wrestling show for the first time at the beginning of the new biopic Fighting With My Family, her response is damning: "I've never had rectal bleeding before, but I'm pretty sure I'm not a fan of that".
With all of that in mind, Fighting With My Family is an important cultural moment for wrestling fans. It's a traditional sporting underdog tale, set in the heart of the wrestling world, and is being sold on the back of former grappler Dwayne 'The Rock' Johnson – the nickname is definitely back for this one – delivering catchphrases for a few minutes in a heavily-trailered cameo.
At the centre of that underdog tale is the Knight family – Bevis outside the ring – and, most notably, Saraya (Florence Pugh), who would later become a WWE star as Paige. Under the guidance of 'Rowdy' Ricky Knight (Nick Frost, sporting Knight's idiosyncratic beard and mohawk combo), the family all work for the Norwich-based World Association of Wrestling. Ricky and his wife 'Sweet Saraya' (Lena Headey) have ambitions for their kids – Saraya and brother Zak 'Zodiak' (Jack Lowden) – to work for the WWE, but their humble origins make this somewhat unlikely.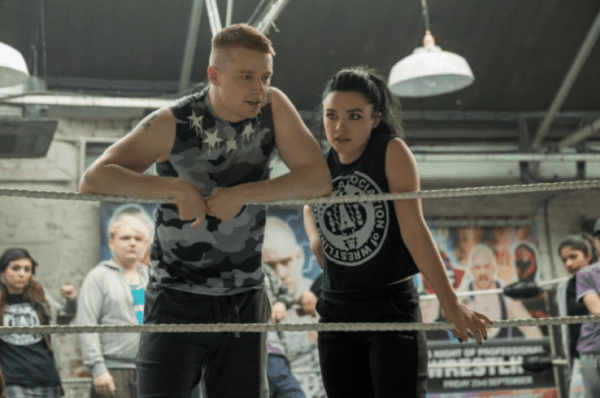 Anyone familiar with either the real-life story of Paige or the general structure of a sporting underdog tale will be able to decipher the way this is all going to pan out. Paige is signed by WWE trainer Hutch Morgan (Vince Vaughn), while Zak must return to Norwich after a harsh rejection. Soon, a pale-skinned rock chick from England is rubbing shoulders with cartoonishly attractive, blonde, fake-tanned fitness models in a foreign country and attempting to let her in-ring experience do the talking her nerves won't let her voice express.
Pugh is simply terrific as Paige. On the most basic level, she perfectly mimics the mannerisms and physicality of the real-life performer and nails her slightly lilting Norfolk accent. However, this performance is about how Pugh manages to embody the scrappy, underdog spirit and outsider appeal that allowed Paige to stick out in amongst what was then the 'Divas' division in WWE, more focused on hairography and sex appeal than the wrestling excellence that the 'Women's Revolution' in the company has now made the norm. Wisely and surprisingly, the movie nods to Paige's role in that sea-change rather than making it the full-time focus of this movie, which is more about the woman than what she represents.
But crucially, it's also about the wider Knight family. Nick Frost is a big, broad delight as the larger than life Ricky Knight, embracing the brash, crude charm of the real man. An excruciating dinner scene with his son's girlfriend's parents (writer-director Stephen Merchant plays the dad in a moustachioed cameo) in which they discuss whether wrestling is "fake" or not goes down as a highlight thanks to Frost's impeccable comic timing. Even the often unreliable Vince Vaughn does a solid job in a role that basically serves as a composite of every wrestling personality who isn't The Rock.
Jack Lowden, meanwhile, delivers a layered turn as the troubled Zak, who becomes a hollowed-out husk of anger so hot it has numbed him entirely in the wake of his rejection. His relationship with his sister is intense and strong, but capable of warping and even snapping in the wake of the enormity of the wrestling dream they share. There's real tension in a scene that sees Zak go off-script in a match with his sister, hitting her a lot harder than he should as his pent-up frustration is released through shocking, wordless aggression.
While he may not have seemed the most obvious choice to helm a wrestling movie, Merchant has obviously immersed himself in that world, with the help of his WWE collaborators. Fighting With My Family understands the unique blend of fiction and reality in the business – "soap opera in spandex", says Vaughn's character – better than most movies, taking it seriously while acknowledging its inherent silliness and camp. Merchant's script is sharp and witty, with only the occasional moment in which its self-awareness is dwarfed by rags to riches cliché. There's also an impressive visual dynamism to the wrestling sequences, which segue seamlessly between Pugh herself and wrestling double Tessa Blanchard.
The film is a treasure trove for wrestling fans, from seeing The Rock return to all-out People's Champion shtick to spotting The Miz in a brief, walk-on appearance and giggling as Sheamus and Big Show bicker about hot dogs. But crucially, it never pushes this side of its story so far that non-fans will be alienated. By transplanting the traditional underdog template into the wrestling business, it avoids delving too deeply into the milieu of this nerdy world. At the end of the day, we're watching a self-proclaimed "weirdo freak from Norwich" get her moment in the sun, and that's the heart of the movie's exceptional charm.
And at its core, that's what Fighting With My Family is all about. It's not a rough and ready portrait of wrestling's harsh realities, or a granular portrait for uber-fans, it's a broad and wide-ranging sporting story that revels in its comedy as much as its bona fide emotion. This is a movie that will charm everyone, whether you can identify the most complex of submission holds or you're still clueless as to the nature of a powerslam. Pugh's Paige describes wrestling in simple terms as "escapism", and that's exactly what it is for the audience here.
As a wrestling fanatic desperate to see the art form portrayed on the big screen without the blood and bleakness of Darren Aronofsky's excellent, but tough, The Wrestler, I left the cinema rocked and relieved. I can't wait for that bell to ring again for a rematch. The only question is how many times I'll see it.
Flickering Myth Rating – Film: ★ ★ ★ ★ / Movie: ★ ★ ★ ★ ★
Tom Beasley is a freelance film journalist and wrestling fan. Follow him on Twitter via @TomJBeasley for movie opinions, wrestling stuff and puns.