Alita: Battle Angel, 2019.
Directed by Robert Rodriguez.
Starring Rosa Salazar, Mahershala Ali, Jennifer Connelly, Michelle Rodriguez, Ed Skrein, Christoph Waltz, Jackie Earle Haley, Keean Johnson, and Edward Norton.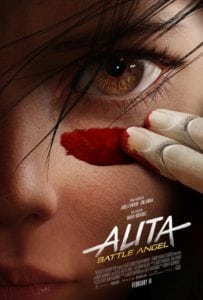 SYNOPSIS:
An action-packed story of one young woman's journey to discover the truth of who she is and her fight to change the world.
Robert Rodriguez's Alita: Battle Angel is – how does the 311 song go? A "Beautiful disaster?" No, that's a bit harsh. 2019's Yukito Kishiro manga adaptation stuns something *spectacular* in 3D, spikes adrenaline highs during futuristic Motorball competition/combat (Rollerball meets BattleBots), but is yet another casualty to the "hopeful franchise" cause. My business background permits insight into studio logic behind franchise investment where robust existing properties are considered – but as a cinema fan? If your focus strays from the film and consequences at hand, dumping exposition and speeding through universe architecture in favor of sequel teases, intent will overshadow.
"If you build it, they will come." Interpreted: a memorable and sensational (read: successful) enough movie will always lead to greenlit sequels. Make your mark, reap the benefits. Getting ahead of oneself only leads to lackluster storytelling even *if* your visual magnificence is next to few.
Welcome to the 2500s. Global warfare has wiped out all but one of the Earth's massive floating cities, leaving Zalem a modern marvel. Iron City residents gaze upward to a better life, craned necks towards lavish riches, but live their daily routines in squalor amidst the rubble below. One such inhabitant is Dr. Dyson Ido (Christoph Waltz), a robotics wizard who repairs cyberbeings. His life is modest and noble until discovering a discarded Zalem android that he repairs, reengages, and raises as his daughter. Alita (Rosa Salazar) retains no prior memories, but is about to learn what makes her so special.
First off, WETA Digital – take your victory lap. Take seventeen. Alita: Battle Angel is an unprecedented achievement in live-action animation worth double whatever your local three-dimensional ticket prices are. Every rotating bolt, floating utopia, hybrid humanoid/assassin bot is so artfully finished with seamless transplantation atop Rodriguez's canvas. No blurring around edges. No sore-thumb actors interacting with crude CGI counterparts. Rosa Salazar transforms into her bug-eyed cyberpunk Margaret Keane warrior under heavy pixelation yet still displays all her human movement, vibrancy, and soulfulness (which goes for all non-human characters). Rodriguez oversees a dystopian playground worth spending countless more sequels within, but WETA makes his (and our) dreams come true from the tiniest speck of sidewalk sand to NASCAR-meets-NHL raceways.
Speaking of Alita's sport of choice, Motorball, demolition races provide high-octane excitement in the form of derby competitors bash-wrecking one another over a metal geosphere. Grand champions (like Jai Courtney's benevolent cameo FOR 10 INSIGNIFICANT SECONDS) are said to win themselves a ticket to Zalem (Alita's motivation). Speedsters skate up-and-down banked guard ramps like a Mario Kart track, slamming and slicing through rivals with twirling maces, Scorpion (Mortal Kombat) chain daggers, and any other mechanical weaponization gearheads can imagine. In a word, "exhilarating." In more words, "holy wowzers would I watch endless pay-per-view events that were just fake Alita Motorball matches."
Action kicks the barroom doors down, which brings us to the "Hunter Warrior" angle of Alita: Battle Angel. Without spoiling much, Iron City's most badass can register as bounty hunters who collect pay for "Wanted" kills. Alita enlists, and asserts herself into a community including vain pretty face Zapan (Ed Skrein), lugnut Screwhead (Elle LaMont), mecha-dog trainer McTeague (Jeff Fahey), and more unsavory guns for hire. She calls upon her united brothers and sister to aid in hulker Grewishka's (Jackie Earle Haley) defeat, who under Motorball runner and Iron City kingpin Vector's (Mahershala Ali) orders must present Alita's head on a platter. Cue a rough-em-up whiskey joint battle royale with shit-kicking style, multiple run-ins with Grewishka, and Alita's "Panzer Kunst" predated training from an earlier life. Here's where things get complicated, and where Rodriguez's magnetic manga recreation begins torpedoing itself.
Alita: Battle Angel is as much as a coming-of-age tale as it is a sci-fi thrill ride. Alita enters frame a child, Ido her father. Their relationship clashes when he overprotects and morphs her into the daughter he never had, while Alita demands teenage experiences along with (violent) activities that unlock memory bursts. Then you throw in Jennifer Connelly's Chiren – currently Vector's brilliant main slice – who turns out to be Ido's ex-wife. She drifts from Vector's ear to Alita's side to Ido's doorstep as a complication on all sides. Not enough? How about adding an ancillary love arc via punkish scrapper Hugo (Keean Johnson) who steals Alita's bionic heart but is only granted a single-movie arc worth no heft. Ido's father complex, Chiren's quest to Zalem, Alita's cognitive reboot, Vector's (undefined) badness, Hugo's desire to bone a robot, Zapan's treacherous hatred towards Alita, Motorball stakes, forged wars – and a God character named Nova (Edward Norton) who continually hijacks characters mid-dialogue to remind us he'll be someone to care about in future films?
There isn't enough time in this two-hour entanglement to treat all these budding arcs with proper perseverance. Alita learns, tastes chocolate for the first time, becomes one with her super-touch-sensitive "Berserker" grade body armor thanks to Hugo, and Salazar sells her character's maturation from wide-eyed adolescent to beloved slums hero. A shining star that burns brighter as Alita reclaims here womanly independence, anger and all. Her "romance" with Hugo? YA fanfic level throwaway forcefulness. Ido's reveal? Quickly uncovered without tension. Exposition exhaustively squeezes into dialogue yet still underserves the heavy lifting Salazar must endure given her Phoenix-rushed-rise from scrapheap to legend.
In one hand, Aquaman. In the other, Alita: Battle Angel. Both rousing cinematic overtures to bombastic ambitions, exquisite on-screen designs, and a general disinterest in structured storytelling. Where Aquaman tightens the reins and fully embraces Arthur Curry's embellishment, Alita: Battle Angel fails its titular heroine. Mileage will vary given how dreamlike Robert Rodriguez treats Iron City, but too many namesake players feel slighted while sprinting towards "inevitable" sequels. A movie that steps away from the "now," assures you of importance to come, but never quite gets you to understand why. At least it looks pretty?
Flickering Myth Rating – Film: ★ ★ / Movie: ★ ★ ★
Matt spends his after-work hours posting nonsense on the internet instead of sleeping like a normal human. He seems like a pretty cool guy, but don't feed him after midnight just to be safe (beers are allowed/encouraged). Follow him on Twitter/Instagram (@DoNatoBomb).