Jessie Robertson reviews the seventeenth episode of Arrow season 7…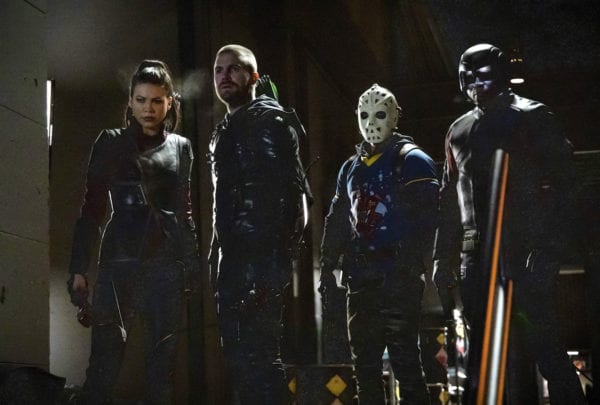 As Felicity states at the beginning of the episode while trying to juggle 10 tasks at once, "women really can't have it all." Well, tonight, it was the women who were much more capable than the men.
This episode was really all about Emiko. We see her skill (sparring early on with Oliver), her speed (slicing up Laurel's arm with a well placed arrow when she was being followed), her deception (turning on Oliver inside his own HQ) and much, much more. Her role has been silent bad ass so far; not a huge act to follow. But, now that we know who Dante is, we start seeing more color come into this black and white character. We see a series of flashbacks that paint a broader picture, starting with her as a young girl, running messages for Frank Bertinelli (Remember season 1? Father of the Huntress?); when Dante impresses her with his knife throwing skills and he with her for stealing his watch, a bond forms. More and more comes to light, including a cameo from Queen sr. (Jamey Sheridan, looking much older now) where we see they do have a bit of a relationship as Emiko tries to include herself into his business, but he swiftly turns her down, saying he can't approve her ideas because Oliver will be the boss one day soon. And we wonder where he gets his secret keeping!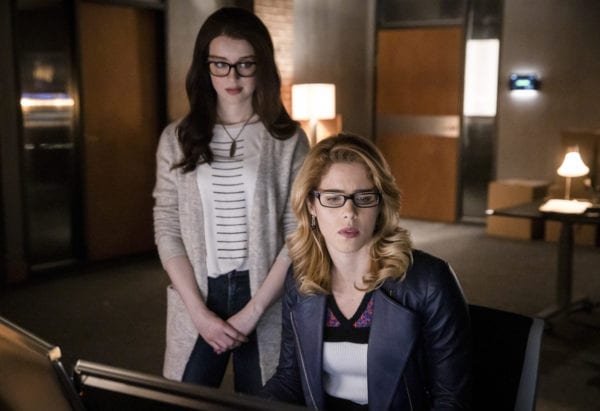 Coming back to that thread later….The "Archer" Program is a large topic of discussion as well as Felicity gets help from an old friend to try and retool the system and make it better: using one's DNA to track them borders heavily on privacy infringement but she only highlights the positive aspects of what it could do, in a tricky sleight of hand. It's used, predictively, to keep tabs on Emiko as Laurel reveals her criminal dealings, a plot point picked up nicely by Diggle, who deftly reminds Oliver of his plights with Andy (See Season 4, I believe). The situation is exactly the same, and Diggle picks up that Oliver wants to try exactly what Diggle did: to rehabilitate his long lost sibling back to the side of good. By episode's end, when Team Arrow (slightly) failed their mission stopping some drones dropping toxic chemicals as part of the Night Circle's agenda (Emiko & Dante's criminal organization), Oliver still is having trouble letting his sister fade into black , so to speak and Diggle senses trouble.
There's a really weak side story with Laurel fighting with Dinah, as they discuss that she coerced a confession out of someone and has murdered people; her point of view is she's played by the rules just to appease her. Hardly! But, this does play into Emiko's two killer moments at the end; one, being someone who is pushing Laurel back to her evil roots. Then, our last scene (which I predicted about 20 minutes earlier after seeing her Father) with her burning up plans where she helped Merlyn plant explosives on the Queen's Gambit all those years ago (and didn't look like she aged a day since!). I like the change to the mythos: it doesn't alter anything too much and it fits in very nicely, adding to her character.
Fight scenes were really weak this week except for Oliver looking like The Flash shooting arrows at those drones in 16X speed!
Rating – 7/10: a solid episode largely featuring Emiko, with some startling revelations revealed, but not much meat on the bones of anything else, and fight scenes (usually the strength of this show) were left wanting.
Jessie Robertson