Piercing, 2019
Directed by Nicolas Pesce.
Starring Christopher Abbott, Mia Wasikowska, and Laia Costa.
SYNOPSIS:
Reed is planning the perfect murder. He has everything planned down to the minute, but he can't prepare for the human tornado that is Jackie. The prostitute Reed is planning on killing is far crazier than he could ever dream to be.
Piercing feels like a throwback to '70s exploitation films, not just by the stylistic opening credits but the overall tone of the film. Somehow the dark comedy and horrifying events blend to create a perfect storm of insanity. Back when exploitation films like Pink Flamingos or I Spit on Your Grave were popular, it was much more common to see gleeful shocking movies. Now though, Piercing comes at a time where cinema seems to want to be the most mainstream it can be. That's what makes this such a joy to watch; it feels like a callback to a time where you handled dark subject matters very differently.
The film opens with an unsettling moment between a father and his baby daughter. It seems like our main character Reed (Christopher Abbott) wants to kill her, but pulls away when his wife wakes up. The man is uneasy from here on out; the audience instantly knows what is driving him so mad. He wants to kill something and needs to do it soon. So he concocts a plan to commit a murder, in a very American Psycho voiceover. Reed will hire a sex worker and kill her; basically to kill a random stranger and move the urges away from his family. A fair, yet disgusting plan, but it doesn't go the way he thinks. All of his obsessive-compulsive planning could not prepare him for the woman that shows up at his hotel. This lion went hunting for what he thought was helpless prey and runs into a beast that's unlike anything else in the wild.
There is very dark humor sprinkled throughout the film, again going back to that grim tone you'd find in movies as I Spit On Your Grave or Last House On The Left. The scene where Reed is chloroforming himself to time exactly how long he has for his next murder is oddly comedic, even though you don't want to laugh at what's happening on the screen. Also, the way he is trying to perfect his script for the evening feels like someone preparing for their first date; I guess this is what famous serial killers must be like before their first time. Christopher Abbott is usually pretty funny, but director Nicolas Pesce brings something almost slapstick out of him. What I enjoy about slapstick comedy is how well-choreographed but effortless the comedy seems; that's what the beginning of Piercing comes off. Everything feels perfected down to the right comedic beats but doesn't feel overly rehearsed.
The second Mia Wasikowska's Jackie enters the film though, all the meticulously comedy stops and the messy horror begins to unravel itself. All of the perfect planning Reed did throughout the first act is thrown out the window when the tornado that is Jackie blows through. From her disheveled appearance to lax attitude, she is the complete opposite of the uptight Reed. For the viewer, it's a sigh of relief as you think this will surely throw off his plans, but for Reed, it's an instant panic attack. It isn't too long after she arrives when the movie kicks into overdrive and we see that Jackie is far crazier than our wannabe slasher. You almost feel bad for him, if she wasn't there to be killed in the first place.
Going back the tone of exploitation movies from the 1970s, the most prominent thing those films have that Piercing shares are the explosive female lead. Never had I felt like Mia Wasikowska is as mesmerizing and powerful as she is in this movie. If she's fighting evil queens in Alice In Wonderland or starring gothic Guillermo del Toro horror, she feels like soft. But in this, Wasikowska oozes this raw energy that feels far more sinister than her usual roles. She's a beast, and it's quite refreshing to see her take on an alpha role. Wasikowska even uses her meek demeanor to her advantage as you never know what her character Jackie is going to do next.
With all of the positives, Piercing does have areas it lacks. Much like the vintage films I've mentioned, those had a low-budget quality that added to the overall feel of the film. Piercing does fit into that low-budget motif with some of the VFX looking cheap and the locations being lackluster at best. While some of that has to do with the film's aesthetic, it is still rough around the edges and needs to be pointed out to judge the movie accurately. There is a lot to enjoy, enough to look past some of the low points, but it doesn't knock the feeling that is a "streaming movie" and doesn't have significant "big screen" vibe. That feels like a slight jab at the film, but it does show the high-quality content you can find in places that aren't your local cinemas.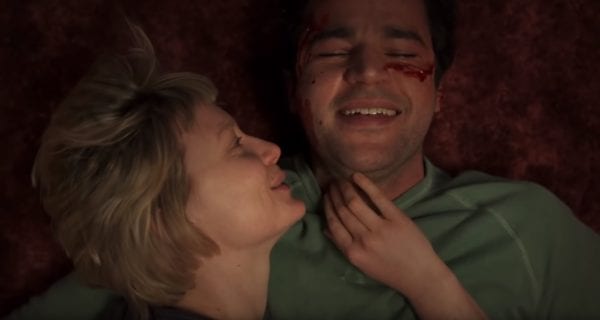 Let me help you go into Piercing with the perfect mindset. This movie is a darkly funny, but still unapologetically grim. It may feel low-budget at times, but that's half of the charm. Mia Wasikowska gives one of her best performances to date as the enigmatic call girl Jackie. Add that with a great Christopher Abbott performance and sleek filmmaking from newcomer Nicolas Pesce, and you have quite the fun horror movie. Based on a 1994 Japanese novel, fans of the Japanese-style of horror will feel at home with this, and others can use this as a way to test the waters with more extreme cinema. For comparison to a Japanese film, this plays very much like a modern version of Takashi Miike's iconic 1999 film Audition, only with a lot less of a brutal finale.
Piercing might not be for everyone, but this is the exact type of horror movie for a twisted viewer like me!
Flickering Myth Rating – Film: ★ ★ ★ / Movie: ★ ★ ★
EJ Moreno