Sean Wilson chats to YouTuber turned filmmaker Joe Penna about his gripping survival drama Arctic, starring Mads Mikkelsen…
A man stalks his way across the icy tundra. We don't know anything about him, save his commitment to scraping beneath the snow and bedrock with a a pickax. After a few minutes of close-up, hard-scrabble minutiae, we cut to an aerial shot and his plight becomes strikingly clear: he has carved out the giant letters 'SOS' in order to be visible from the air.
So begins the confident and visually handsome Arctic, the feature film debut of YouTube star and musician Joe Penna (popularly known as MysteryGuitarMan). Having amassed a considerable fan base via his social media profile and music videos for bestselling artists, Penna now takes charge of a harrowing wilderness drama, starring a career-best Mads Mikkelsen as the resourceful Overgard. He's an individual determined to ensure both his own survival and that of a desperately injured woman whom he rescues from a downed helicopter.
I caught up with Joe to discuss his background, his experiences making the movie and what it was like working with Denmark's finest acting export.
So Joe, in terms of your background, YouTube to feature films is quite a meteoric rise. How did you transition from that online environment to making a movie on this kind of scale?
Well, I started on YouTube. I made around 300 videos on there. I had the wonderful opportunity to make that my full-time job for almost a decade. At first, there were two videos every week and then when I sought to up their quality, once a week. I call it my public film school. I kept learning more and more about production and kept hiring bigger and bigger crews.
Eventually, I got hired to do commercials for the likes of McDonald's, Coke and Disney. And then music videos – the first one I did was for Avicii. From there, I went on to short films. I did one that was produced by the crew of The Walking Dead. I had one that was produced by Ron Howard and Brian Grazer, which went to the Tribeca Film Festival. It was great working with them as writing and producing partners because I could ask them six millions questions about what it was like working together.
Eventually, I said I was ready for a feature. But I had been pigeonholed as a YouTuber – as in, YouTubers only make one particular kind of feature, you know? So I was being sent concepts for, say, horror movies for $200,000, to be shot in 12 days. And that's not what I wanted to do. Every time I've jumped from one thing to another, I've waited for the right opportunity. You know, I waited until I had a great producer on a short film, and I waited until there was a national commercial. Similarly, I waited until Avicii wanted to do a music video. I wanted to apply that philosophy to my first feature. That's when I made Arctic.
It's fascinating when you say that a platform such as YouTube can act as its own kind of film school. It shows how far we've come in terms of social media. Do you think YouTube has levelled the playing field in terms of people wanting to become film-makers?
Yeah, I see it almost as a self-taught film school. You have to do the research and go through the misinformation. You go into the right sub-Reddits and there are fights going on about the role of the screenwriter, say. People aren't going to read this, do that in the context of a movie and so on. With film-making there are a lot of opinions, but I suppose that instead of me being in debt having gone to an actual film school, I have benefited for other reasons.
How did you settle on the story for Arctic, then? What was it about this story that you wanted to bring to the screen?
Something I learned from YouTube is the importance of telling a universal story. I wanted to make a film that my grandmother could watch in Brazil, which she could understand as much as a film critic at Cannes.
And everyone understands survival. Everyone understands being cold and hungry. Everyone understands the moral quandary of looking at a map versus looking a person. Our central character in the movie is pondering whether to go on this arduous journey and help save the woman that he's with. I also wanted to tell a relatively silent film, so it could again have that universality. And for me, getting an amazing actor to sell the premise was pivotal.
There's a rich history of pop culture material from across literature and film drawing on the icy wastes of the tundra. Were they any touchstones for you that informed the visual and emotional aesthetic of the film?
Not so much for the visual aesthetic. We had in fact written this film to be set somewhere else – Mars, in fact. The impetus for this film was I found an image of what Mars would look like if it had grasses and trees. I thought that could be an interesting setting, so I brought it to my co-writer and we started writing the story and we immediately turned out a first draft.
We then took it to our agents and they said "wow, we really like the plotting and tight pacing. Oh and by the way, here's a link to Ridley Scott's new movie The Martian. Here's the trailer and maybe he's stepping on your toes a little bit". So we then made the decision to move it somewhere more Earthbound, and we moved it to the Arctic.
I knew I was in good hands from the opening scene when Mads Mikkelsen's character carves out the letters 'S.O.S.' That's a very attention-grabbing way to open the movie. Was that always in the script, or did you alight on that as a the film progressed?
It was important to me that there were a lot of little mysteries. I needed to, very early on, establish a language and a contract with the audience. Like, I'm going to show you a guy, scraping at rocks for a minute. People are then wondering what the hell's going on. But then I'm going to show you an SOS sign, which is cool and striking – I'm going to show you these mysterious things, and if you stick with me, even through the parts you might find a little boring, then it's going to pay off later. I promise you the audience that there will be an interesting answer.
Another example: I show you a little pile of rocks, and I don't give away what the answer is until much later in the film. Things like that keep people wondering, what's this or that going to mean? The big mystery of course is where the central character is from. How he crash-landed in this area and so on. You may expect the movie to be starting in media res, before flashing back to reveal him drinking, fighting with his dad and then embarking on an ill-fated flight.
But I never answer that question because in the time I could spend filling in the blanks, you're already hooked. Mads already has you. He's in the character's shoes and we're already living vicariously through him. We don't need to show you where he's from. Create your own story. Be part of the storytelling, be engaged and watch it for what it is.
Yes, because that surely goes back to your point about making the contract with the audience. Is it tricky withholding information about the central character while trusting in the audience to fill in the gaps? Because it's clearly important to present him as a person as well as an enigma.
Yeah, it's a fine line. If you hold out too much, then it's like, who is this guy? And if you divulge too much, if too many things go wrong with him, then it almost becomes funny. For me, the hardest thing was about communicating all of that to an actor. I may be communicating to the actor when on the set, 'oh this is just like that time your character fought with his dad in the past'. And although that doesn't come out in the movie, it's there implicitly between the two of us.
I wrote a package of information about Mads's character for Arctic but I shredded it before Mads got to see it. Because he didn't need it. As long as you find a way to communicate about how to change a performance, then it's OK. The difficulty is thus: I didn't wanted to speak to Mads directly about what was motivating or driving the character, because then it's going to let him in and we're going to feel like we're missing something. If he knew the story and I knew the story, we would be sharing little winks and nudges. Mads created his own little story in his head, and whenever I saw something in the performance that didn't jive with the story I'd created, I would ask him to tweak it and do something different. It would then make sense.
He's an actor of really formidable stature. How did he get involved in the project in the first place? Did he love the script?
He was. I was told I was getting a 15-minute Skype call with Mads Mikkelsen because he'd read the script and loved it. I was like, "Mads Mikkelsen?!" The very first question he asked me was, "There are a few lines in this script that are greyed out – why are they greyed out but still legible?" I said to him that honestly, those lines are for actors who wouldn't be able to pull off what you're capable of.
Those are things that I don't necessarily want to shoot or say, but in the script, realistically how many times can I say Overgard looks at this or Overgard shivers? Visually I can render those things 50 or 60 different ways but on paper I can only do it so many times. So it was really referring to literary devices that are playing in his head that I never wanted to say out loud.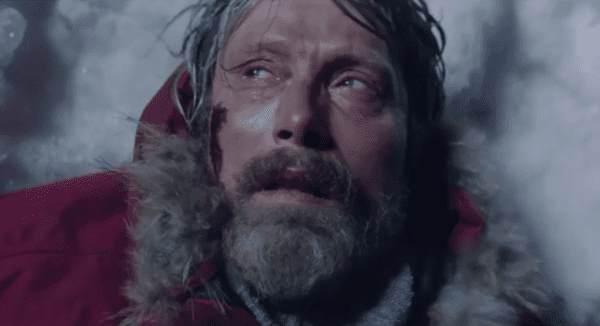 Clearly he's got a face that the camera loves and his features are used very effectively in your film. How much did you decide to make use of his facial expressions?
It was pivotal. There were even some lines we had written that we discarded. I often ended up saying to Mads that the moment before he said the line was more interesting than the line itself. Let's just go ahead and do it without the line.
I did think that once we got Mads, my role would be to press the red button on the camera, followed by the words action or do what you've got to do. Because it's Mads, you know? He hasn't had a false moment in any film, ever. But he was so collaborative. He was always asking if something made sense to me, to my interpretation of Overgard. And often he would play it in such an open way that it made sense to me.
I went into the film cold, intentionally not having read much about it. There's a moment early on involving a helicopter crash, and I was surprised to see the movie open up from the story of one man's survival into the story of him ensuring somebody else's survival. It becomes a story of compassion under fiercely difficult circumstances. How do you feel that message chimes in today's climate?
That was the main purpose of the film, for me. I didn't want anything where he was redeeming himself for a faulty past. I didn't want this to be a situation where the woman reminds him of someone he cares about. To me, what mattered is that the person he's trying to save is completely different from him. Different gender, different race, different language. He has no clue who she is.
It's a matter of altruism, really. To me, it's a really positive movie, yet people keep calling it bleak. It's important that he's doing this for somebody he doesn't know. A lot of people watch the film and claim they would never have left the camp, or I would have left her behind when I couldn't get up the hill, or I would surely have forgotten about her after breaking my leg. But I don't think any of that is true. I think people are stronger than they think they are. They wouldn't necessarily leave somebody behind who's in need.
In terms of the filming itself, you shot in Iceland, which must have presented its fair share of challenges?
For a Brazilian guy, yeah! [laughs] It was the toughest shoot of my career. I can't say much because I haven't shot much, but Mads also said it was the toughest shoot of his career. It was also the easiest feature film I've ever shot, since it was my first one. I thought the cold was going to get to me, and it did, and I also thought our shooting schedule of 19 days was untenable. But we were able to skirt around that.
But I could not get used to the wind. It was up to 30/40 miles per hour, and it would pick up little bits of snow and send it pelting into your face. It doesn't matter if you're wearing goggles, although Mads clearly wasn't. Sometimes, however, I had to take off the goggles to look at a screen. It was the hardest thing I've ever done in my life. But the entire crew coalesced very well. Everyone was adamant about telling the story and making sure this film was wonderful. It was great to have a crew so dedicated to this film.
Well clearly the dedication paid off because the movie played at the 2018 Cannes Film Festival. How did it feel when you found out Arctic was entering the festival?
Oh my gosh, that was career-changing for me. I didn't know at the time that it was going to be so amazing for me. I was so glad to get into such a prestigious festival, and somewhere in Europe, too. Mads is very well known in the USA but he is a superstar in Europe. Playing in Cannes was the way to go, for sure.
Many thanks to Joe Penna for take the time for this interview. Arctic is released in cinemas and on digital 10th May.
Sean Wilson