Almost three decades after the release of Terminator 2: Judgment Day, James Cameron makes his return to the Terminator franchise this year as producer on Terminator: Dark Fate, which reunites the filmmaker with Terminator and T2 stars Arnold Schwarzenegger and Linda Hamilton.

Following the release of the first trailer this past week, Cameron has been chatting about this new instalment in the sci-fi action series, explaining how it takes the franchise back to its roots – including an R rating.
"I think the best way to think about Terminator: Dark Fate is to think about it as a direct sequel to Terminator 2, the third film in a series, if you will. We'll be continuing with Sarah's story, John's story, and the T-800 returns — a different T-800 with a very different role to play than what we've seen before.
"I think, tonally, what makes this a direct sequel to T1 and T2 is as much about the tone as it is about the narrative: it's R rated, it's grim, it's gritty, it's fast, it's intense, it's linear. The whole story takes place in 36 hours. It's not this kind of grandiose, complex story. It's just very focused on the characters, it's very now, it's very present and it's just a fast white-knuckle ride."
SEE ALSO: Arnold Schwarzenegger confirms that he's playing a Terminator in Dark Fate
Cameron also went on to share a few words on the return of Hamilton's Sarah Connor and how she's spent the past 28 years hunting down Terminators and delaying the inevitable Judgment Day:
"The principle of our movie is that there's an inevitable conflict between humans and the intelligent machines that they make. And all [Sarah has] done is kick the can down the road from her future back in the 1980s to our future now in 2019. Judgment Day is right around the corner, yet again. It's an inevitability. So she's kicked the can, she's going to have to try to kick it again and again. The war never ends. So Sarah has become a Terminator hunter. She's not waiting to be hunted by a Terminator, she hunts them. She's figured out a way to be there when they pop through time and she just blows their shit away. Pretty much that simple. Hey, it's gonna be an R-rated movie, so I can swear."
SEE ALSO: The Flickering Myth Reaction to the Terminator: Dark Fate trailer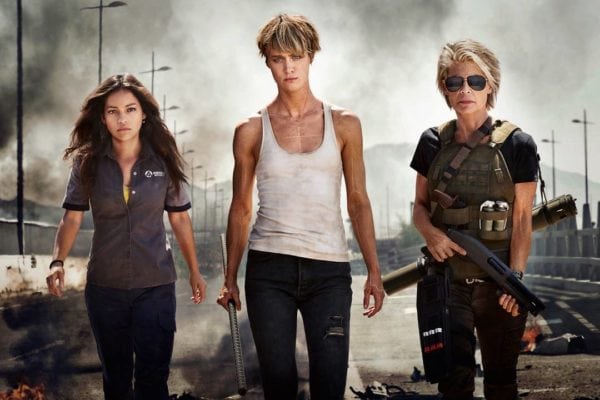 Terminator: Dark Fate is being directed by Tim Miller (Deadpool), with James Cameron producing, and sees Arnold Schwarzenegger (T-800) and Linda Hamilton (Sarah Connor) reprising their roles alongside new cast additions Mackenzie Davis (Blade Runner 2049), Natalia Reyes (Lady), Diego Boneta (Pretty Little Liars) and Gabriel Luna (Agents of S.H.I.E.L.D.).
Via ThePlaylist