Starfish, 2018.
Directed by A.T. White.
Starring Virginia Gardner, Christina Masterson, and Eric Beecroft.
SYNOPSIS:
A unique, intimate and honest portrayal of a girl grieving for the loss of her best friend. That just happens to take place on the day the world ends as we know it.
The elevator pitch for Starfish is simple; combine the otherworldly nature of Stranger Things with the emotionally devastating treasure hunt of 13 Reasons Why. However comparing it with the two feels like a disservice to what A.T. White has set out to achieve here in his directorial debut. There's so much more bubbling under the surface than simple genre mechanics. Instead what plays out is a melancholic depiction of grief which stays with the audience long after the credits. This isn't a typical bombastic painting of the apocalypse, instead it's a quiet reflection on an individual's place in the world, noting that nothing is permanent.
From the very beginning disembodied voices and a haunting set of strings immediately give off an eerie atmosphere before we're forced to face the social awkwardness of Aubrey alone at her best friend's funeral. Virginia Gardner's portrayal of grief and loss is raw and so very human. Her performance throughout the film shows exactly what she's capable of, and while some viewers might recognise her from Marvel's Runaways or Halloween, this is irrefutably her best work so far. It's both endearing and gripping as Aubrey struggles to come to terms with her grief on the eve of the apocalypse. She walks a fine line between desperation and hopelessness when she realises she might be the only survivor of an invasion from an ethereal horror.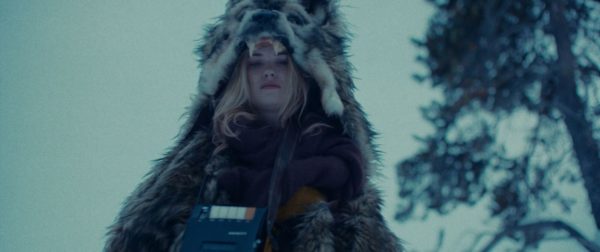 While piecing the mystery together with a survivor at the end of her deceased friend's walkie-talkie, Aubrey is set on a sentimental cassette-tape treasure hunt to understand why this is all happening, alongside overcoming her overwhelming fear of death. Throw in some truly beautiful cinematography and it's a thoughtful take on the end of the world that's even more impressive given the small budget that A.T. White had to work with. Some moments linger a little too long in montage sequences, but those moments are ultimately saved by the truly engaging score. The orchestral themes are rich with a bereft feeling and combined with the sudden pauses of the cassette tracks, we're given a musical insight into Aubrey's head.
It's easy to read into the visual subtext of isolation baked into every shot – whether it's an absent space in bed or the empty snow covered town after the apocalypse. There's also something to be said about feeling insignificant in such a tireless world, a sentiment that's clear when Aubrey looks up at a towering behemoth monster wandering across the skyline. She might have her own internal demons to face, but the CGI monsters stalking her are viciously intimidating. With the occasional jump-scare thrown in for good measure, the film keeps the audience on their toes, especially given that this is largely a very quiet feature. As soon as it settles us with the emotional journey alongside the eerily still town, the film will pull in a different direction to keep things minimally pacy. So while Starfish is never truly terrifying, it's definitely a powerful watch.
The shift into animation around the hour mark feels like A.T. White is trying to showcase every tool in his creative playbook, and it sticks the landing. It's never quite clear clear whether this is another world that Aubrey has stepped into via the tape signals – or if it's just her own subconscious trying to cope with the mounting pressures of saving the world and grieving her best friend. Regardless, it's a beautiful scene, flawless within the narrative.
Starfish is an emotionally artistic vision of the apocalypse that is thoughtful, touching and inspired. It slots in neatly next to other heartfelt science fiction tales like Arrival, Ex Machina and Annihilation. The most fascinating tales in science fiction are always the ones framed against a very human story, and this does so with poetic ease. Come for the apocalypse, stay for the story of love, loss and Virginia Gardner. As the lead herself puts it; "I wonder if the world still exists, if I choose to ignore it?"
Flickering Myth Rating – Film: ★ ★ ★ ★ ★ / Movie: ★ ★ ★ ★
Eammon Jacobs