Cameron Frew speculates on the upcoming Once Upon a Time in Hollywood from director Quentin Tarantino… 
"Sure, Kill Bill is a violent movie. But it's a Tarantino movie. You don't go to see Metallica and ask the fuckers to turn the music down." This incendiary quote from the director himself perfectly sums up the swaggering nerve of his filmography. He's tackled gangsters, thieves, samurais and serial killer stuntmen; natural progression isn't an appropriate way to describe his creative evolution – he makes movies for himself, and invites the world along for the ride.
Easily in the same high-profile league as the likes of Scorsese and Spielberg, a new Tarantino movie is an event. Hype is a given, but rarely have his projects had such an air of uncertainty (and some rightfully earned skepticism) than the upcoming Once Upon a Time in Hollywood. This isn't a matter of quality, necessarily; it's a concern of what's tasteful.
The film's official synopsis is as follows: "Quentin Tarantino's Once Upon a Time… In Hollywood visits 1969 Los Angeles, where everything is changing, as TV star Rick Dalton (Leonardo DiCaprio) and his longtime stunt double Cliff Booth (Brad Pitt) make their way around an industry they hardly recognise anymore. The ninth film from the writer-director features a large ensemble cast and multiple storylines in a tribute to the final moments of Hollywood's golden age."
The worries stem from from the inclusion of Margot Robbie as Sharon Tate, an actress and model, was one of five killed in the infamous Manson Family murders… in 1969. Not that any murder isn't heinous; but the specifics are particularly gruelling. To summarise: Tate was eight and a half months pregnant when four members of the Family entered her home, and eventually stabbed her 16 times (as well as brutally killing others who were visiting), before writing "pig" on the front door in Tate's blood.
The film's choice of time is no coincidence; in some way or another, the misadventures of the actor and stuntman are going to connect, or collide, with Tate and the Manson Family (there's even set pictures which show the actress being pregnant). The question is: how?
The latest teaser trailer keeps the cards close to the chest, impish and unexpectedly jolly as it gives us a slapdash introduction to the leads. There's a magnificent clip of (a frighteningly uncanny) Bruce Lee and peppy, cool music, both serving to throw us all of the scent further. The only sinister glimpses are very, very brief shots of, presumably, the Manson Family and the cult leader himself (played by Damon Herriman).
So where is Tarantino leading us? Well, some are speculating that the film could go down the Inglorious Basterds route; in that, DiCaprio and Pitt's characters manage to assist Robbie's Tate in some way, and end up killing Charles Manson and his followers in a blaze of glory. But not only would that be repetitive storytelling, it really wouldn't make sense, logically or thematically. Tarantino could get away with fictionalizing a Nazi-hunting Jewish army and Hitler being blown to bits with a machine gun because it's both enthralling, cathartic and an entirely feasible alternate version of history.
Whereas, creating a film where Manson is massacred lacks the same taboo-kick. Is anyone out there really looking to see the messianic criminal get blasted, or would we be better off with something deeper, more incisive and considered?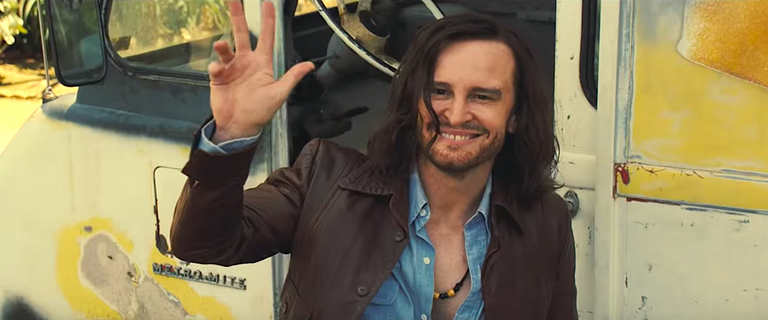 Of course, this is a Tarantino joint, so splatter-gore violence is a prerequisite. But how will that be employed in a plot where its very presence raises cautious eyebrows? Imagine this: DiCaprio and Pitt's characters are struggling in Hollywood, and they reach out to Tate for help. As a result, they become aware of Charles Manson, who reaches out to the stars for information on Tate. As their relationship develops, they see potential.
They pitch projects to filmmakers about stories modelled on Manson (that last shot of the trailer could, in theory, be DiCaprio's character playing a version of the cult leader). The next part is where it could go three ways. They could be oblivious to Manson's malevolence and continue a working relationship, unbeknownst to them that there are plans in place to murder Tate. They could be motivated by pure selfishness and continue to pursue projects around Manson despite being aware of his intentions. Or, finally, they could rescue Tate in someway, leaving the others in the home that night to get killed. But the end result is the same for all these theories – they make a (potentially extravagant) movie based on the murders.
Think about the power of that. Tarantino saying: "Look, Hollywood will turn out anything to make money." It would chime into the tendency to gravitate towards serial killers and terrorist attacks in today's film culture, with writers and directors cherry-picking tragedies to recreate or monsters to reimagine, while also playing loose with history in a way the director is known for.
Considering the opinion of Debra Kate, the sister of Sharon, following a meeting with Tarantino about the movie, the idea that the director would comment on the wider picture as well as Tate's story being exploited for entertainment seems fairly reasonable. As told to TMZ in 2018, Debra said: "This movie is not what people would expect it to be when you combine the Tarantino and Manson names."
Regardless of your speculation, Tarantino is one of the few great names still crafting adult-tailored entertainment that isn't franchised, serialised or on Netflix. All that can really be said for Once Upon a Time in Hollywood in concrete terms at this point is: expect the unexpected.
Cameron Frew is a film critic who can be found on Twitter @FrewFilm. You can also find him on Facebook, or send an email to cameronfrew97@gmail.com.