Gags The Clown. 2019.
Directed by Adam Krause.
Starring Lauren Ashley Carter, Tracy Perez, Aaron Christensen, Evan Gamble, Wyatt Kuether, Jake Martin, Michael Gideon Sherry, Squall Charlson, Halley Sharp, and Eric Heuvelman.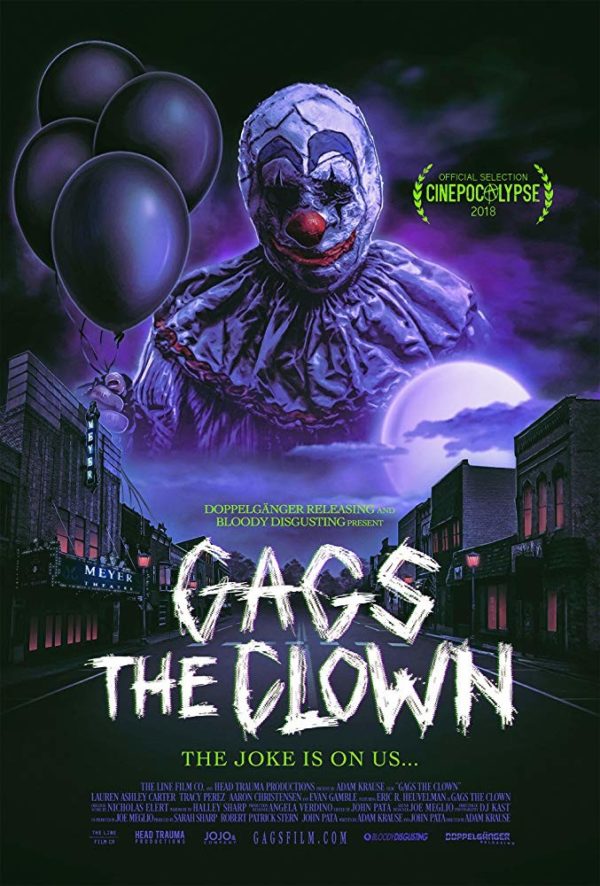 SYNOPSIS:
An unidentified man in Green Bay, WI has captured worldwide attention for roaming the streets dressed as a clown. Many write it off as a harmless prank, others aren't so sure. When a group of friends cross paths with the clown everyone calls Gags, his true intentions are revealed.
Remember in 2016, all those Wisconsin clown sightings? Circus "entertainers" standing against treelines, staring down passersby without voicing reason? Short film "Gags" claims responsibility for America's clown frenzy, now adapted into a major motion picture! Part Bryan Bertino's Mockingbird, part Slender Man urban legend, Adam Krause's Gags The Clown is first-person perspective horror tainted by Coulrophobia. A commentary on obsessive media consumption and fear-mongering that zigs and zags more than a knot-tied balloon animal. Never the film you'd expect, but consistently one to fear.
At first, Gags The Clown analyzes how society will spin any phenomenon out of control. From punk-kid copycats to ex-military clown hunters, tension is less about what Gags himself does and more about how viral fame contaminates airwaves. Gags, in representation, stands statuesque holding a bouquet of black balloons. Flashing in and out of surveillance footage to suggest the supernatural. He's never shown exhibiting violence or malevolence or even movement – yet camera-ready vultures circle once "Gags Watch" hits nightly programming. In this respect, Krause effectively allows pandemonium to become a monster in itself. Teenagers risking their lives for a prank or an ambitious on-camera anchor (Heather, played by Lauren Ashley Carter) selling hysteria for professional gain.
Granted, this is social commentary we've witnessed before. Gags' media circus veers into areas of law enforcement points of view without adding another thematic layer to ponder. Messaging always comes back around to the exploitation of "click culture" and plays safely in sandboxes overseen by foolhardy "influencers." YouTube viewers cheer Gags on while online wingnuts spread dangerous rhetoric so Gags fits their "domestic terrorism" narrative, unaware of the dangers floating on strings. Krause may not invigorate in terms of warnings against social distortion but works hard to keep Gags always lurking in the shadows. Either a mastermind from afar or monster waiting to strike.
Oh, and reader, know that when Gags The Clown strikes, it hits like a banana cream pie flung from a pitching machine.
Krause tickles my soft spot for found footage and first-person thrills, and by "tickles," I mean "spooks the daylights out of this critic." Gags is everywhere, caught in back alleys or far-off distances while video feeds pan side-to-side (Signs), generating fear by the lack of acknowledgment. Stalker vibes raise hairs, but then Gag's takeover unfolds. Balloons pop, exposing nearby victims to a white powder that, let's say, hypnotizes minions. As officers investigate "bath salts" clown sightings across Green Bay, encounters range from unsightly facial scarring to Gags' best-laid traps. Lone responders darting their flashlights around blacked out and abandoned buildings (theaters, banquet halls, etc.), either to find Gags quickly transporting closer or, worse, converted lackeys. It's a scary-shocking blend of POV lunge scares and clown-creepy dread a la a more accomplished Always Watching: A Marble Hornets Story.
With one foot in the paranormal and another planted in reality, Krause maximizes Gags' genre potential. All viewers may not be petrified, but dead-eyed clown stares unsettle no matter how far away Gags lingers from camera. Gags The Clown is never beholden to jumps despite recorder device perspectives, as disappearing acts cause far greater concern than generic attacks could. Gore is scarce minus some bookended bloodletting since Gags lives to make your skin crawl – successfully. The kind of lasting disturbance that makes you peer out your windows after watching, not to mention how video feeds glimpsing Gags are sometimes non-active devices. ATM cameras, a man's inactive phone, and other lenses we take for granted in a very "Big Brother" way (who's accessing and showing us?).
Scripting can get a little too cute with dialogue, working in overt references to Killer Klowns From Outer Space or referencing "dumb horror movies" as motivation. Krause and co-writer John Pata cater to their big-top audience, but sometimes with an overexaggerated wink. Lauren Ashley Carter loses herself within a career woman's fury once Gags coverage overturns to rival station Channel 3, but other characters can't match her performative balance between on-and-off duty personas. Aaron Christensen, the gun-nut vigilante running "The Wright Stuff" talk show, is a rigid loudmouth stereotype, same as thoughtless teenagers provoking Gags' wrath for a devilish laugh. When sequences lose their cleverness, relying on actors, momentum slows until Gags or his minions remind why clowns are so flippin' spooky.
Gags The Clown is no sideshow pushover. Adam Krause covers the unexplainable in polka-dots and white face paint as to conjure a freakshow boogeyman you'll revisit in nasty nightmares. Gags, portrayed by Eric Heuvelman, is a mere catalyst for horrors projected into our homes every day. A ringleader when it comes to exposing humanity's vulnerability, but no slouch when melancholic monster beats are required. Gags' brand of guerilla terror is sure to scare whether you're petrified of clowns or not, speaking to a larger issue of the way news is reported and media channels manipulate. You'll chuckle, you'll cringe, and you'll hate clowns even more. Mission accomplished, Mr. Krause.
Flickering Myth Rating – Film: ★ ★ ★ / Movie: ★ ★ ★
Matt spends his after-work hours posting nonsense on the internet instead of sleeping like a normal human. He seems like a pretty cool guy, but don't feed him after midnight just to be safe (beers are allowed/encouraged). Follow him on Twitter/Instagram/Letterboxd (@DoNatoBomb).