The Quest, 1996.
Directed by Jean-Claude Van Damme.
Starring Jean-Claude Van Damme, Roger Moore, James Remar, Janet Gunn, Abdel Qissi, Jack McGee, and Mike Lambert.
SYNOPSIS:
In the 1920s a street clown, aided by a con man and a journalist, enters an underground fighting competition to help the street kids in his neighbourhood.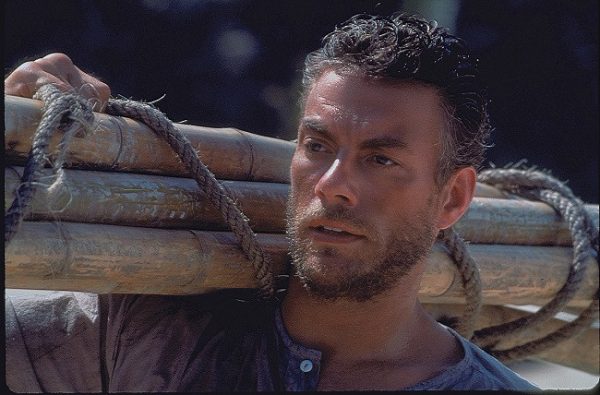 On paper, if you list all of the various elements that make up The Quest then for a certain demographic it cannot fail; '90s Van Damme in (another) martial arts tournament movie, directed by Van Damme, written by Van Damme and former fighter Frank Dux (whom Van Damme portrayed in the classic Bloodsport) and co-starring former 007 Roger Moore – how could it go wrong?
Well, it isn't that The Quest goes wrong in as much as it never really goes far enough, in that clipped, sanitised way that mid-late '90s action and horror movies seemed to. In a plot that reads like Bloodsport-lite – i.e. JCVD's character enters an underground mixed martial arts fighting competition, only with a crime caper twist provided by Roger Moore's Lord Edgar Dobbs – the action is extremely restrained, the camera cutting away from any graphic bone breakages and the competitors receiving little more than a few cuts and bruises despite having the stuffing knocked out of them. A bit surprising when you consider who wrote and directed (or got the credit for directing) the movie but then again, an actor behind the camera may not have been the best choice to bring what is clearly an attempt at an epic action/adventure to the screen.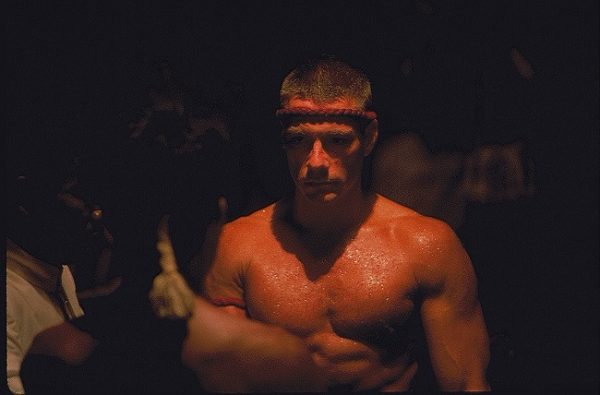 JCVD himself doesn't have a lot to do apart from flex his muscles and show off those impressive roundhouse kicks (although in the wraparound where he is in old man make-up he looks exactly like he does in real life now, which is quite amusing), and so it is up to Roger Moore and Jack McGee as his assistant Harry to carry the non-fighting plot details, which they do with the apparent comfort and ease of an established double act going through one of their routines. Moore looks suitably aged and grizzled but still delivers his lines with a twinkle in his eye, as if he felt he still had one more Bond movie in him and this is as close as he is likely to get so why not just go for it. His interactions with Jack McGee give The Quest a much needed warmth and charm that just would not have been there if this were a straight JCVD action movie.
And to make sure all the boxes are ticked we also get Janet Gunn as the token female journalist whose inclusion in the plot is totally wasted as her character has nothing to do and may as well not be there by the end. JCVD movie regular Abdel Qissi plays Khan, the huge Mongolian fighter that JCVD'S Christopher Dubois must take on in the final (not a spoiler – you know he's going to get there), but rather than be a proper villain like Attila in A.W.O.L. (also played by Qissi) or Tong Po in Kickboxer (played by Qissi's brother Michel), Khan is really just another fighter and not built up to be the big bad in any way other than being massive and permanently angry, which means that, come the inevitable final, the emotional stakes that made those other JCVD fighting movies so exciting just aren't there. And as for the plotline about Christopher Dubois helping the kids living on the streets in his neighbourhood, that gets dropped about 10 minutes in and doesn't get any more screen time save for one line in the closing narration.
Which again leaves it up to con man Lord Dobbs and his faithful assistant Harry Smythe (with an 'I', as Dobbs informs us) to give us something to care about as they go about trying to steal the solid gold dragon reserved for the winner of the tournament, and JCVD and Frank Dux had obviously watched Richard Donner's Superman beforehand as Dobbs and Smythe's antics borrow heavily from Lex Luthor and Otis in that movie – shame they didn't watch Bloodsport or Enter the Dragon instead to see how it should be done.
However, a quick scan through the special features reveals a few details that add a little bit of context to the production, namely an insightful interview with Jack McGee about his experience working with Roger Moore that deviates a little and throws in a few observations about working with Jean-Claude Van Damme as well. Whereas McGee tells stories about how professional Moore was and how they became firm friends during the shoot, he is a little less complimentary about JCVD and the much-publicised personal problems that he was having at the time. He also suggests that executive producer Peter MacDonald (Rambo III) stepped up behind the camera to get things moving when not a lot seemed to be happening, and overall it is the kind of candid interview that makes you view the film slightly differently once you know what actually went on, and when McGee says early on that "The filming of the fight stuff was pretty tedious" you know you're in for some juicy stuff.
All of which makes The Quest a bit of an oddity in JCVD's catalogue, by trying to give us what we have come to expect from him by that point but not really knowing how to go about it. To be fair, the action movie landscape – much like horror, and JCVD's future theatrical release prospects – was in a bit of a transitional period at the time but when put into context the movie still feels like a step backwards to late '80s fantasy fare but with a level of '90s polish that strips it of any grit it may have had in the pre-production stages. Nevertheless, despite its many obvious flaws The Quest remains a reasonably entertaining film thanks to the Roger Moore/Jack McGee double act but a better idea would be to watch a double bill of Bloodsport and The Spy Who Loved Me to see the two leads in peak form.
Flickering Myth Rating – Film: ★ / Movie: ★ ★
Chris Ward