Despite what one may think of the man behind some of grimmest, goriest and gnarliest big studio fare over the past decade, The Hills Have Eyes and Piranha 3D director Alexandre Aja claims he is, in fact, not a "serial killer" — he just has a knack for putting his characters through the wringer. As he says, with his most recent directorial outing, the short and effective self-contained horror-thriller Crawl, he wanted to take audiences on a rollercoaster ride. And that's exactly what he did.
Crawl, which was released amidst a crowded summer, held its own among the competition, taking in over six times its budget at the box office, and earned Aja some of the best reviews of his career. Perhaps much of its success can be attributed to its undeniably sellable hook: a daughter and father must fight for survival from a swarm of hungry alligators who have trapped them in a crawl space during a Category Five Hurricane.
While in the modern horror landscape, it's not uncommon for studios to shy away from excess, Aja has made it a signature across many of his films. The death scenes in Crawl, all from the teeth of the aforementioned alligators, aren't just meaner than those in recent genre films, there also more gruesome and harder to shake.
See the nail-biting suspense and alligator feeding frenzies play out for yourself by picking up a Blu-ray/DVD copy of Crawl on Tuesday, October 15th, which features over 45 minutes of bonus features, including an alternate opening scene presented in motion comic form. The movie is also currently available on Digital HD.
While promoting the home video release of Crawl, Alexandre Aja sat down with Flickering Myth for an exclusive interview at New York Comic Con last week, where he talked about everything from violence in his films to a potential sequel.
What are some of the difficulties of filming in water, just from a logistical standpoint? And were you able to bring anything from Piranha 3D to your experience on Crawl?
Alexandre Aja: Filming in the water is the most difficult thing you can imagine. Everything you learn or read about shows or how crazy it was, I think it was even worse than that and I had that exact experience on Piranha where I thought it was the most difficult thing I [had] ever been part of. But then, I had so much fun seeing people's reaction watching Piranha, I guess I forgot and went back on Crawl. I remembered how difficult [it was]. So yes, I thought that Piranha gave me a heads up on how to make an underwater movie. But the biggest challenge is how do you keep a crew, actors 10 hours a day in the water … [and] keep the energy going. For that type of story, I think it's bringing survival conditions within the shoot. So, in fact, OK, there is no alligators with them, but the fact that they are in the element you cannot cheat. They are actually surviving everyday. And the protagonists in the movie are just trying to make it to the end of the day and survive. The actors and the crew and myself, we were doing this for 40 days, so that was pretty tough.
Another thing about this movie, it's almost in a certain sense your return to just straight-up, tension-filled scary horror. In Piranha 3D it's horror infused with comedy, in Horns it's kind of mystery infused with horror elements, but this is just straight-up suspense horror. What was it like to return to that?
Aja: Making Horns and Piranha were more like — Horns was a fantasy, supernatural fable. Piranha was an extravaganza, a guilty pleasure, crazy all-comedy. I wanted to go back to high tension. I wanted to go back to The Hills Have Eyes. I wanted to go back to a very suspenseful-driven story. Something that was way more straightforward. I was reading scripts and graphic novels and books trying to find the right story, and I received the Rasmussen brother draft Crawl, and I fell in love with the logline. I thought it was so simple. All the elements — saving your dad during a Hurricane Category 5 in a floated zone infested with alligators. I mean it's everything I was looking for and then it was just the best opportunity to build that kind of ride, that experience. It's the type of movie that will keep you on the edge of seat. But also, it's not like a normal movie per se, it's more like an experience, like a suspenseful experience. And I think the fun comes from the fact that it's so intense that you need that tension release and love. And you never know if it's going to work. You know, you hope it's going to work. And then when you see an audience in a theater reacting the way they did react in every country that the movie was released, it's just the most enjoyable thing for a filmmaker. It gives you an instant reward of, 'We did something right' and people understood what was the intention.
It's so intense because it's so brisk — it's only 87 minutes which is kind of unheard of for a studio movie to be that short length. So is that something you intended, to just make a shorter experience [for the viewer]?
Aja: I wanted to go back to the high-tension vibe. And high-tension was also a very short movie, not [much] dialogue and really full of suspense. But I wanted to make it bigger, I wanted to make it stronger, I wanted to not repeat the same movie but do something very different. So Crawl was really approached as almost like the blueprint of a rollercoaster. And you can create the best rollercoaster ever, [but] if the rollercoaster is too long people get sick. So I think there is a sweet spot where you need to reach that balance to keep that intensity for that much time, but if you go further, if the movie was [two-and-a-half] hours, I think people will be very upset.
In this movie, almost like the third-billed character is a dog, in a certain sense, in Sugar. What do you think it is about dogs in horror movies that just adds to the suspense? Or just pets in general? Because I've noticed a trend where we see a lot of animals in [horror films] that adds another layer of suspense to it.
Aja: Definitely Sugar is one of the main characters, almost like the third daughter of the family. And the one that didn't leave. She's the one that stayed with dad and will do anything to save him as well. Dogs are part of our life, like all the pets that we have and all movies [are] about getting as close as we can from an identification of what we're living. And somehow, because they're a part of the world we're living in, they just help that immersion thing. You feel for them because you relate to them as well. There is a real relationship, especially in America, with dogs, and I remember working on the project about the Shackleton expedition and there is a crazy moment where because they were starving they had to eat their own dog and they were eating the dogs as they were crying because they were killing. It was a very problematic scene because, 'Oh, you cannot kill the dog and eat them.' But yes, you can, because you're in a crazy survival scenario. But that's also the drama because you have to do it. And somehow, there is a limit where when we were doing movies like 10 years ago, 15 years ago — I remember The Hills Have Eyes, when one of the dogs was dying, it was kind of a big deal. But today it seems like, this is the most important character of all.
Yeah, Americans love dogs. Absolutely.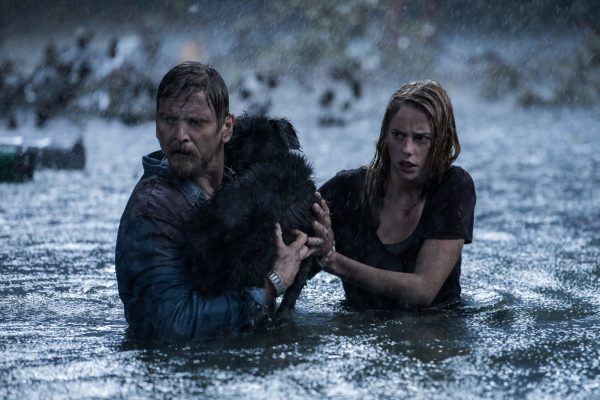 Your movies have such brutal violence, and there are images in your movies that just kind of stick in my head that are amazing horror images. Like in Piranha 3D, I think of Jerry O'Connell with his legs chewed off, and in this movie, the image that came to mind was Officer Pete getting torn apart by the alligator outside in the overhead shot. What's the key to crafting a really brutal scene of violence in a horror movie?
Aja: I'm smiling, I should not be because I'm going to look like I'm really evil! No but somehow, I don't know why — I'm a very nice person — I am not a serial killer at all. But when you write, I'm always thinking about what is the worst thing that could happen to you. And somehow to imagine and create awful ways of dying becomes a training thing. When I write or work on a script, the first thing that comes to my mind is, 'We need to do a moment where' — you know, it's natural. The alligators are naturally doing this death's role. And the death's role is one of the most gruesome, gnarly ways of killing. Physically a shark will cut you straight and clean, an alligator will just grab you and then will turn his whole body to dismember you like chicken bones. And that's something that we needed to have in the movie. It's the most scary thing I can think about.
Were there are any other self-contained horror movies that you drew inspiration from for this project. And I know you worked with Sam Raimi who previously did Don't Breathe, was a producer on that project. Did he have any input as to crafting a good self-contained movie?
Aja: Working with Sam Raimi was the best thing ever. Sam is the kind of producer that you dream to have as a filmmaker. Someone who is here to really understand and listen to your vision and help you defend it and get you to that kind of artistic freedom that you need to make it happen. Then, the contained type of movie — for this one, there were two that were really important for me is Cujo — Cujo is one of my favorite movies growing up, but also that whole section of the movie where she's trapped with her son in the car is one of the most scary, suspenseful drama-driven, character-driven pieces of cinema. The same I think, the first Alien for me is one of the best, but of course, when we go to talk about basement, when we talk about crawl space, Sam and Evil Dead is some of the best … ever made.
I feel like the concept really lends itself to another installment, another movie, would that be something that you're interested in doing? Whether it's with the same cast or with different characters.
Aja: It's so sad when a movie is over and when you spend so much time, and especially this one where it's physically very hard to do, and when you see the behind the scenes on the Blu-ray or online, it's [a] really really strong experience. So when you get to the end of that process, your mind is already kind of for, 'What other story we could tell,' cause you don't want to leave. You always want to go back and do it again and so yeah, we have a few stories that will be I think very interesting sequel.
And also on the DVD, I love the graphic novel-style opening, I thought that was fantastic. Is that another thing you'd like to explore in the future in filmmaking?
Aja: It was very interesting because we kind of use everything in the movie, with the exception of two scenes that are in the deleted scenes, but on the script they were like that opening scene, big opening scene that was a scene that I really like and … I understand why we didn't shoot it because I wanted to be with the characters and just stay with the characters, but to have the opportunity for the Blu-ray to actually have a version of that scene as a graphic novel animated version, was a cool thing. It's like something I would love to do again on my next project.
The Digital and Blu-ray releases are loaded with over 45 minutes of thrilling special features, including an exclusive motion comic of the film's alternate opening. Plus, check out deleted and extended scenes, a behind-the-scenes look at the incredible visual effects, interviews with cast and crew, and an "Alligator Attacks" compilation that highlights the bone-crunching alligator sequences.
Crawl is currently available on Digital HD and will be released on Blu-ray, DVD and Video on Demand on October 15th.