Jessie Robertson reviews the season 6 premiere of The Flash…

Welcome back to Central City! Season 6 kicks off with everything you get in The Flash package: action, drama and a whole lot of science!
Our season opener deals with the backlash of the last season's finale, where we saw the tragic death(?) of Nora Allen, who was an absolute delight and the highlight of season 5. Barry stays positive and upbeat (Cisco – "What's in his coffee?") while Iris deflects and tries to hang onto all she's got left of Nora. In an early scene, she sneaks off to a junkyard to retrieve her jacket that Nora later wears as XS only for it to be sucked into a randomly appearing black hole. That jacket (although somehow later retrieved by dutiful husband Barry) symbolizes losing Nora again to Iris, but I don't want to skip too far ahead.
Everyone is trying to find their place in the team in a slow moving (for The Flash) episode that shows Joe settling nicely into his Captain position, Cisco seemingly very happy with civie life and no powers and Caitlin dealing with her dual identity to an even further degree. I was pleased as punch to see she was getting multiple storylines right out of the gate this season as she's often the forgotten character in the mix of all the crazy that is Team Flash. A college colleague loses his mother and Caitlin is there to console him; only to find out quickly he has not so heroic intentions as he finds a cure for a deadly disease affecting humans (not metas) and Caitlin refuses to help him due to scientific codes and all that. He seems based off newer comic book villain Bloodwork and is played by Sendil Ramamurthy, who played Suresh on Heroes. I think he has already added some dramatic pathos and has the villain who thinks he's right script down.
The issue of the week was a young YouTuber who accidentally created black holes and after touching one, they somehow linked with his consciousness and memories. The writers definitely went way out in left field on this one and I applauded Carlos Valdez for (as always) nailing all the science jargon here, as there was a lot. During the same day the first one showed up, something fried Nora's last message to Barry and Iris in the Time Vault, cutting another deep wound in their bleeding hearts after their loss. Candice Patton (Iris) was especially strong in this episode, when speaking with both Cecile and Barry about the effect losing "this" Nora was taking on her, stating in regards to the jacket, she needed to get it back because Nora will need it one day. A very motherly thing to think of and was as authentic as you get in sci-fi.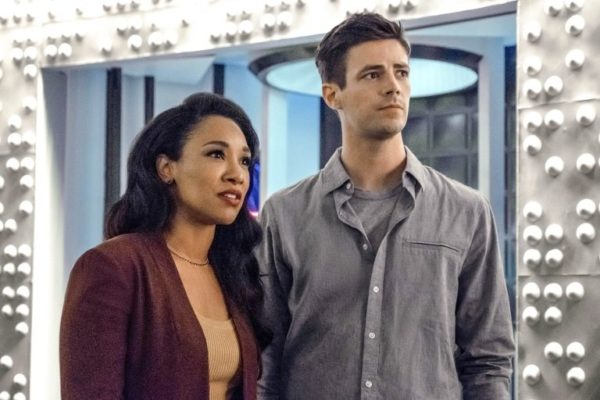 Once Team Flash used their new MAC (speed thinking machine) to isolate Chester's consciousness back into his mind and eradicate the worm holes, things settled down until the Monitor showed up, giving us a grim look at Barry's future, or should I say, future sacrifice.
Random Thoughts:
– The West family sure can rock a hat!
– Joe: "is anybody gonna help clean up?" after a lovely late summer bbq
– Upon Ralphs return from the affluent Opal City over the summer: "Was it always pronounced Y-at, and not Ya-kt?" (describing the word yacht)
– When Killer Frost and Caitlin decide to let her try living for a while, Ralph slams down "The Book of Ralph Vol. 2" and I out loud said "Oh no" with a hearty laugh.
8.5/10 – A good mix of fun and tears as the team deals with it's new identity across the board and the writers set up future storylines in a well paced episode.
Jessie Robertson