Jojo Rabbit. 2019
Written and Directed by Taika Waititi
Starring Roman Griffin Davis, Thomasin McKenzie, Taika Waititi, Scarlett Johansson, Sam Rockwell, Rebel Wilson, Alfie Allen, Archie Yates, Luke Brandon Field, Sam Haygarth, and Stephen Merchant
SYNOPSIS:
A young boy in Hitler's army finds out his mother is hiding a Jewish girl in their home.
It's somewhat ironic that in an age where social media gets fired up over Scarlett Johansson firmly believing she has a right to portray any "woman, man, or tree", one reason writer and director Taika Waititi's Jojo Rabbit (based on Christine Leunens' book Caging Skies) works is due to that, albeit far less extreme and problematic, casting approach. There were no auditions in Germany scouring the nation for the latest Adolf Hitler look-alike or impressionist, or an attempt to grab someone else that has played the infamous role in another project or the slightest bit of effort put into historical research to convey the evil dictator accurately. Instead, the New Zealand born Jewish filmmaker places himself into that hideous uniform; it's one big "fuck you" to the hate that Adolf Hitler embodied.
Not only that, there are other unexpected talents present, such as Sam Rockwell playing a Nazi corporal (I keep making jokes that his characters become more racist from movie to movie, and here he is now, full-blown Nazi doing trick shots with guns and playing with grenades like toys to motivate the next generation to rise up against anyone without Aryan blood) and Rebel Wilson as a member of that same training camp. The latter is especially a brilliant casting decision, playing up her offbeat brand of humor grounded in physicality and facial expressions making for something so hilarious that it's both the best work of her career and almost upstages Taika's absurd interpretation of Hitler. And then there's the Jewish Scarlett Johansson in another subversive casting choice as a German mother protecting a young Jewish girl in the basement of her home. Granted, none of this is anywhere near as potentially offensive as what Scarlett Johansson stated, but it's impossible not to think about as these actors make a complete satirical farce of World War II history, rejecting hate.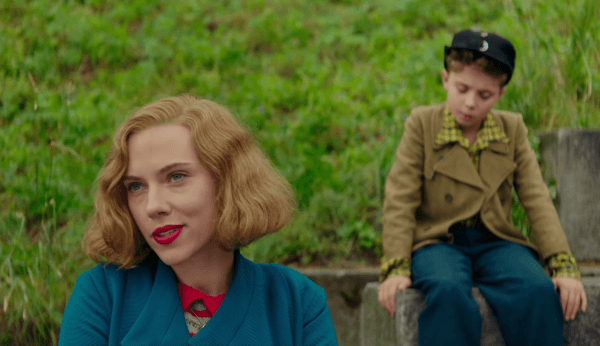 This is not another look at the atrocities of the Third Reich and the horrors of World War II from the perspectives of adults, though, sticking with the children and the dehumanizing things they were brainwashed to believe. Roman Griffin Davis (another performer with no German ancestry to my knowledge) makes an outstanding acting debut playing the eponymous Jojo, a 10-year-old boy that basically wants to be the next Rambo provided Rambo had intentions to exterminate the Jews. He believes in the cause, he looks up to his offscreen father fighting in the war, he soaks in the propaganda and combat training, and most importantly, doesn't see eye to eye with his mother (Scarlett Johansson) who is happy that the war is coming to an end even if it's the Allied forces on the brink of emerging victorious.
For Jojo, everything he has been taught gets turned upside down when he scars his face as a result of messing around with a pipe bomb (almost every adult behaves amusingly irresponsible here, giving weapons to children like candy, serving as one of quite a few methods the film relates to our current political landscape). Peers and soldiers relentlessly mock his disfigured face, also calling him nasty names over his refusal to break a rabbit's neck. Now, this is not necessarily where the concept of Hitler as an imaginary friend comes into play, but simply where the emphasis is heightened. Without no key father figure or support system beyond his loving mother (that he kind of resents for wanting peace), Hitler becomes a monster conscious living inside of his head. Taika Waititi is having a blast making a goofball mockery of the historical figure (the best aspects of the performance is his hysterical animated body language) as someone who chain smokes (the real Hitler hated smoking) and feasts on unicorns for dinner (Jojo Rabbit is at its funniest when the filmmaker leans into having Hitler say the zaniest things).
And then Jojo makes the discovery; a teenage Jewish girl living within the walls of his family home. In a stroke of genius, Taika Waititi stages this as something out of a horror movie for Jojo, who freaks out and tumbles down the stairs seeking sanctuary as if he is being chased by Michael Myers. Nevertheless, the girl is Elsa (Thomasin McKenzie, one of the brightest young performers working today as seen in last year's phenomenal Leave No Trace), and she poses to be the greatest challenge to everything Jojo wants to stand for. However, before actually getting into that dynamic, it must be said that Thomasin McKenzie gives a layered performance as the older and wiser one in the situation that, while she detests Nazis and immediately has an understandable disliking for Jojo, simultaneously sees through him and sees what we all see; Jojo is not one of them. He's as much a victim as she is, manipulated by propaganda, superiority fantasies, a losing militia that desperately wants children to join the fight and their misguided cause, and the general man's man culture of the times.
This is where Jojo Rabbit might surprise some viewers, as while it's easily identifiable as a comedy, it packs a stronger emotional punch than overall laughs. Taika Waititi is wonderful at turning Hitler into a walking punchline, and while I definitely laughed nearly every time he was on screen, I can't say I remember many of the gags and lines in great detail (save for their final encounter which is electric and something that needs to happen to Donald Trump). Instead, what sticks out is Jojo continuously asking Elsa a number of questions about Jews so he can write a book on them; it's a great riff on Mein Kampf but also endearingly brings these two closer to one another platonically. One of the smartest creative choices is having Elsa stand her ground, find joy in the suffering around her, and allowing her to be somewhat unlikable herself occasionally with the way she treats Jojo. It's a complicated dynamic for complicated times that, unfortunately, feel all too familiar today. Watching these two bond and Jojo realize that everything his country has told him is bullshit is tender and sweet, and almost makes one wonder what could happen if people today on opposing political structures were forced into a room together to hash things out.
Taika Waititi is also aware that the closer he brings these characters together, the more he has to push away Jojo's interactions with Hitler. They are still there, and Hitler does everything he can to keep Jojo embracing hatred, but it's too little avail. The downside is that there are times where you are not sure if that is indeed the structure the filmmaker is going for, or if he doesn't know what to do anymore with Hitler. That feeling is especially palpable considering Hitler is shockingly the weakest element of the film, although by no means a negative one. Also catching one off-guard is that the children are not necessarily the strongest aspect; that honor goes to Scarlett Johansson playing a mother putting herself at risk with acts of sainthood while subtly trying to bring her own child towards the peaceful side of the equation.
Much like an on-screen quote from Rainer Maria Rilke, she wants her son to embrace beauty and terror. and she has the confidence that her son will correct his path. Jojo Rabbit is certainly a film not afraid to do the same thing, eventually treading into war action territory from the perspective of children for its climax. This is still executed with a whimsical touch (Sam Rockwell dons some ridiculous military gear), but it's still horrifying and unexpected. Somehow, Taikia Waititi magically connects all these conflicting tones without losing the film's purpose. There are already some critics that feel the sensitive material is not handled properly, which is astonishing considering at times Jojo Rabbit could benefit from pushing the envelope a little further in terms of offensive humor. What's here is actually quite tame, but nonetheless compelling with gigantic heart. "A movie like Blazing Saddles could never get made today", people incorrectly spout; you have one right here, and it's taking down Nazis and neo-Nazis alike.
Flickering Myth Rating – Film: ★ ★ ★ ★ / Movie: ★ ★ ★ ★
Robert Kojder is a member of the Chicago Film Critics Association and the Flickering Myth Reviews Editor. Check here for new reviews, friend me on Facebook, follow my Twitter or Letterboxd, check out my personal non-Flickering Myth affiliated Patreon, or email me at MetalGearSolid719@gmail.com