Last Christmas. 2019
Directed by Paul Feig
Starring Emilia Clarke, Henry Golding, Emma Thompson, Michelle Yeoh, Patti LuPone, Rob Delaney, Lydia Leonard, Boris Isakovic, Sara Powell, Ingrid Oliver, Ritu Arya, Ansu Kabia, Fabien Frankel, Rebecca Root, Margaret Clunie, Maxim Baldry, and Peter Serafinowicz
SYNOPSIS:
Kate is a young woman subscribed to bad decisions. Her last date with disaster? That of having accepted to work as Santa's elf for a department store. However, she meets Tom there. Her life takes a new turn. For Kate, it seems too good to be true.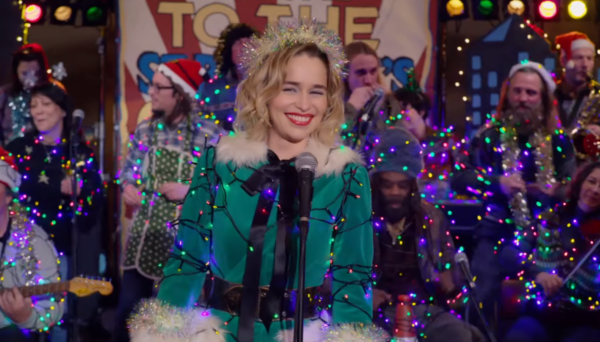 Just in case it's not obvious, Last Christmas plays the titular Wham! song three times within the first 15 minutes, whether it be over the opening credits or from holiday-themed trinkets playing variations of the classic tune. That begs the question, what do the lyrics of George Michael and soothing Wham! needle-drops actually have to do with Last Christmas? Well, nothing really; it's as if Emma Thompson wrote a script (alongside a few other collaborators) that director Paul Feig (who actually has a terrific filmmaking track record, for the most part) signed on to helm, only to shove these songs in there without any worthwhile purpose. And if they were already there in the script, the whole dynamic is rendered more confounding.
One of the first things we learn about central character Kate (Emilia Clarke, who seems to really enjoy starring in romance flicks when not building an army as the Mother of Dragons on HBO's now concluded mega-popular series Game of Thrones) is that she's a talented singer originally from Yugoslavia that has a slight obsession with George Michael. There's even a sticker plastered over her luggage professing "I <3 George Michael". Not long into Last Christmas, Kate participates in a singing audition, only to perform a familiar holiday song. Little by little, the connections to George Michael dissipate until you're left wondering what the hell the point was for the screenplay to immediately establish her as a Wham! superfan. Sure, there are still plenty of their songs comprising the licensed soundtrack, loosely connecting the lyrics to the narrative, but it's kind of just there rather than creating energy and engagement compared to something like, say, Mamma Mia's utilization of the Abba portfolio.
Nevertheless, aside from struggling to gain traction as a musician, Kate is in a rut. She willingly has one night stands with random guys from bars, which is fine until it becomes overtly clear that it's not a productive thing for her happiness (the first guy we see her sleep with is actually cheating on his significant other). She has lost all enthusiasm for her job as an assistant for a small London-local Christmas-themed (and apparently George Michael themed) gift shop owned by Michelle Yeoh's Santa. Making matters worse, she doesn't get along with and actively avoids her dysfunctional Yugoslavian family still living in London (there are also some Brexit references that feel as forced as the idea of Emilia Clarke having Yugoslavian parents) while also behaving selfishly and recklessly around her closest friends that have naturally also had enough of her tomfoolery.
The story rationalizes these self-destructive tendencies as Kate still overcoming a life-threatening heart condition scare last Christmas, not knowing how to return her life to a sense of normalcy. Fortunately for her, she starts to have random encounters with Henry Golding's Tom, a cheery fellow (his dancing while strolling through the street is about as lively as some of this movie gets) that is chivalrous and compassionate to great lengths. Tom is so perfect that it's almost nauseating to Kate when she learns he's also a volunteer for a nearby homeless shelter, but nonetheless does take a liking to him after shutting down his initial advances as not being her type.
What may surprise some viewers is that Paul Feig is holding back on the comedy (the Bridesmaids and Spy director only sporadically employs slapstick humor) while embracing the romance aspect. The kicker is that Last Christmas winds up not necessarily being a romance movie either, but more of a plea for kindness and a reminder of true Christmas values, regardless of nationality, race, or sexual orientation. Tom is simply trying to help Kate become a better person, encouraging her to right some of her wrongs. Wisely, Paul Feig and Emma Thompson incorporate a slice of commentary on the downside of dependency, never allowing the narrative to fully transform into the arc of a woman having the cracks in her life reformed at the wisdom of another man.
There's much to be admired in what Paul Feig and Emma Thompson are trying to accomplish, but Last Christmas comes across wholly disjointed; it wants to be a celebration of George Michael, a tear-jerking romance, a broad comedy, a political statement, inspiration to never give up on pursuing one's dream career ambitions, a family drama, and more all under the umbrella of Christmas. Most crucially, there is a painfully obvious revelation that takes seemingly forever to bubble to the surface, causing the middle act to severely drag. Not that you need a clue, but there's only one answer when it becomes clear that Tom never using his phone is not explored as an intriguing social commentary on society's overreliance on technology, especially when it comes to dating applications for finding love.
As a side note, there will be those that find Tom's persistence to go for a walk as slightly creepy and disrespectful, but he's never rude or demanding or inconsiderate about it. Dating has changed very much in the past 10 years or so, so it is a missed opportunity that Last Christmas doesn't dive into any of these dialogues that are brought up and abandoned within minutes. It's too focused on cliché romance and awkwardly implemented dramatic touches regarding the current political climate. The end result doesn't amount to anything beyond a basic call to action for kindness. Last Christmas will be forgotten before this Christmas.
Flickering Myth Rating – Film: ★ ★ / Movie: ★ ★
Robert Kojder is a member of the Chicago Film Critics Association and the Flickering Myth Reviews Editor. Check here for new reviews, friend me on Facebook, follow my Twitter or Letterboxd, check out my personal non-Flickering Myth affiliated Patreon, or email me at MetalGearSolid719@gmail.com