Daisy Ridley, the star of Star Wars: The Rise of Skywalker, thinks it's the right time for her to leave the franchise.
With Star Wars: The Rise of Skywalker being the last film in the sequel trilogy, Daisy Ridley – who plays Rey – will be leaving the franchise for good, having starred in all three movies.
How does she feel about departing? Well, in a recent interview with Variety, the actress says that even though it's the right time, it's still a sad feeling: "It feels strange when we're in a group doing things and people ask us how it feels because then you're like [as if in pain] Oh! And we genuinely all really do get along. So that's sad. But also, I think this story, from what we filmed, [screenwriter] Chris [Terrio] and J.J. have done such an amazing job at wrapping it up, it feels like the right time to say goodbye. So even though it's sad, it feels right. But cut to Dec. 20 when we're done, and I'm going to be like, 'Take me back!'"
SEE ALSO: Star Wars: The Rise of Skywalker gets a 'Friendship' featurette
From the sounds of it, Ridley feels that with the way Episdoe IX wraps things up, there would be little reason for her to stick around anyway. It will be interesting to see how definitive an ending is provided. It's not long until we find out!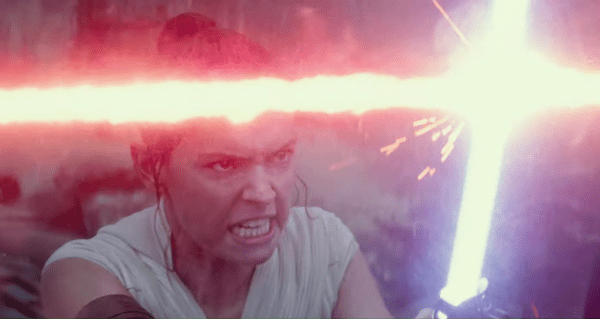 Star Wars: The Rise of Skywalker sees J.J. Abrams (Star Wars: The Force Awakens) directing a cast that includes Star Wars veterans Daisy Ridley (Rey), Adam Driver (Kylo Ren), John Boyega (Finn), Oscar Isaac (Poe Dameron), Lupita Nyong'o (Maz Kanata), Domhnall Gleeson (General Hux), Kelly Marie Tran (Rose Tico), Joonas Suotamo (Chewbacca), Billie Lourd (Lieutenant Connix), Greg Grunberg (Snap Wexley), Mark Hamill (Luke Skywalker), Anthony Daniels (C-3PO), Billy Dee Williams (Lando Calrissian) and Carrie Fisher (Leia Organa) as well as new additions Naomi Ackie (Lady Macbeth), Richard E. Grant (Logan), Dominic Monaghan (Lost), and Keri Russell (The Americans).