Bombshell, 2019.
Directed by Jay Roach.
Starring Charlize Theron, Nicole Kidman, Margot Robbie, John Lithgow, Kate McKinnon, Connie Britton, Malcolm McDowell, and Allison Janney.
SYNOPSIS:
A group of women decide to take on Fox News head Roger Ailes and the toxic atmosphere he presided over at the network.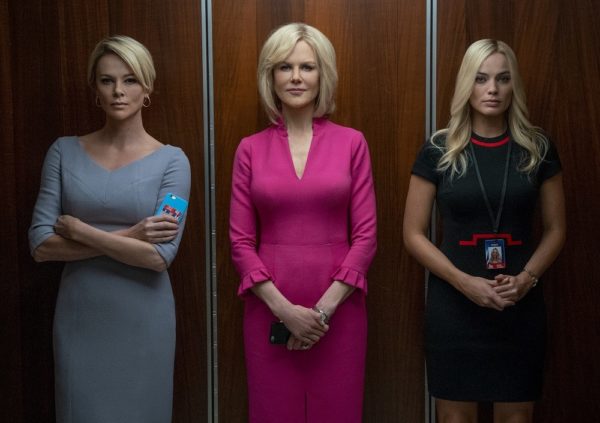 It's always smart to be a little suspicious when Hollywood rushes to dramatise events which scarcely qualify as "past." In the case of Jay Roach's new film Bombshell – a slick, awards-baiting depiction of Fox News founder Roger Ailes' disgraced ousting amid sexual harassment allegations – it was still a major news talking point back when the movie was announced in May 2017, mere days after Ailes' death, no less.
If it might seem glib to call the film "The Big Short for the #MeToo era," the comparison sticks given that Bombshell was penned by that film's co-writer Charles Randolph. Similarly a docu-drama with fourth wall-breaking proclivities – though to a decidedly more restrained degree here – this tenaciously acted effort is ultimately powerful and current enough to swat away its heavier-handed tendencies.
The bulk of the narrative is centered around the sexual harassment allegations levelled against Ailes (John Lithgow) by Fox News anchor Gretchen Carlson (Nicole Kidman), and the snowball effect of other women trepidatiously coming forward to bolster her claims with their own – especially her co-worker Megyn Kelly (Charlize Theron) – leading to Ailes' eventual dismissal (with a hefty eight-figure retirement parachute, of course).
Bombshell is a film which strives to be both informative and accessible. The politics of Fox, a behemoth entity referred to as a "nostalgia machine for a lost America," are laid out in acceptably broad terms, even if it at times does sacrifice tight nuance for an overly expository dialogue dump or jarringly goofy zinger. An early moment where a Fox employee retrieves a gigantic folder labelled "Trump and Women," for example, almost seems to border on farce – but then again, knowing what we do, does it really?
Roach's film is absolutely at its most effective when detailing the harrowing miasma that is reporting a sexual assault – in particular doing so at a far-right cesspool like Fox. Randolph's script offers up a comprehensive examination of the intricacies of harassment – pardon the indelicate phrasing – which men, especially powerful men, oft fail to appreciate; the fear that a suggestive comment or implication can bring with it.
This of course transpires into the very real harassments carried out by Ailes to Carlson, Kelly, and others – the anonymous many realised here by composite character Kayla Pospisil (Margot Robbie), a sweet-yet-ambitious "evangelical millennial" Fox News associate producer who, in the film's most stomach-churning scene, is preyed upon by Ailes. Kayla is the only main character we physically witness be harrassed by Ailes, and Roach's decision to inflict the male gaze upon the audience during this scene, lingering on Kayla as she hikes up her skirt at Ailes' behest, is sure to be as controversial as it is stingingly effective.
Evocatively, Bombshell crystallises the myriad pressures put upon those who wish to speak out. Not only is there the fear of losing one's job, but the judgment from suspicious co-workers dissecting their behaviour, those keen to defend the higher-ups paying their bills, and as we see so often in reality, those satisfied that because nothing happened to them, nothing could've happened to anyone else.
In one instance, one Fox employee even sees harassment as a merely transactional part of the job, trading a sexual favour for a better position. That's to say nothing of the scrutiny – if not outright vilification – an accuser will endure from the rest of the world. As one character says in the movie, "No one really wins by suing Fox News," an entity with a virtually unparalleled level of power and influence, and where even a victory in court is really only a pyrrhic one, at least as far as the human soul is concerned.
In a broader sense, the film examines the role of the media in sensationalising stories and discarding nuance. Compared to the genuinely insightful look at the anxieties of speaking out against harassers, though, it comes off as fairly trite, though no more shallow than the film's attempts to concede the audience's own complicity in the cycle of slush.
Bombshell is clearly more interested in the harassment angle than crafting a general political treatise, but it does lend the occasional spotlight to one unnecessary yet slyly intriguing character. Jess Carr (Kate McKinnon) is a production assistant who, despite working for Fox, is not only a closeted lesbian but also a closeted Democrat. Her compartmentalisation in both regards – especially the latter, though it's close – provides some staggering food-for-thought about the lines drawn between beliefs and the desire to put food on the table.
But in terms of characters, the film's major talking point will undeniably be Charlize Theron's frankly astonishing transformation into Megyn Kelly. Theron donned eight prosthetics to subtly re-shape her face, which combined with her solid stab at Kelly's deepened drawl, make it a feat so chameleonic as to distract, at least for the film's opening 20-or-so minutes. To say that the film is a mighty contender for the Best Makeup & Hairstyling Academy Award is to state the obvious.
But Theron herself has clearly extensively studied Kelly's intonations to create a staggeringly authentic impersonation – and it is an impersonation, albeit one suffused with enough inner humanity not to feel like a feat of pure hollow puppetry.
Lithgow has also been suitably transformed from his typically warm countenance to match Ailes' more abrasive – and, yes, portly – exterior. He doesn't ever really sound much like the real Ailes at all, but brings with him a grotesque heft which helps render Ailes as a truly vile presence any time he's on screen.
And indeed, Ailes is a repulsive snake here, felt perhaps no more palpably than a revolting scene where he manipulates his employees with a rallying speech about how the harassment allegations could hobble Fox and threaten people's very jobs. The economic anxiety argument, as history will continue to dictate, is always effective.
Less persuasive, sadly, is the job done to make Nicole Kidman resemble Gretchen Carlson; the makeup elongates Kidman's face in a strange and offputting way that actively detracts from her performance, evoking a near-uncanny vibe for much of her screen time.
It's not Kidman's fault at all, but she feels constricted by the makeup job rather than liberated by it. Also, a few cameo roles just feel a little too silly to be fully believable; Richard Kind makes a preposterous cameo as former New York Mayor Rudy Giuliani, and Malcolm McDowell is skirting credibility as a plummy Rupert Murdoch. Despite the persuasive makeup, both smack more of SNL parodies than actual convincing portrayals.
But let's not forget about Margot Robbie, who while not undergoing any transformation to play her fabricated part, gives a slyly affecting performance which slowly creeps up on the viewer. For much of the first half of the movie, she doesn't seem to be much more than a chirpy caricature, though once she crosses Ailes' eyes, she's naturally given more dramatic meat to sink her teeth into. The result is ultimately an impressively nuanced, deeply empathetic portrayal.
Bombshell is a step or two away from being as smart or as studious as something like The Big Short; scenes where our female protagonists glance longingly at their daughters feel unnecessarily patronising and on-the-nose for a movie that already guns hard for its targets and clearly earmarks its benefactors.
In terms of major awards plaudits, this feels through-and-through more like a Golden Globes movie than one primed for Academy Awards, though it wouldn't be remotely surprising to see Theron, Lithgow, or Robbie snagging Oscar nods, and the film's oft-stunning makeup absolutely merits attention if not the outright win itself.
If more broadly accessible than rigorously journalistic, the occasionally clumsy Bombshell powerfully dramatises the horrors experienced by sexual harassment victims.
Flickering Myth Rating – Film: ★ ★ ★ / Movie: ★ ★ ★ ★
Shaun Munro – Follow me on Twitter for more film rambling.