Tom Jolliffe looks at the unhappy ending, and why they often have a more lasting impact (spoilers abound!)…
Cinema has the power to move us. It can be an escape. The overriding formula has historically involved a happy resolution, because lets face it, after journeying through the crisis that the protagonist finds himself in, it often feels right to see them triumph in some way. We like to see good triumph over evil and the bad guy get his comeuppance.
So why then, are there so many iconic films that linger so long in the memory for pulling that final thorny twist of a sombre ending? A moment of triumph or resolution we expect is upended by the grimy reality that sometimes life isn't neat. Sometimes the last thing you want to happen, happens. 'What's in the box?' It's then revealed. Somehow, many of my favourite films (and many of those from that classic period of nihilistic late 60's-70's cinema) tend to have morose endings. Jack Nicholson's deeper investigation of corporate corruption and murder in Chinatown leads him to uncover the more personal dark familial history of incest within the Cross family and a tragic end lacking in resolution.
Cinema is rife with dark endings, something that is becoming increasingly rare in mainstream cinema given the current predilection for Disney/Marvel fare. Even in a film like Infinity War which had that rare impacting ending for a comic book film, does so in the knowledge that much of what has happened will be reversed in the follow up. When you conversely, watch American History X, with an ending that sucker punches me in the gut every time I see it, there is no undoing it. As much as I hope, every time, for a different outcome, it is always the same.
I recently, and finally got round to Stanley Kubrick's early masterwork, The Killing. A film which the likes of Tarantino owe an enormous debt to. It intricately, with it's broken narrative structure, weaves us through the meticulous planning and delivery of the perfect heist. With every reveal comes a potential new complication, all culminating in a progressively more brutal finale, and a moment of wry playfulness which, even for all its ahead of time qualities, resorted to the Hollywood era code ethic that the criminal cannot win. Even though, by this point, as audience members we've become accustomed to the possibility that the protagonist might get away with it. Of course he can't. Nor for the last time would we see Kubrick end on a sombre note.
Audiences can often crave that resolution, that explanation behind the actions of someone. If we take No Country For Old Men, which brilliantly leads us along the journey with Moss until a savagely blunt exit, where our focal point switches firmly to the ageing, beleaguered Tommy Lee Jones. As the mysterious Chigurh murders his way through people with little rhyme or reason, and escapes uncaptured, Jones is left to reflect on the inexplicable nature of some criminals as well as facing up to the impending end with old age. To find himself close to death, and left reflecting on the tragic nature of unexplainable human cruelty is heartbreaking for Sheriff Bell, but also the audience. There's no resolution to the story, there's no personal epiphany for Bell beyond understanding that shit can't be explained and it's just one tragedy after another until our own end. To me, it's this ending that helps mark No Country For Old Men as one of few bonafide 21st century classics where a tidily resolved ending would have made the film feel a lot less memorable.
Around the same time, Leonardo DiCaprio made two films with a fairly similar central arc and dealing with repression in Shutter Island and Inception. Whilst Inception is regarded far higher (and with slight hyperbole), it's always been Shutter Island which struck me more (and particularly over repeat viewings). For one, the pulpier aspects of the story are more embraced, whilst Nolan's self serious and exposition heavy Inception, spectacle aside is a tad overrated. More so, whilst DiCaprio covers some similar ground as both characters, his performance is just a bit more interesting and complex in Shutter Island. Inception is far from having a happy ending, opting for the effective and enigmatic finale shot of the spinning top. It's a great end, undoubtedly, and sticks in the memory, but there's just something so definitively tragic about the ending in Shutter Island as Teddy Daniels, in the final uncovering of his own paranoid delusions (masking his own tragedy, and grim truth behind his family's demise) feigns his continued insanity to be given his ultimate escape via lobotomy. 'what would be worse, to live as a monster or to die as a good man?'
The unhappy ending thus of course doesn't have to be a hammering of grimness or ultimate tragedy. Perhaps there's just the melancholic turning of a page, an acceptance that time is moving and paths are diverging. As we find ourselves passing from one decade to another, one of the finest examples of this transition of time, or marking the end of one era into another (personally and within society) is Withnail and I. Set in 1969 with the swinging 60's about to end and usher in a new depressed era, our two protagonists struggle with the crushing routine of their existence and surroundings and head off on a holiday.
There's much brilliance in Withnail & I, not least the never ending barrage of quotable lines and comedy, but more so there is some touching, affecting drama. 'I' finds himself at a crossroads and with a chance to move on, to embrace a new decade and to improve his life, but in doing so must cut ties with his long time friend and companion, Withnail. Through all their misadventures one thing becomes clear, that 'I' has been a follower, a cohort, swept up in whatever has come into the mind of Withnail. That final separation in a rainswept Regents Park is beautifully played out. With smart new haircut and a job waiting in Manchester, 'I' will leave Withnail behind to fester in their grim London apartment with only the visits of ne'er-do-wells like Danny (the drug dealer) to engage with. Undoubtedly blessed with talent but hampered by arrogance and crippling laziness, Withnail (the out of work actor) performs Shakespeare to an audience of zoo animals before trudging off alone. There may be some semblance of hope for the departed 'I' but whilst he has grown, Withnail, inevitably cannot.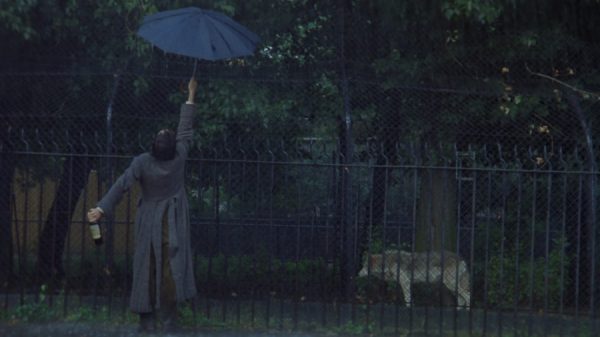 There is something about these endings, the impact of that sadness, and that reflection of true-life which makes them a little more memorable than the Hollywood walk off into the sunset, sunshine and roses. What is your favourite sombre movie ending? Let us know in the comments below or on our Twitter page @FlickeringMyth…
Tom Jolliffe is an award winning screenwriter and passionate cinephile. He has a number of films out on DVD/VOD around the world and several releases due in 2020, including The Witches Of Amityville Academy (starring Emmy winner, Kira Reed Lorsch). Find more info at the best personal site you'll ever see here.