The Lodge, 2020.
Directed by Severin Fiala and Veronika Franz.
Starring Riley Keough, Jaeden Martell, Lia McHugh, Richard Armitage, Alicia Silverstone, Katelyn Wells, and Danny Keough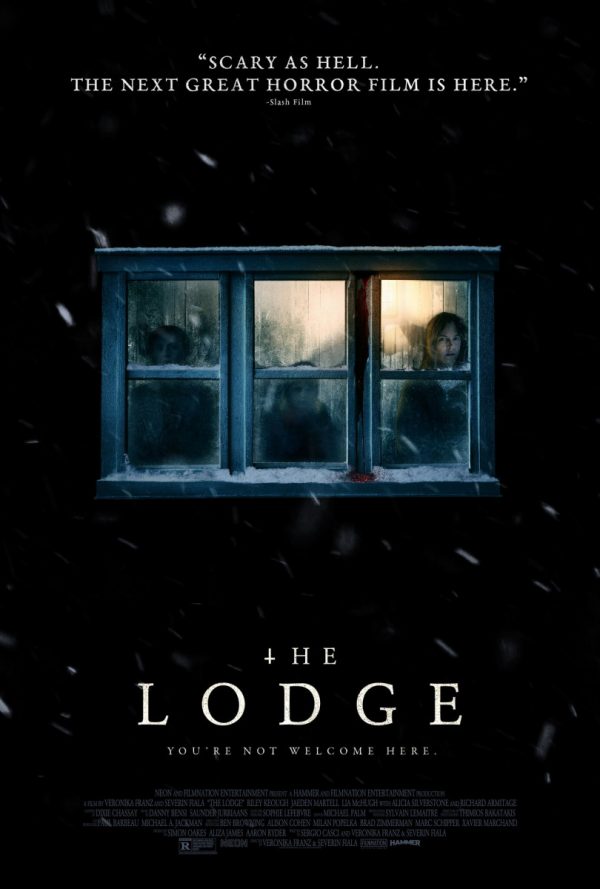 SYNOPSIS:
A soon-to-be stepmom is snowed in with her fiancé's two children at a remote holiday village. Just as relations begin to thaw between the trio, some strange and frightening events take place.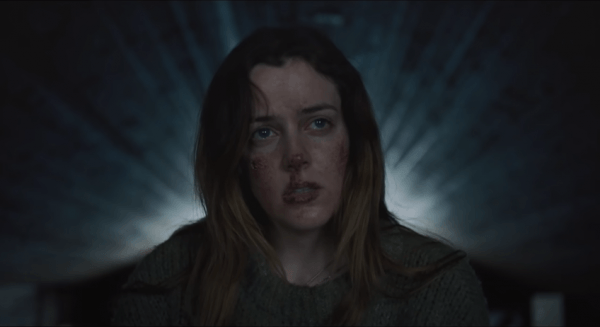 The Lodge immediately announces itself as provocative thematic horror, as one of its first scenes is of a 12-year-old girl in hysterics over the likelihood of her mother not going to heaven after committing suicide. The death is actually shown on screen in shocking and sudden fashion, but there's something differently tragic and heartbreaking about watching a religiously raised child processing and grieving not just the death, but that according to the teachings of Christianity, they will never be able to reunite in the afterlife. Again, it's as painful to watch as Alicia Silverstone's Laura, lost and broken, bringing the gun inside her mouth at the dining room table and ending her own life.
It's unfortunate that The Lodge is not fully realized in following through on any of the sensitive topics (similarly tread ground from the Goodnight Mommy directing team Severin Fiala and Veronika Franz, this time collaborating on a script with Sergio Casci) it touches. The relationship between Richard (Richard Armitage, who gets far much less to do in this movie than one might expect coming in, which inevitably serves as a detriment to the story) and Laura (Alicia Silverstone doesn't have much screen time either, but is in full command of her brief distraught performance and sets a bleak tone that is successfully maintained throughout) is already on the rocks. We don't know why, but the missing details could be perceived as another barrier to understanding these characters. Nevertheless, Richard brings up his wishes to finalize the divorce which sets Laura on the path of the unthinkable. Essentially, her suicide is nothing more than shock value so that this filmmaking team can get the real story underway. Actors have been nominated for Oscars with as little as 10 minutes of screen time; Alicia Silverstone would be worthy of Best Supporting Actress consideration.
However, the best performance and more tantalizing reason to actually seek The Lodge out comes from Riley Keough as Grace (perhaps a too on-the-nose character name for a film fascinated by religious imagery just as much as it is attempting to replicate the atmospheric dread of The Shining and other psychological warfare horror movies such as The Thing, which there is actually footage of here). She became the subject of one of Richard's articles, formerly of a religious cult headed up by her father that was apparently charismatic enough to get over 200 people to drink the proverbial Kool-Aid and partake in a mass suicide. Everyone did this but Grace, who has since lived with a history of mental illness and trauma that, for the most part, seems to have gone away. At the very least, enough for Richard to have dumped his wife for her.
It goes without saying that Richard's children (Jaeden Martell's Aidan and Lia McHugh's Mia) are not fans of Grace. To them, she is a psychopath that is responsible for the series of events that caused them to lose their biological mother. Six months later, Richard has the bright idea (logic is not really the film's strongest aspect) to drive everyone up to a remote Colorado cabin for Christmas so everyone can better get to know each other, although he himself will be leaving for a few days to finish up some work before returning on Christmas Day to celebrate the holiday. It doesn't matter how well-intentioned Grace is to make peace and find common ground, this is all doomed.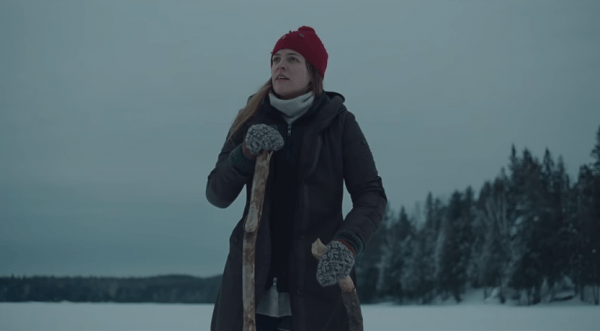 Until a certain point, the question is whether or not Grace is slowly going insane; she sleepwalks, recoils at the sight of religious imagery and quickly starts taking paintings and more down (she also puts away pictures of Richard and Laura that are still hanging around), hears voices of her father telling her to repent (just like before the ritual), and becomes convinced that the family is being terrorized by a paranormal entity. Mia is occasionally willing to talk to Grace, but Aidan proves to be the real challenge, coming across as both a hormonal creep spying on her in the shower and someone eliciting empathetic angst for the situation he is in. Nevertheless, the tension paves the way for cabin chills.
The Lodge is not an ambiguous movie, but once all is revealed, believability is strained. What the movie is going for is fine, it's just that the script doesn't know how to make it convincing. All that's left is Riley Keough descending further into insanity carrying the movie on her shoulders, as the movie isn't interested in exploring mental health or religious teachings in any meaningful way. It still maintains attention and is unpredictable, but all of that teased substance is gone. Save for a depressing family dynamic juxtaposition that comes when Grace loses a loved one close to her, all you're left with is one of the most phenomenal horror performances since Ari Aster's works, which is still high praise, but in this case, you want all of these talented actors to be collaborating on a tighter script.
There's a serious chance you might check out from the narrative once Richard begins teaching his possibly mentally unstable future second wife how to use a gun before he leaves. For starters, no one else is around meaning there is no reason for anyone to need a firearm, and second of all, I guess it needs to be explained that of all the people that should be using guns, people with mental illnesses and trauma don't make the cut. Fortunately, The Lodge is so sickeningly demented with what is going on and with what these characters are actually doing to each other, it's enough to work. Riley Keough gives what could go down as the horror performance to beat for 2020.
Flickering Myth Rating – Film: ★ ★ ★ / Movie: ★ ★ ★
Robert Kojder is a member of the Chicago Film Critics Association and the Flickering Myth Reviews Editor. Check here for new reviews, friend me on Facebook, follow my Twitter or Letterboxd, check out my personal non-Flickering Myth affiliated Patreon, or email me at MetalGearSolid719@gmail.com