Troop Zero. 2020.
Directed by Bert & Bertie.
Starring Mckenna Grace, Viola Davis, Jim Gaffigan, Allison Janney, Charlie Shotwell, Milan Ray, Johanna Colón, Bella Higginbotham, and Mike Epps.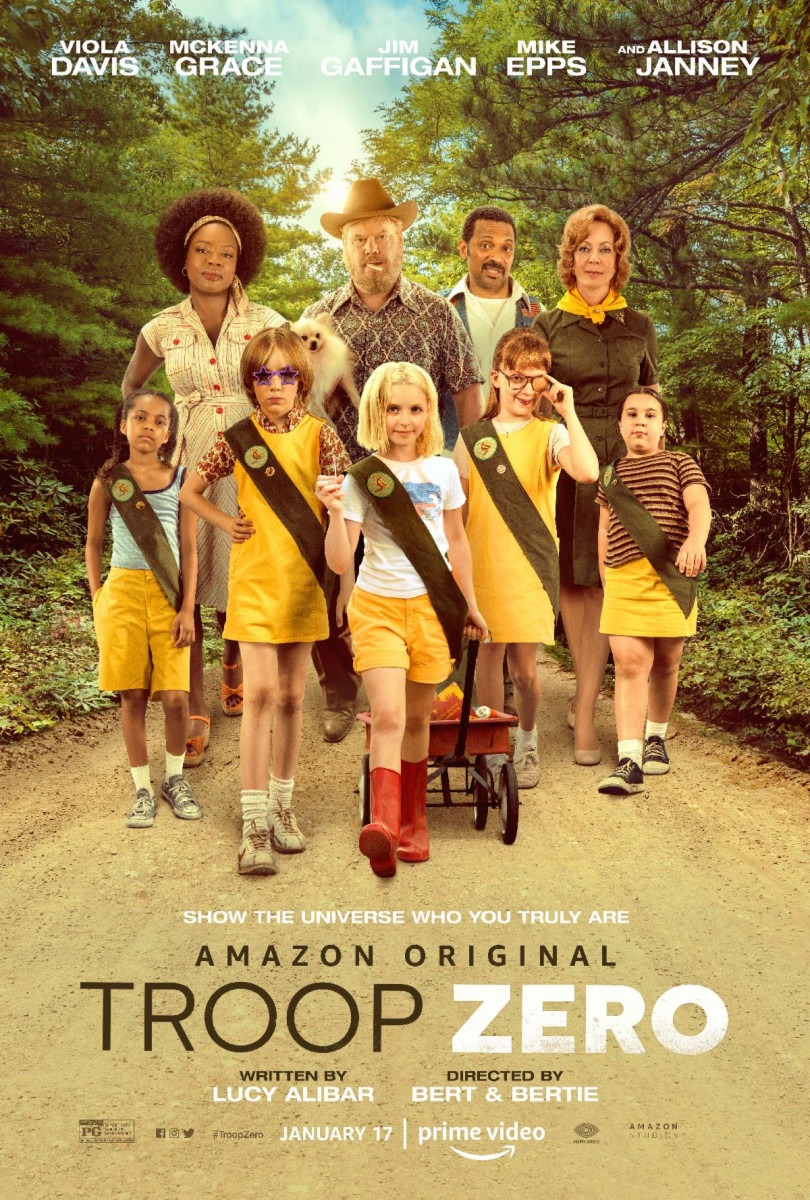 SYNOPSIS:
In rural 1977 Georgia, a misfit girl dreams of life in outer space. When a competition offers her a chance to be recorded on NASA's Golden Record, she recruits a makeshift troop of Birdie Scouts, forging friendships that last a lifetime.
"I am a human female;" a hearty rallying cry for misfit girls shooed away from "sophisticated" gender snootiness of the most archaic designs. It's a shame Troop Zero's sentimentality and sugar-pop sweetness never graduates above "Brownie" levels. Directorial duo Bert & Bertie hold goodness in their hearts, but execute familiarity to a fault. So much is owed to Little Miss Sunshine specifically, from their main character's awkward running gate to dance numbers gone bad to being told you're not good enough – some might say *too much* is owed. I expected more triumph and pint-sized empowerment, not the generic heartwarming cafeteria slop we're force-fed.
Mckenna Grace stars as Christmas Flint, a quirky Georgian in the year of 1977. Ever since her mother "left," Christmas stargazes by night and emits soundwaves into orbit in hopes of establishing a connection. She learns how this year's winning Birdie Scout troop will lend their voices to NASA's Golden Record, which becomes her immediate dream. The only problem? Christmas isn't a Birdie Scout, nor will her snobby classmates allow a "bedwetter" into their circles. So Christmas wrangles a rag-tag crew, a reluctant den mother (Viola Davis as Miss Rayleen), and sets her sights on jubilee competitions.
Let's get one thing out of the way – Mckenna Grace is up there with Hollywood's most talented working child actors. She's given a lot of heavy lifting as Christmas – the quirky bookworm who finds pleasantries in every scenario – since she's also the film's narrator. Voiceover work doubles-down on themes in a way that minimizes impact, but Grace is a champion through it all. From food fighting to supporting her LGBT best friend (Charlie Shotwell as Joseph), to not being afraid of showing what makes Christmas Flint special. Grace's plastered smile slaps adults into place (Allison Janney's rival den mother) while her undefeatable spirit beams schoolyard charm and matured charisma.
Elsewhere, Troop Zero puts "individuality" to the test by lacking genuine emotionality. Differentiation is good and should be promoted especially through an adolescent lens. It's just that writer Lucy Alibar fails to say anything we haven't heard, while Bert & Bertie strain to make these commonplace "proclamations" seem epiphanal. Like chewing gum that loses its flavor, so does Troop Zero struggle to retain its saccharine spikes as one-eyed bible thumpers and mini-hulks who just smash things (hence the nickname "Smash) discover themselves through Birdie bylaws. A story that tries so desperately to earn its offbeat merits yet plays so frustratingly one-note.
Bert & Bertie never show incompetence behind the camera. Two specific needle drops evoke the "playtime" adequacy so many other scenes fumble. One a cutesy Reservoir Dogs callback as Christmas' squad struts in slow motion, another honoring the Starman himself, David Bowie. While multiple sequences ape off traditional youths-gone-mild "rebelliousness," these glimpses of repurposed pop culture history liven the stodgy backwoods campout. Scenes where the film feels like it's being true to itself, not trying to pluck your heartstrings with a barroom cover band's ingenuity.
Jim Gaffigan as the drawlin' single father who calls his kiddo "Boss," Viola Davis toe-to-toe sparing with tightwad Allison Janney, Mckenna Grace pushing her whimsical outlook on everyone – Troop Zero is made from the right ingredients. As the kids earn badges, they learn about themselves (e.g. Joseph embraces a hairwashing montage for his "Beauty" badge) – yet we don't learn nearly as much given our bystander status. Christmas' voiceover about her mother never quite aligns with a larger pro-women upheaval, while comedy remains a 50/50 gamble that generally lacks punch. A feel-good story cobbled from interchangeable parts that lack the very distinctiveness Alibar's screenplay preaches.
Troop Zero is a by-the-books story of friendship, treating others nicely, and what we can learn from the earnestness of children. That's…that's it. There's a cast here trying their best to deliver something memorable, but it's hard to conjure post-screening enthusiasm. Bert & Bertie carry spritely energies and pure intentions, but Christmas Flint's journey into the cosmos is a disappointingly lackluster slice of chocolate-covered kindness. More manufactured than it is earned, making emotion cues feel mechanical instead of moving.
Flickering Myth Rating – Film: ★ ★ / Movie: ★ ★
Matt spends his after-work hours posting nonsense on the internet instead of sleeping like a normal human. He seems like a pretty cool guy, but don't feed him after midnight just to be safe (beers are allowed/encouraged). Follow him on Twitter/Instagram/Letterboxd (@DoNatoBomb).