Playstation has revealed not one, not two but three games that Playstation Plus subscribers will be able to get their hands on this February and I'm certainly not disappointed.  Starting 4th February, Playstation gamers will be able to dive beneath the waves in Bioshock: The Collection, control reality for sims in The Sims 4 and, for those lucky enough to own a PS VR, Firewall Zero Hour.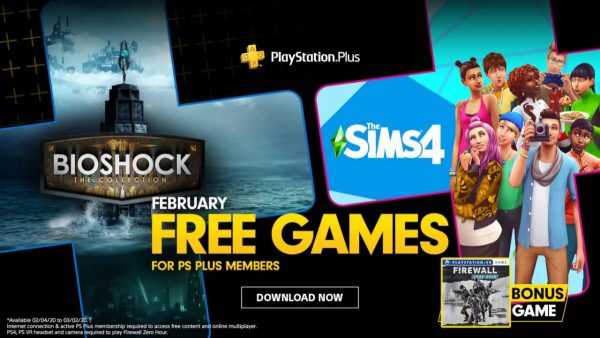 In Bioshock: The Collection players will be able to relive the scary moments yet beautiful scenery of the three Bioshock titles.  Venture down beneath the waves to the ruined undersea city of Rapture and enjoy some amazing action packed fights against the mutated former residents as well as beautifully created water physics in Bioshock 1 & 2 then visit the airborne metropolis of Columbia in BioShock Infinite.  All single-player add-on content is included and everything has been remastered in gorgeous 1080p.
As The Sims celebrates their 20th anniversary this year join in the celebrations by taking control of the lives of little computer people in The Sims 4.  Regardless of whether you are a benevolent all-powerful being that buys your Sim everything they need, or a cruel, wicked omnipotent being who gives their Sim a toilet but no door to get to it, unleash your imagination and create your own unique world.
Last but least is Firewall Zero Hour.  This VR title is a 4v4 tactical shooter developed exclusively for PS VR that places gamers in the role of a hired contractor who is tasked to seize or protect sensitive information from the opposing teams.  The 4th February also sees the start of a new season, Operation: Black Dawn, with a new map and more coming in a new update.
All three titles will be available to Playstation Plus Subscribers from the 4th February so there's still time to download January's free games.